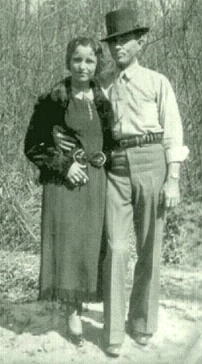 This photo was taken in Eureka, Texas, Navarro County on a property belonging to the Montgomery family. Chambers Creek bordered the east back side of their property for about a mile and was a heavily secluded area. Clyde's Uncle, Frank Barrow, lived on the road leading to the Montgomery land, His house and property was right by the Eureka Cemetery, and Bonnie and Clyde would always rendezvous there on their visits.

Carolyn Montgomery Taylor's original of this photo was stolen. It was given to a family member by Frank Barrow himself. Her father had told her that it was easy to know when the "laws" thought that Bonnie and Clyde were coming to Eureka because they would all be waiting at the Court House and never leave.

To reference this area on a map, you need only look for Corsicana, Texas which is 60 miles south of Dallas on I-45 and then look 15 miles south of Corsicana on Highway 287 for Eureka, In the event that Eureka isn't shown on your particular map, you will see Richland Chambers Reservoir (46,000 acre lake). The Montgomery family had 1100 acres there. It's now underwater, but that is the property that this photo was taken on.
There is an island in that lake which was Montgomery's land which would definitely show the location. Frank Barrow's property was about 2 miles before you got there. He lived next to the Eureka Cemetery. The road that Frank had lived on is now known as Barrow Rd. He had an old junker car in his pasture that kids had shot full of holes. Carolyn Montgomery's father would always tell unsuspecting relatives from the city, that they were looking at one of Clyde Barrow's cars. Looking back now, she wouldn't be surprised if Clyde, hadn't used that car at one time for something! Unbeknownst to anybody, it quite mysteriously disappeared.