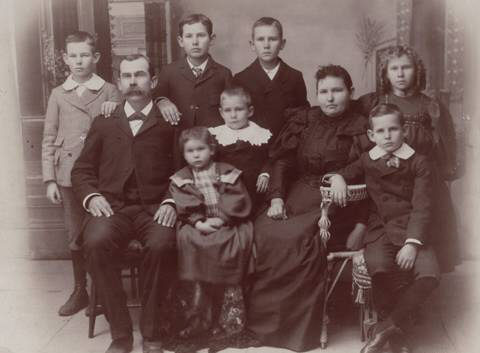 Biographical Sketch of NANNIE BELLE GUTHRIE BELL
Compiled by a granddaughter, Jane Bell Smith from research of census files, Guthrie Family History by Montie Guthrie, family memories, old and treasured obituaries and memorial book and pictures graciously shared by family members.
2-5-2005.

Nannie Belle Guthrie was the daughter of John Riley Guthrie and Sarah Branaman Fisher Guthrie. She was born in Seymour, Jackson County, Iowa on April 25, 1868, the only girl in a family of five. Her brothers were Lewis Washington, Silas, Robert and Frank. Her parents with the Guthrie family came to Texas from Iowa when Nannie was a young child. The 1880 Federal Census shows the family living in Lamar County, Texas.
On July 2, 1881, Miss Nannie Belle Guthrie became the bride of William Henry Bell, a farmer who had been living with an aunt, Elizabeth Blake in Lamar County, Texas. A double wedding ceremony was performed with Nannieís brother, Lewis Washington Guthrie and Miss Nannie Boone. In June of the next year their first child was born. William Luther Bell was born on June 9, 1882. Delbert Fisher was born on February 4, 1884. Newton Silas Bell was born May 10, 1885 and on January 11, 1887 their first daughter, Trannie Pearl was born. James Leeland Bell came on August 22, 1888. Jess A. Bell was born on October 14, 1890 followed by Era Myrtle Bell who was born on April 18, 1892. In just over ten years after her marriage at a very young age, Nannie B. had birthed seven children.

She had three more children; Stephen Clark was born on September 14, 1898, Hugh Sloan was born on March 18, 1902 and her last son, Ward was born on February 10, 1910, twenty-nine years after her marriage in 1881.
The Bell family moved from Lamar County to the farming community of Leland in Ellis County, Texas soon after their marriage. They purchased a 78-acre farm in 1901. Their children attended the Reynolds School of Ellis County in 1902-03, of which W. H. Bell was a Trustee. Very little is known of Nannieís life in Leland, but we can assume that she was very busy with her large family in a time when there were few modern conveniences.
By 1910, the family had moved into Rice, Texas in Navarro County as noted in the 1910 Census. Several of the older children had married and were on their own. Of course, there were still five children still at home, and as they become old enough to work, they took jobs in town to help out. One of the sons opened a small cafť in Rice, and Nannie B. helped by becoming a part time hamburger cook. She also made many dozens of tamales and sold them from her home. She was an excellent cook, with her specialties of chicken and dumplings and oyster soup that I still remember.
Tragedy struck the family on November 18, 1917. Their firstborn child, Luther, age 35, died, supposedly in a mining accident in Oklahoma according to Jack Hodge, a Bell Grandson. No one in the family can recall any details or any information about Luther. His gravestone lies beside his parents in the Rice Cemetery, Rice, Texas.
Nannie Bell was my Grannie Bell. My memories of her are all good. She was a wonderful grannie to my sister and me, her youngest sonís (Wardís) daughters. I knew that she always loved us no matter what we did. Once I secretly played barber with a neighbor child while visiting Grannie, and cut her bangs to the scalp trying to get them straight. I was horrified and cried when the childís mother discovered what I had done, but Grannie soothed everyone by saying that hair would soon grow back. It taught me that I did not want to be a beauty operator when I grew up. It also taught me of a Grannieís unconditional love.
1935 and 1936 were sad years for Nannie Bell, having already lost their first son, Luther. On October 10, 1935, her son, Newton Silas Bell died at the age of 50. Just two weeks later on October 27, her husband of 54 years died at the age of 74. And only six months later, her youngest child, Ward H. Bell was killed in a railroad accident at the age of 26 years.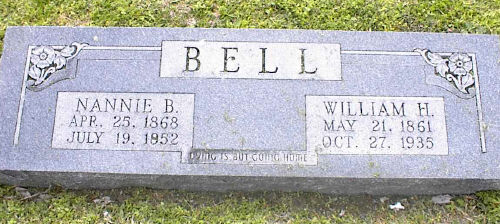 Rice Cemetery, Rice, Navarro County, Texas
Date: July 21, 1952
MRS. W. H. BELL IS LAID TO REST
Funeral services were held at the First Methodist Church in Rice Sunday at 4 p.m. for Mrs. W. H. Bell, who died Saturday.
She was born in Seymour, Iowa, in 1868, moving with her parents to Paris, Tex. at the age of 7. Mrs. Bell formerly was Miss Nannie Belle Guthrie.
She was married to William Henry Bell in 1881 and to this union were born 10 children, 5 of whom survive: James Lee Bell of Meridian, Miss.; S. C. Bell of Corsicana, H. S. Bell of Rice. Mrs. C. O. Barrington, Overton, and Mrs. W. F. Hodge, Rice; 21 grandchildren and 25 great grandchildren.
She was a member of the First Methodist Church at Rice.
Services were conducted by the Rev. Jack N. Bell and Rev. John Basham, both of Rice.
Pallbearers were G. B. Barrington, A. K. and J. A. Bell, J. W. and W. G. Hodge and Gregory Bell.
Interment was in Rice Cemetery.
Notes:
Information submitted by Jane Bell Smith

Nannie Belle (Guthrie) Bell - Apr 25, 1868 - Jul 19, 1952

Ward H. Bell

We cannot imagine the toll that the grief of these sad events took on Nannie Bell. We can only marvel after those years that she was able to function as a loving grandmother to us. Of course being the surviving young children of her youngest son would be the bond that would keep us close during our childhood. Our memories are of happy times of spending the nights in her home in Rice with wonderful, true bedtime stories of her journey as a child with her parents from Iowa in a covered wagon through Indian Territory. For ten years after the death of our father, her youngest son, we spent time with Grannie Bell in Rice, often attending the First Baptist Church in Rice where Brother Henry was the pastor and Sister Henry was our Sunday school teacher. My Motherís sister, Elsie Wright Cheyne remembers that many Sunday afternoons during these years, Steve, Grannieís son, would bring her to Alma to visit us. Below is a picture of one of those visits. Sadly, we spent less and less time during our teen-age years due to our move to Ennis without transportation and being absorbed in our high school activities.


A postscript to this story is the discovery of her motherís grave on the same plot. Sarah B. Guthrie was born on April 29, 1830 and died February 13, 1889, only eight years after Nannie Guthrie Bellís marriage. John Riley Guthrieís burial site is unknown.