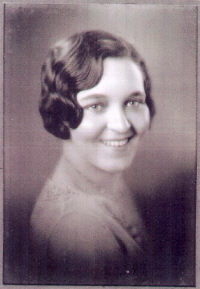 Clellia Mae (Clay) Hilliard Callicutt was born on April 7, 1910 in Hillsboro, Texas. She was the only child of Grace Johnson Hilliard, homemaker, and Woodard L. Hilliard, who managed the family farm in Taft, Texas and retired as Supervisor of the Parks and Recreation Department in Corpus Christi.
Clay was reared in Taft where she enjoyed "playing school" and riding horseback through the countryside. Upon graduation from Taft High School at the age of seventeen, Clay enrolled at the University of Texas in Austin where she resided in the Scottish Rite Dormitory and pledged Kappa Delta Sorority. In 1931 she graduated from The University earning a BA Degree in Secondary Education with a major in Spanish and a minor in French. Returning to Taft, and finding teaching positions in short demand, Clay secured employment with the State Welfare and Relief Department. As a case worker, she traveled and monitored four towns in San Patricio County.
In 1935, she met John Spencer Callicutt, Jr. and following an extended courtship, they were married in San Diego, Texas on April 15, 1937. At this time, she moved to Freer, Texas where John worked as a District Gauger for Humble Oil Company. While living in Freer, John and Clay began their family with the births of two sons: John and Jack. By 1943, she had obtained a teaching position in Freer. She taught in the public schools there for three years.
To be with family, John, Clay, and the boys relocated to Corsicana in 1946 and took residence in the "Callicutt Home" on West 4th Avenue. That year, she accepted a 5th grade teaching position at Sam Houston Elementary. She taught there for the next 17 years.
With this assignment, Clay began a distinguished teaching career which included graduate studies culminating in a Master's Degree from The University of Texas in Austin; extended studies through a Math/Science Scholarship at Beloit College in Beloit, Wisconsin; and advancement into Collins Middle School as a math/Spanish specialist.
Following John's death in 1967, Clay continued to teach at Collins Middle School until her retirement in 1975. She ended her career with 33 years of service in the teaching profession: 30 years in Navarro County.
Wishing to stay active and involved in the community, she chose to continue as a substitute teacher for an additional 18 years in Corsicana ISD. Among her treasured joys are personal invitations to the "High School Class Reunions" where she has an opportunity to visit with formre students and hear of their successes.
Her love for teaching transcended the schoolhouse into her church. First United Methodist on 15th Street was the family's church home, and for many years Clay taught Sunday School in the Primary Department.
Today at age 92, Clay's hobbies include playing Nintendo/s Dr. Mario, formulating questions during Jeopardy's three o'clock program, answering the questions on Millionaire, or mastering the Dallas Morning news' crossword puzzles. If things get too quiet, Penny, her three year old dachshund, demands a game of "pitch & catch."
In addition, she enjoys scanning her scrapbooks to revisit earlier travels to the Far East, Europe, and North/South America. She delights in the correspondence of friends, whom she has met on her excursions, and the sharing of those adventures with her family. Although the distances are not as great, travel still beckons so she is off again to Branson, Vegas, or Louisiana to try the "dollar" slots !
Her most treasured times, however, are spent visiting with her extended family given to her by her two sons:
John Spencer Callicutt, III born November 29, 1938 and married Margaret Ruth Bennett of Houston. They had a a daughter and a son: Cylynne Grace and Johnathan Dean. Johnathan married Lisa Lyn Harlan of Houston, and they had a son and a daughter: Clayton Spencer and Hayley Nicole.
Jack Hilliard Callicutt born September 11, 1940 and married Sandra Lou Hiler of Blooming Grove. They had two daughters: Paula Kristine and Traci Clay. Paula married Stan Niece, Jr. of Plano, and they had three sons: Joseph Michael, Jacob Michell, and Jonathan Matthew. Traci married Jay Randall Estes of Dallas and they had a daughter and a son: Paige Caroline and Jack Thomas.
Submitted by
Margaret B. Callicutt,
Daughter-in-law