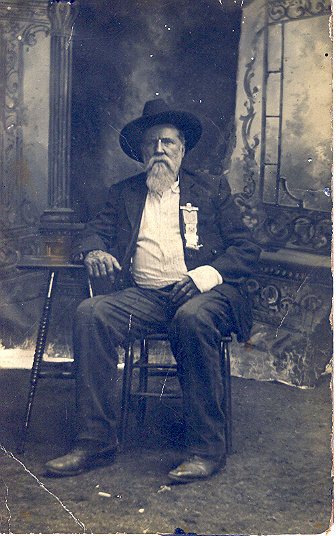 |
Jesse Pinkney Couch
|He died at the home of his daughter, Betty Key Couch Aston
and son-in-law Rice Knox Aston, Sr. in Frost, Texas.
Family Group Sheet
Name: Jesse Pinkney Couch
----------------------------------------
Birth: May 1842, Tishamingo Co., Mississippi
Death: 9 Mar 1920, Frost, Navarro Co., Texas Age: 77|
Death Memo: Home of daughter Betty Couch Aston and Rice Aston, Frost, Texas
Burial: Mar 1920, Italy Cemetery, Italy, Ellis Co., Texas Age: 77
Burial Memo: per J. M. Beene, undertaker on Application for Mortuary Warrant
Occupation: Farmer
Cause of death: Pneumonia and Uraemic Poison per Application for mortuary warrant and signed by H. H. Stephenson, practicing physician.
Father: Gabriel Couch (1800->1870)
Mother: Sarah "Sally" Hughes (1803-~1859)
Spouses:
----------------------------------------
Spouse 1:
Name: Martha Jane Gilliam
Birth: 1844 Mississippi
Death: 22 Nov 1881 Texas Age: 37
Marriage: bef 9 Dec 1864
Children: Sarah "Annie" Ann (1864-1930)
Molly (Mollie) (1872-)
Benjamin P. (1873-)
John (1875-)
Gertrude "Gertie" (1876-1967)
Pearl June (1880-1958)
----------------------------------------
Spouse 2:
Name: Nancy Catherine Raines Palling
Birth: 12 Dec 1859 Texas
Death: 19 Jan 1920 Age: 60
Burial: Jan 1920 Small Cemetery, Van Zandt Co., Texas Age: 60
Marriage: 10 Jan 1883 Ellis County, Texas
Children: E. May (1880-1960)
Robert (1885-1963)
Jesse (1888-1963)
Plony Ann (1891-1987)
Bettie Key (1893-1963)
Claude Cecil (1896-1969)
Willie Lee (1898-1987)
Notes for Jesse Pinkney Couch
He was called "Pa" by his children and sometimes referred to just as Pinkney.
Jesse enlisted in the war between the states in November 1861 and mustered February 26, 1862. He was discharged on February 25, 1863 in Little Rock, Arkansas. During the military Jesse was hurt by the fall of a horse on him which injured his leg severely. It consisted first of a severe bruise from the ankle to the knee and continued to swell and at times burst open. About a month after the injury the injury became infected by continually traveling and wading in muddy waters. It caused an ulcer to form on his leg about the size of his palm. He also suffered from a case of measles and from hemorages. After staying home from service for several months he went back into service and was detailed to ferry service on the Bayon on the Military road between St. Francis and Little Rock, Arkansas. He remained there until the end of the war performing such services as he could. He filed for his pension when he was 58 years old in July 1899 in McLennan Co., Texas before the honorable Judge J. N. Gallagher, County Judge of McLennan Co., Texas. Jesse's pension application is several pages long with several witnesses testifying before the judge. The application was denied due to his being under 60 years of age, however, on February 20, 1902 he was granted his pension by the chief pensions clerk and account comptroller.
1850 Panola County, Mississippi
1860 in Grayson Co., Texas, 202, Sherman
1880 in Hill County, Texas, Precint 4 with wife Martha age 36, b. MS, Ann, daughter age 14, b. Arkansas, Molly, daughter age 8, b. Arkansas, Benjamin, son age 7, b. Arkansas, John, son age 5, b. Arkansas and Gertrude, daughter age 4, b. Texas
1900 and 1902 in Wills Point, Van Zandt Count, Texas
Application for Mortuary Warrant was filed by son, B. P. Couch on March 20, 1920. On March 26, 1920 Mortuary Warrant was issued for $30.00. The account of the items for the funeral were as follows: 1 #1428 Casket: $100.00, 1 burial suit: $35.00, and for the hearse service: $20.00.
Military: Served in the Civil War, CO D, 32 Arkansas Infantry, Private
National Archives Microfilm Box # 000376, Roll # 0005, Record # 00004390
War pension application dated 9/29/1899 while living in McLennan Co., Texas for 5 years # 08762.
He served in Arkansas. His brother William G. served with him.
Notes for Nancy Catherine Raines (Spouse 2)
Palling was her married name.
Death Certificate # 3407 (copy in file). Informant on death certificate: George Couch (could this be Jesse's brother, William G. Couch)
Charlie & Pearl June (Couch) Summers
photo donated by Jackie Summers Brosch
Pearl June (Couch) was the d/o Jesse Pinkney Couch and Martha J. Gilliam. She and Charlie Summers lived in Frost, Texas (see notes on tornado of Frost, 1930). Her sister, Sarah Ann Couch Bowman died along with her husband William H. Bowman in that Tornado and they are both buried in the Frost Cemetery. Pearl and Charlie's son was visiting with his aunt and uncle when the tornado hit and killed them. Pearl and Sarah are also the half-sisters of Plony Ann Couch Hatley buried in Rose Hill Cemetery, Blooming Grove, Texas.
Jesse Pinkney Couch (their father) died on 3/9/1920 in Frost, Texas and is buried in the Italy Cemetery, Italy, Texas. He first married Martha J. Gilliam and 2nd married Mrs. Nancy Catherine (Raines) Palling on 1/10/1883 in Ellis Co., Texas.
Sarah Ann Couch Bowman was b. 12-9-1864 in Arkansas and d. 5/6/1930 in Frost, Texas
William H. Bowman was b. 3/29/1856 and d. 5/6/1930 in Frost, Texas
Pearl June Couch Summers was b. 1/11/1880 in Ellis Co., Texas and d. 3/6/1958 in Corsicana, Texas
Charlie Gordon Summers was b. 4/7/1879 in Rome, GA and d. 8/1/1956 in Corsicana, Texas.