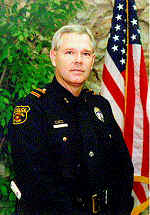 Cox Chief Cox arrived in Corsicana in August 1993. Prior to his coming to Corsicana, Chief Cox served as the Chief of Police in Lamesa, Texas and Oak Ridge North, Texas. He served a short while as the City Administrator for the city of Oak Ridge North.
Chief Cox started his law enforcement career as a military policeman in the United States Air Force. He went on to serve in the Montgomery County Sheriff's Department (Conroe, Texas) as a patrol deputy.
While serving in the United States Air Force, Chief Cox earned his Associates in Applied Science. Upon separation from his military obligations, he attended Sam Houston State University, in Huntsville, Texas where he earned his Bachelor of Science degree in Criminal Justice. Graduating summa cum laude.
Chief Cox has since earned a Masters degree in Criminal Justice Management from Sam Houston State University. He attended the F.B.I. National Academy 165th session (1991). He is a recent graduate of the Bill Blackwood Law Enforcement Management Institute of Texas earning the designation of G.M.I. (Graduate Management Institute). In 1997 he completed the Rural Law Enforcement Management Institute: University of Arkansas, Little Rock, Arkansas, course of study.
Chief Cox is a licensed peace officer with the state's highest level of recognition as a Master Peace Officer. He has developed expertise as a firearms instructor, crime prevention specialist, and police photographer. He has also developed a specialization in time management and personal organization.
He is an avid runner and golfer. He also reads a great deal. Chief Cox is married with five kids and one granddaughter. He is a member of the Corsicana Rotary Club and serves as a regional director for the Texas Police Chief's Association.
Notes:
---
6/1/2003 G.M. COX: Being a cop one of the greatest jobs
Wow, What A Job - Cop!
Yes, being a COP is a great job and a terrible job, depending upon what is being expected at any given time. I have experienced some of the greatest job satisfaction that a human could possible ask for doing the job of POLICE OFFICER. I have also experienced some of the most frustrating, deflating, dehumanizing, and just plain disappointment from my COP EXPERIENCE. I have been a military policeman, a deputy sheriff, and a chief of police. So, I have experienced most of the kinds of work that peace officers do, in one way or another in these positions.
Without a doubt the greatest satisfaction I have ever gotten from my job was putting a really really bad crook in jail. And, later seeing that SLIME go to PRISON. I am one of those LAW OFFICERS who loved to work traffic. I truly believe that strict enforcement of traffic laws is the only thing that keeps the roads safe from the really AGGRESSIVE drivers. So, I loved writing tickets. I know that you're saying that is CHARLIE SIERRA (what we military types used to call it Working traffic is an expected part of being a professional peace officer. Writing tickets is one side of that job. Being aggressive, however, does not mean being badge heavy or rude. Each contact is an opportunity to make a positive or negative impression.
Personally, arresting a doper ranks way up there with putting a really bad crook in jail. DRUGS are the scourges of our COUNTRY. It is estimated that 65% to 75% of all property offenses are drug related. A whopping 55% to 65% of all person's crimes (murder, rape, assault, etc.) have a drug connection. The real numbers are probably higher for both. I figure if one buys illegal drugs or sells them they are SCUM that deserve no quarter from the CRIMINAL JUSTICE SYSTEM, period. If a person has a drug problem, fine, get help, once. After that, if a DOPER is caught by the CJ system, do the time and do it HARD. We have got to quit coddling dopers. Otherwise, we are going to have whole segments of our communities that are inhabited by burned out, maggots, sucking the blood and morrow from the life of it.
The worst side of this job is the POLITICS that are played with the CRIMINAL JUSTICE SYSTEM and those humans, us COPS, who have to play the game. Who we can and cannot arrest? What laws we can and cannot enforce, and when? Without a doubt the toughest side of my job is dealing with the politics within and without the department. Peace officers can be brutal critics who are quick to criticize other officers, including me, but who hate to have criticism thrown their way. Hiding behind the badge has become a WORLD CLASS SPORT with peace officers. However, survival of the species, COPS, and the games they have to play to be effective sometimes requires it. Usually, however, it is the petty jealousies or vendettas that CITIZENS have against a peace officer that is the most frustrating. They, the "law abiding" citizens did not like the answer they received from a PEACE OFFICER or their supervisor (or even CHIEF) so they go about playing games with rumors, getting "buddies" elected to important positions so they can exert the "political muscle" and get their JOB (which is usually ineffective).
Well, enough of that stuff. Cop work is cool! It is like being JOHN WAYNE and sticking up for the little guy everyday. I love that part of my job - helping those who can't help themselves. I get the biggest kick out of seeing the look on a BAD GUY'S face when that JUDGE or JURY puts his butt in prison for a lot of years and they thought that they had WON against the system. Man, that is a wonderful feeling. Trouble with that feeling it is few and far between because we have gotten into this cycle of blaming SOCIETY, the GOVERNMENT, and the AGENTS of government for everything that is not working in our society. Truth is, the individual has to take some blame, maybe a lot of it, for why things aren't working in our society. These "excusisms" for why one commits a crime are crap. If a person wants to break a law, fine. Do the time when caught and quit whining about it. We're all tired of it.
Being a POLICE OFFICER is one of the best decisions I have every made. I truly love being a LAWMAN (at the risk of upsetting my female counterparts, but hey, I am a guy, so I can say it, ha). Truly, I was born and God gifted me with the desire and aptitude to be a COP. I have been doing this job so long, I remember when the big deal was calling us PIGS and we, the really sharp ones, turned that negative phrase into a positive - PRIDE INTELIGENCE AND GUTS. You just can't insult a really good PIG, I mean COP.
God Bless PEACE OFFICERS. My hope for you is that you never need a peace officer and that the only time that you ever have to deal with one of us is to say HELLO, which you should do. On the other hand, I hope that if you ever need one of us that you are well served by a true professional, in a caring and courteous manner.
G.M. Cox is the chief of the Corsicana Police Department
---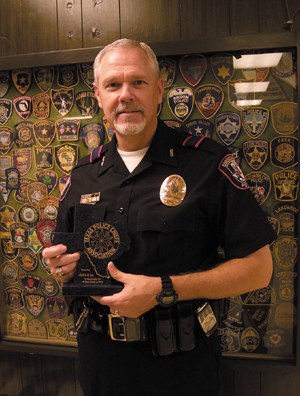 4/23/2004 Chief G. M. Cox receives award: Recognized for service


Corsicana Police Chief G. M. Cox recently received an award from the Texas Police Chiefs Association for 20 years of service. Daily Sun photo/SCOTT HONEA



By STEPHEN FARRIS/Daily Sun Staff

Corsicana Police Chief, G. M. Cox, attended the annual Texas Police Chiefs Association training conference held in Corpus Christi last week.

Cox was one of 10 recipients (out of about 10,000 police chiefs) of the TPCA award, presented in appreciation of 20 years of service to the TPCA.

"It is an honor not only for me, but for the City of Corsicana as well," Cox said.



Cox was also elected third Vice-president of TCPA, and will be the President of the association in 2007.

"I've been an active member of TCPA since 1982, and it's nice to be recognized," Cox said. "The city has been supportive in sending me to these training conferences. Many ideas are presented during the training that can be beneficial to our department."

Cox is presently serving in his 11th year as Corsicana Chief of Police.


---
Chief now president
Nov 2, 2005
Corsicana Daily Sun

Cox sworn as new top man in state association

by: A. J. NARASIMHAN

Chief Of Police G.M. Cox was recently named President of the Texas Police Chiefs Organization (TPCA), an honor marking the first time a representative from Corsicana has held the select post.

Cox, a member of the Corsicana Police Department for a dozen years, has been an active member of the TPCA since 1981 when he was first elected chief. Nominated in 2002, Cox worked his way up the totem pole to the position he calls, "Big Kahuna."

Since 1958, the TPCA has been an organization to provide municipal law enforcement chiefs the opportunity to network and have a voice with new legislature. Cox will serve as President for the 2005-06 year and be the spokesman for more than 600 members that make up the organization.

Local magistrate Lowell Thompson swore Cox into office and the ceremony marked the first time a President was swore in by a local judge. The original badge for the TPCA President was a 1958 Texas Ranger badge. That same badge has been preserved in a case and was given to Cox.

The TPCA makes up the majority of the Texas Foundation, a non-profit organization which has made substantial donations to charities in the state. Cox will double his duties as chairman of the Texas Foundation.

15 Regional Directors of the Board report to the President and certain committees and affiliates will look to Cox for leadership in his newly appointed post.

Having been a member of the TPCA, Cox does not anticipate missing a beat in his role as Chief Of Police in Corsicana. One or two days of occasional travel might be the most he will be away from his local post. With a 24 year history in the TPCA and a plethora of law enforcement experience, Cox is ready for his latest endeavor.

"I have been around this organization (TPCA) for a while and now it's my turn to lead."