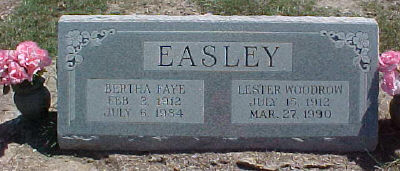 Campbell-Elrod Cemetery, Navarro Co., TX
Photo by Pam Caldwell - Oct 2002
Lester Woodrow Easley, son of William A. & Cora Lee (Duncan) Easley (see family biography under Noah M. Duncan family), was born 15 July 1912. He married Bertha Faye Berryhill, the daughter of Andrew Jackson & Lillie Belle (Adams) Berryhill on 9 February 1930. Bertha was born on 2 February 1912 in Roane, Navarro Co., TX.
Lester and Bertha had two children, Lester Lee Easley b. 1931 and Barbara Ann Easley b. 1942.
Lester married Johnnie Maxine Braxmier on June 3, 1951. They have five children. Barbara Ann Easley married David Glenwood Abbe Sr on May 8, 1964. They have two children.
Lester died on 27 March 1990 at the Navarro Regional Hospital, Corsicana, Navarro Co.,TX. Bertha died on 6 July 1984 at her residence at Corsicana, Navarro Co., TX. They are both buried at the Campbell-Elrod Cemetery in Navarro Co., TX,
Lester Woodrow Easley, 77, of Corsicana, died March 27, 1990, at Navarro Regional Hospital. Services will be 1 p.m. Thursday at Griffin-Roughton Funeral Home, with the Rev. Gary Johnson officiating. Burial will be in Campbell Elrod Cemetery.
Survivors include one son, Lester Easley of Corsicana; one daughter Barbara Abbe of Corsicana; one sister, Mary Ellen Kee of Olney; seven grandchildren and six great-grandchildren.
Pall bearers will be Ricky Easley, Johnny Easley, Michael Easley, David Abbe, Timothy Easley, and Chris Abbe.
Notes: