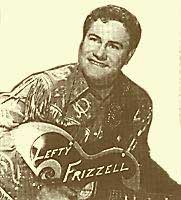 FRIZZELL, WILLIAM ORVILLE R. C. (1928-1975). William (Lefty) Frizzell, country musician, was born in Corsicana, Texas, on March 31, 1928, son of Naamon Orville R. C. and Adie (Cox) Frizzell. His father's occupation was listed as "roustabout" on Lefty's birth certificate, and the family lived in Texas, Oklahoma, and Arkansas as they followed the oilfields. In the late 1930s Lefty had a featured spot on a children's radio program broadcast from KELD. In his teens he worked country fairs, dances, bars, and clubs throughout North Texas. He also married a girl named Alice. By the time he was sixteen, he was making frequent appearances in the Eldorado, Arkansas, area, and he was only twenty-two when he made his first recordings for Columbia Records in 1950.
By 1951 Frizzell was an established recording star, with four songs on Billboard's Top Ten chart. Jimmie (James Charles) Rodgersqv was an early and lasting influence, even though Frizzell did not imitate him. He did however, record an album in tribute called "Lefty Frizzell Sings the Songs of Jimmie Rodgers." After 1952 Frizzell's career hit a slump due to the emergence of rock-and-roll. His lack of hit records during this time did not hurt him, however, on the country-fair and package-show circuit, where he remained a popular attraction well into the 1960s. He got on the charts again with the single "Long Black Veil" in 1959.
In 1953 he moved to Los Angeles and became a regular on Town Hall Party, a radio and TV show produced in Los Angeles. In 1964 Frizzell recorded "Saginaw, Michigan," another number-one national hit. His career total of Top Ten songs was thirteen, three of which were number one. His most successful recordings include "If You've Got the Money, Honey, I've Got the Time," "I Love You in a Thousand Ways," "Always Late," and "I Want to be with You Always." His unique style and musical phrasing carried Frizzell's popularity into the decades following his death, and his influence can be heard in the inflections of such singers as Willie Nelson and George Jones. Frizzell died on July 19, 1975, in Nashville, Tennessee.
BIBLIOGRAPHY: Bill C. Malone, Country Music U.S.A. (Austin: University of Texas Press, 1968). Bob Millard, Country Music: 70 years of America's Favorite Music (New York: Harper Perennial, 1993). Irwin Stambler and Grelun Landon, Encyclopedia of Folk, Country and Western Music (New York: St. Martin's, 1969; 2d. ed., 1983). Vertical Files, Barker Texas History Center, University of Texas at Austin.
Phillip L. Fry
"FRIZZELL, WILLIAM ORVILLE R C. [LEFTY]." The Handbook of Texas Online.
Birth: Mar. 31, 1928
Death: July 19, 1975
Cause of death: Massive stroke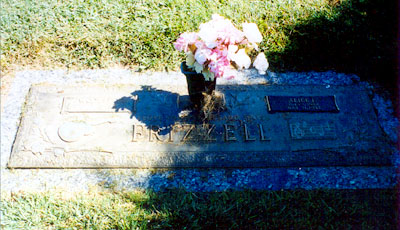 Burial: Forest Lawn
Goodlettsville, Davidson County
Tennessee
See Also: