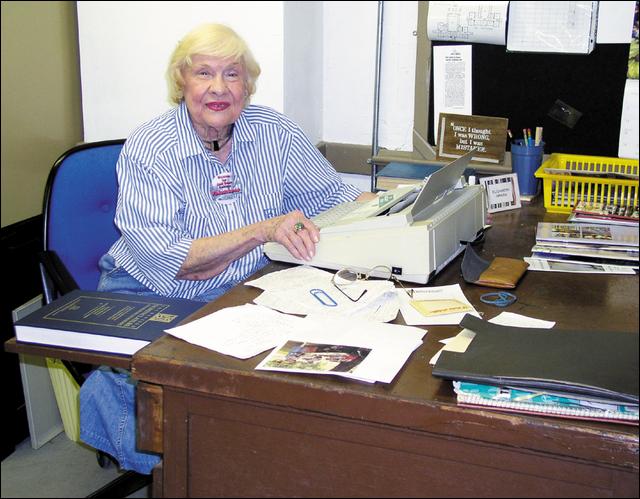 Palestine resident Elizabeth Gragg concluced 25 years of volunteer service at the Museum for East Texas Culture Friday. Gragg was a founding trustee of the museum and has spent the last several years as a volunteer in the museum's archive room. MARY RAINWATER/Herald-Press
MARY RAINWATER/Herald-Press / The Palestine Herald





Museum volunteer retires as she nears 90th birthday
By MARY RAINWATER, H-P Staff Writer
The Palestine Herald

Palestine — After 25 years as a volunteer at the Museum for East Texas Culture, 89-year-old Palestine resident Elizabeth Gragg has decided to hang up the preverbal museum hat and retire.

Gragg, who has been involved in various community organizations since she came to Palestine 70 years ago, looks back most fondly on her days at the museum — starting as a founding trustee and concluding her years of service in the museum's archive room.

"While I was a trustee, my first official duty at the museum was as the Docent Chairperson," Gragg said. "That means I was supposed to find and recruit tour guides for the museum.

"I had a hard time of it, too," she recalled. "I spend a lot of the time doing the tours myself."

After that, Gragg spent 10 years keeping the yard at the old Reagan High School, the museum's current home.

She then mentored as a cataloger in the archive room, where she remained up until Friday — her last day as a museum volunteer.

"As I near my 90th birthday, I look back and see that I have invested the best years of my life," Gragg said about her reason for retirement. "I think it is time to move on and let someone younger, and who has the same goals for the museum that I have, take over."

According to co-workers, Gragg has been a faithful volunteer at the museum, arriving for duty in the archive room rain or shine every Friday.

"Once, when we had some bad weather I called her to see if she would be coming in," said Gragg's boss Lizzi Langenkamp. "If she wasn't going to then I wasn't either.

"But the weather wasn't too much for her so we both came in to work that day," Langenkamp added. "I don't think I would be working here today without knowing she would be here too.

Although Gragg says she will miss her work at the museum, she does not plan to remain sedentary.

"I believe in keeping myself active," she said. "I plan to do some reading and to work in my yard."

Gragg has already put her order in for a replacement — she is hoping to see someone with a love of history and a dedication to helping their community pick up where she is leaving off.

"I hope they will find someone who wants to do something good for Palestine and use their talents to help the community," she said. "It is a rewarding challenge to work here — one I hope they will be willing to accept"

Gragg, a native of Plano, spend her childhood years in Corsicana before coming to Palestine with her family as a teenager in 1936. Her father was the owner of Palestine's Bennet Typewriter Company.

In addition to her work at the museum, Gragg has remained active in several community groups over the years — working 30 years in the Anderson County Historical Commission and 15 years with the Associated Charities.

She also was a member of the Audubon Society, the Acorn Study Club, the National Organization of Women, the Daughters of the American Revolution and several garden clubs.

"The museum has been my main interest," Gragg said. "I have always wanted to make it the best museum in Texas.

"To me, mine is just an ordinary life."

Her fellow museum employees honored Gragg Friday with a small reception and presented her a certificate for 25 years of dedicated service to the Museum of East Texas Culture.