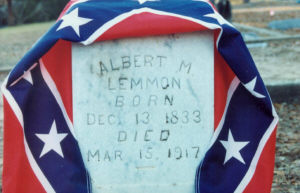 Steward's Mill Cemetery, Freestone Co., TX
Photo by Dana Stubbs
Albert M. Lemmon was born Dec 13, 1833. He served as a private in Winkler's Company I, 4th Texas Volunteer Infantry - The Navarro Rifles. Albert was wounded in both thighs by the same mini ball in the Battle of Gaines's Mill, Virginia on June 17, 1862. Detached duty as a teamster June 1863 to June 1864. He was wounded again in the left arm at Chaffin's Farm on Sept 29, 1864. Furlough to Texas on Oct 1864.. Lived in Fairfield, TX as of Jan 1, 1908. He died March 15, 1917 and is buried in the Steward's Mill Cemetery in Freestone Co, Texas.
Notes:
Information submitted by Norman Stubbs, Commander of J. L. Halbert Camp 359, SCV.

Albert was the husband of Susan Tennessee (Baker) Lemmon (Aug 11, 1849 - Nov 13, 1883). She is the daughter of Jonas Baker & Nancy (Riley) Vaughan-Baker. Susan is buried at the Hopewell Cemetery, Navarro, Navarro Co., TX