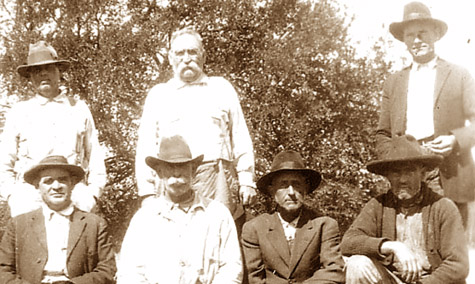 Photo submitted by Tanna Rogers Haynes
NOTE from Susan 12/2002
The Guy in the Lower Rt. (Looking at the Photo) is Daniel Smith & standing behind him is his brother, Benjamin Franklin Smith. They lived in Hill county & we are relatives. Now the man with no one behind him is probably going to be Joseph William Price (my Daniel's half brother) or William Daniel Young (Daniel's Uncle). Thomas Gowan's brother* [great nephew], Richard, had a daughter Matilda Gowan. Matilda Gowan married John Young & lived in Navarro. John is the son of Charles William Young & Livinia Hilton Young, & the brother to William Daniel Young & Phoebe Young Price Smith (and more siblings I haven't found yet I am sure) Phoebe Young Price Smith is my Daniel's mother. She first married Joseph Price of Arkansas & left Navarro full of Price children & then married John Alexander Smith (born Tenn) and had 3 Smith children in Hill Co. This Smith family does travel all thru Georgia at the correct time period & have many Elizabeth Smith children, so that I am still working on. Also William Gowen's offspring, Tommie Ann married a cousin Charlie Lee Young. Then to make it even crazier, remembering that they had small groups that all traveled together & stayed together, there are so many Parker/Young and Parker/Price marriages that I didn't even print them out. My Daniel's Mother, Phoebe married J. Alexander Smith as a 2nd husband (Price being #1) and Alexander's father was married to a Price himself. So Daniel has a Price-Smith Grandmother & Price half brother & sister. I think one of the men in the photo could be John Young & the one in front of Thomas, his brother Richard (did he have brothers still alive?)
LOOKING FOR THE FAMILY OF DANIEL A. SMITH, 1872 b. Tx.(FRONT-RT. SWEATER), BENJAMIN F. SMITH, 1874 b. Tx.(BACK-RT), & THOMAS GOWAN,b. Ms. (BACK-MIDDLE). Photo abt 1927 Navarro Co. Other Counties known family: Hill, Anderson, Hunt, Milam, Travis, San Augustine. Other known Sir Names: Young, Price, Parker, Davis. Contact merren@gkg.net if you think you may be family, or know any of these men.
NOTE from Phillip Gowan 1/2003
The Thomas Gowan shown in the photo was a great-nephew of Richard Gowan, not his brother. Old Richard that is spoken of was born in Fairbluff, North Carolina in 1813 and died in Blooming Grove in 1890. His brother, Meredith, had a son, Ebenezer Jahue Gowan that came to Navarro County at the bidding of his Uncle Richard, and Ebenezer in turn had a son Thomas Isaac Gowan who is the man in the photograph. Matilda Gowan Young was a first cousin of Thomas's father.
Phil Gowan
Florence, SC