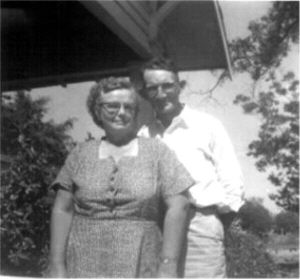 George Thomas Voss was born on 12 Sept. 1899 in Corsicana, Navarro, Texas to George Washington Voss and Jennie Lee (Rice) who had married the previous year. A sister Nettie Lee (Voss) m. Hubert Elder, was born 3 years later in 1901. His father George W. worked as a Brakeman for the H. T. & C Railway and died tragically in a work related accident between Richland and Thornton in 1906. Young George had to go to work to help the family, hauling water at the local Brick yard. In 1917, at age 17 he married Cora White who died a year later in child birth leaving him an infant son to raise, George Burnett Voss, now deceased. His mother Jennie Lee helped him with the baby as he worked in the Oil Fields. On 19 August 1919 he married Mildred Beatrice Wasson who was born on the 18 February 1900 in Bazette, Navarro, Texas, daughter of Samuel Walker Wasson and Nannie Bell (Harris). Her father Walker had died at age 37 in 1905 from a Cancer leaving Nannie Bell with 3 small children; William Clever age 10 who married Ora (Miller), Mildred Beatrice age 5 and Homer Harold age 3 who married Alta (Fields.) Nannie Bell would eventually remarry to Mr. J. T. Atkeisson and have two more children; Ina Mae who married Ike Upchurch and Henry who married Seldon ?.
George and Mildred had 4 children together, all girls, the first one stillborn. Dorothy Faye who married Julius Perry, now deceased, of Powell, Bobbie Nell who married (1) Delma Wheelock Ware (2) James Leroy Bonner of Corsicana and Nancy Ruth Voss who married (1) J. R. Murray, (2) Herbert "Sam" Beasley, deceased (3) Tommy Dee Thatcher, deceased, of Grand Saline.
Mildred, better known as "Mama-Mil" passed away from her 4th heart attack on 29 Sept. 1974 at Memorial Hospital. George, better known as "Pop," passed away from a massive heartattack on 14 May 1977 at home in his chair.
They called Roane home and were members of the Roane Baptist Church.
Notes: