We Cater to Special Parties in our BLUE ROOM
Make Arrangements in Advance
Best steaks in Texas
A Number One Tiger Supporter
(1948 Corsican Advertisement)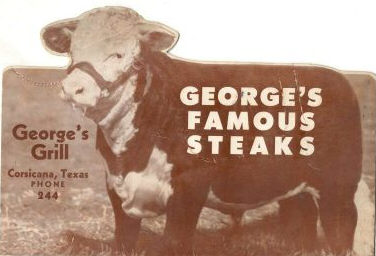 George's Grill in Corsicana Texas which features George's Famous Steaks. The most expensive item on the menu is the Extra Large Thick Choice Beef Sirloin served with French Fried or Baked Idaho Potato with Butter and Special Trimming for $1.75. This menu states Buy More Bonds! and Keep Them on the bottom of the inside which does give an indication that it was printed in the 1940s. Also it has with an insert typed page of the lunch specials which is dated November 12, 1947. This menu is 10" in length and 6 3/4" in height.