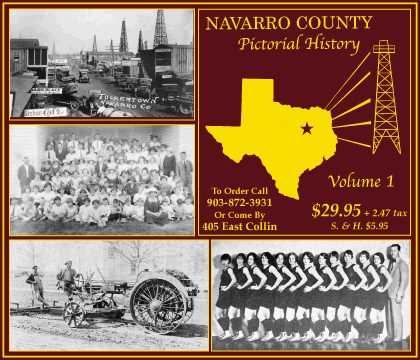 The Navarro County Pictorial History is on sale now at the Daily Sun offices, 405 East Collin. These are not newspaper photographs. All photographs are of people, places, events in Navarro County and were submitted by residents or former residents of Navarro County. 1800s - present, 96 pages, hard bound book. $29.95 plus tax. Orders mailed for $29.95 plus $5.95 s&h & $2.47 tax
$29.95 plus $2.47 tax
Mail orders to:
Corsicana Daily Sun
Navarro County Pictorial History
P.O. Box 622
Corsicana, Texas 75151
(903) 874-7355
We accept credit card payments over the phone, too.
MC, VISA, Am Exp, Discover
Review:
The Navarro County Pictorial History, compiled from photographs submitted by the general pubic, contains 96 pages of photos from the various towns and cities in Navarro County Texas. Ranging from family photos to photos of schools, businesses, and other places of interest. Each photo contains a short description of the date of the photograph and the name of the submitter. Some photos also contain a short description or background information for the photo which was provided by the submitter. All photos are black & white because of their age. The sections are broken out by century "1800's 1900's and 1970s to present". This is not a detailed history, but an interesting collection of images. I recognized some of the photos from other publications but most are previously unpublished. I think anyone really interested in the history of Navarro County would enjoy the book. It can be ordered by phone or at the office of the Corsicana Daily Sun in Corsicana. Copies are available at the Corsicana Public Library for viewing. ...elw
---
6/8/2003 Pictorial history of county in works
The Corsicana Daily Sun needs old photographs like this one of county fair officials circa 1945 for a pictorial history book scheduled for publication in November of this year. Courtesy photo
From Staff Reports
Each word we speak, each story we write, each picture we take is instantly a part of history.
Unfortunately, most words, stories and pictures are lost or forgotten. And the loss of each takes away a bit of history.
That's why the Corsicana Daily Sun is going to produce a pictorial history book of the Navarro County area -- so those images won't be lost or forgotten, Daily Sun publisher Gary Connor said.
"We need our readers' help to compile a pictorial history of Navarro County," Connor said. "Most importantly, we need photographs our readers have filed away in a trunk or scrapbook to help preserve the Navarro County history -- a proud part of Texas."
"A Pictorial History of Navarro County, Texas" will be published in time for Christmas 2003 delivery, making it a perfect gift. But, in order to meet that deadline, all the photos must be received by Aug. 6, 2003.
"We know these photos are important to our readers so when they bring in a photograph or photographs, we will scan the photos into our computer system while the customer waits, no more than five or 10 minutes, then return the photos to the customer," Connor said. "Handling the photos in this manner will ensure no photographs are lost by either the Daily Sun or the printer of the history book."
The customer will need to fill out a very brief form identifying the approximate year the photo was taken and who is in the photo and/or where it was taken. There is no charge for placing photographs in the book.
"We hope to receive a variety of photographs representing our county and its people from the early 1800's through the early 1990s," Connor said. "We hope to print all photographs brought to us subject to good taste and appropriateness of subject matter."
So, get that old box of photos down from the closet and bring them to the Corsicana Daily Sun as soon as possible, Connor said. The photos will be returned while you wait.
If you plan to submit a photo for this publication, please do not wait until the deadline Aug. 6, 2003 to do so. If a great number of people wait until the last minute to make their submittals, the Daily Sun will simply not be able to handle such a volume in the last few days, Connor said.
The photo forms, along with order forms for the pictorial history books, are available at the Daily Sun offices.
In advance, Connor said he thanks the public for its help.
"We believe the book will be something we can all take pride in," he said. "Get out your old picture albums, choose the photos you would like to submit and bring them in."
For more information regarding this publication, call (903) 872-3931. Mail or bring your old photos and book orders to: Corsicana Daily Sun, PO Box 622, 405 East Collin, Corsicana, Texas, 75110.