News Paper Index || Dallas Morning News Index
---
A Lost Boy - December 5, 1889, Dallas Daily Times Herald, p. 2, col. 4.

A delicate looking little boy about six or seven
years of age and poorly clad, was seen standing at the East Dallas depot in a state of bewilderment at 5:20 last evening. On inquiry, it turned out that the little fellow had arrived from Corsicana on the north bound train, and was in search of his mother, whom he said was residing somewhere in Dallas. He carried in his hand a pail, which was packed with provisions given him, he declared, by his aunt, who put him on the train at Corsicana, without letter or instructions of any kind. A hackman carried him from the depot to police headquarters, on examination, he gave his name as Charles Henry Henderson, but could give no further information of any importance. The police are attending to the wants of the little stranger.
Article Submitted by Jim Wheat 10/2000
---
Jan 4, 1998: Biffle's Texana. by Kent Biffle - Dallas Morning News
CORSICANA - All was law and orderly at Navarro County's nonagenarian courthouse when I looked in last week. But in 1855 some accused killers burned down an earlier log courthouse to burn up their indictments.
The arsonists were re-indicted on murder charges but acquitted according to a memoir of the late Sheriff Buck Barry. After the frustrating verdict, he chewed out the jurors. And then the judge chewed him out.
A brick and marble fortress of justice, the present 1905-style courthouse promises to stand sturdily into a new century
[ Navarro County Courthouse Index ]
---
May 2, 1940 Dallas Times Herald
Navarro County Stockmen Ask Aid In War on Wolves
CORSICANA, Tex., May 2 (Special).
Southern Navarro County stockmen Wednesday appealed for aid from a commissioners' court to combat the depredations of wolves. The ... are credited with destroying eighty goats and a number of turkeys and pigs near Streetman. No action was taken by the court.
Calling for payment of $10,000 ... No 1 bonds was authorized and the sponsoring of a WPA project for indexing the probate and commissioners' court minutes, along with some work in the district clerk's office, was decided on. (NOTE: " ... " indicates the word is unreadable in the microfilm copy)
---
Cross Country with Weldon Owens
Abt 1964, probably Dallas Morning News or Dallas Times Herald
CORSICANA - In his approach to things in general, no man could be more positive in taking the negative than Alva Taylor. Mr. Taylor, a photographer built like an overgrown weed and just as relentless, has been collecting some of Texas' most fabulous historic photo negatives almost half a century. The lanky white-haired lensman is the power behind the throne in preservation of Navarro County history.
A heart flutter has braked his tornadic round-the-clock schedule at the curves, but he still goes at roaring speed on the straight-away. He has just completed his "Navarro County History" with more than 100 authentic pictures. (He has negatives of famed gunman John Wesley Hardin, prominent pioneer E. H. Tarrant, et al.)
His collection of guns is something to write about. But his more general beneficent energies have been devoted to restoration of old log cabins and household goods of long ago. Fact is, this summer you can watch a blacksmith shoe a horse, a mill squeeze cane or see corn ground into old-time meal right here in CORSICANA. And all because of Mr. Taylor and Joe Daniel of KERENS.
Back in 1955, they were chewing the fat over a cup of coffee. The idea of a county museum and historical society was born. So they nurtured the embryo and it grew into a plan with people like Matt Dawson, Lewis Hodge, Mrs. Kirke Steele, Mrs. E. D. McCormick and Mrs. Edward Hale.
Since then, thousands have come here to see houses that were build more than 100 years ago, containing original furnishings of time-thinned cowhide bottom chairs and divers extinct bric-a-brac. However attendants are present only on Sundays throughout the summer.
Anyway, all hail the historian with the photo lens. To Alva Taylor this generation and more to come are deeply indebted for the privilege of seeing such things as --
An actual split rail fence that served in 1855 (this is no replica), donated by Will S. Price of KERENS;

The last mule-powered corn-grinding mill found in Texas. (This summer a younger mule will be pulling it);

Old log building still in fair health, built in 1851 to serve as Hartzell Store at DRESDEN community. Jacob Hartzell and son built it of cedar and first post office in Navarro County is still therein - just as first postmaster Ethan Melton used it. They even preserved patent medicines of 1870-80. These were donated by Mrs. Minnie Garlington Walker, who ran a general merchandise store for 75 years at CRYER CREEK.

Patrick's Store in RICHLAND donated old churns, shot case, coffee grinders and other items.

And Mrs. Lillie Thomas gave old Confederate uniforms, guns, flags, money and muster roll of men from the county who were called to duty in 1861.
CORSICANA celebrated its 100th birthday in 1948, and since then more history has been written in oil here. During the first seven months of 1955, more than 700 permits were issued to drill oil wells within the city limits. The city collected $25 for each of the permits. Mr. Taylor's history notes that " a lot in East Corsicana without a well was a rare thing. The cost to drill and finish a well was around $7,000. In less than three years, the wells were abandoned and the areas have now taken on the look of the usual city lot.
---
Corsicana, Tex, Feb 3
Monday afternoon, Mrs. Herring of Freestone County was in the city with her son looking for a madstone to apply to a wound caused by a watchdog biting the young man on the foot a few days previously. They were referred to Dr. W. J. W. Kerr, who has a madstone. On application, the stone adhered to the wound for 3 hours.
Feb 4, 1897 Thursday Dallas Morning News
---
The Fire Record
June 7, 1886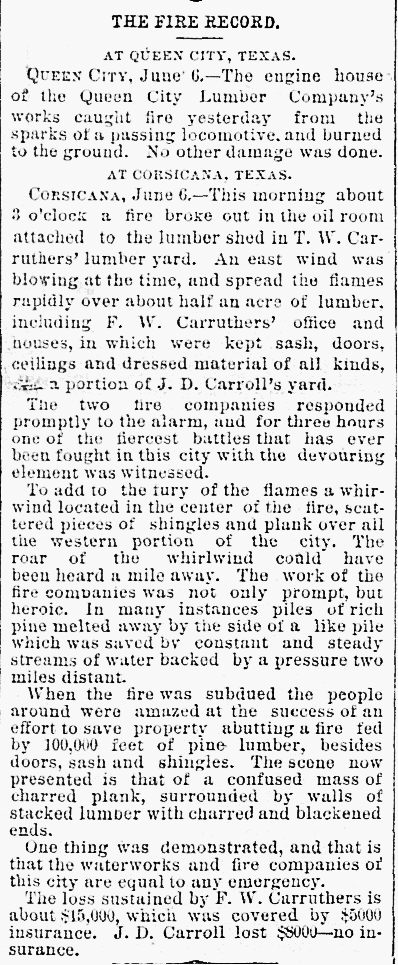 Notes:
---
Emancipation Day at Corsicana
June 20, 1886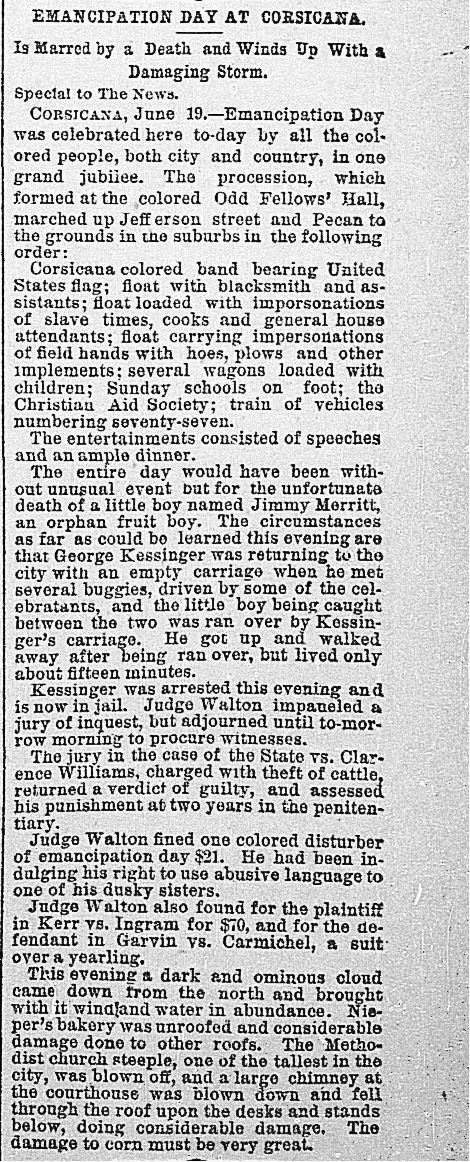 Notes:
---
Three Capital Cases
May 27, 1886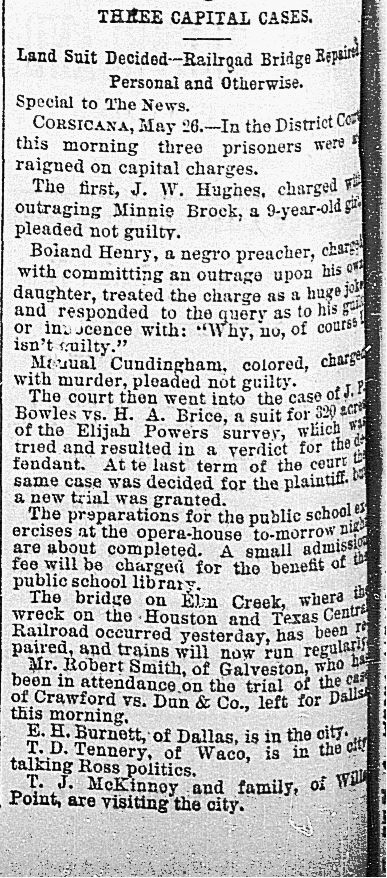 Notes:
---
Corsicana Local Notes
May 18, 1886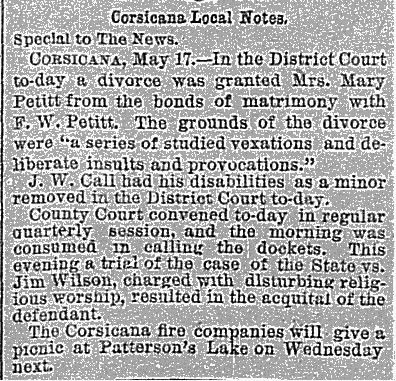 Notes:
---
Corsicana Local Chips
June 17, 1886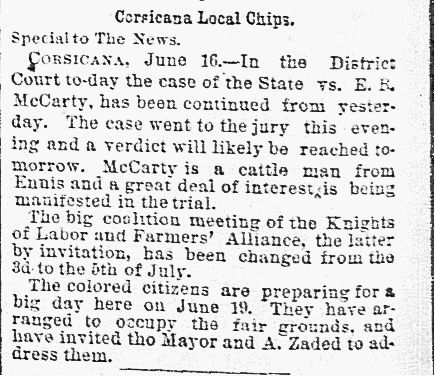 Notes:
---
Corsicana Cullings
June 30, 1886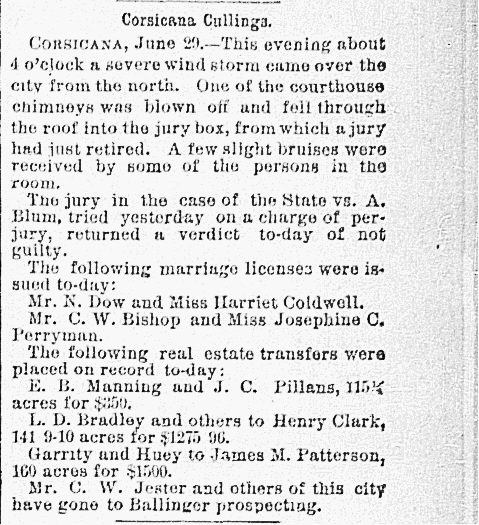 Notes:
---
The Corsicana Sensation
July 25, 1886

Notes: