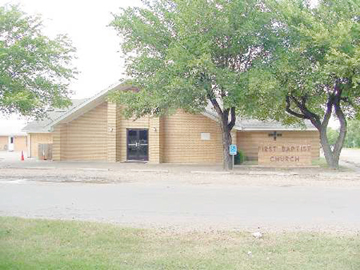 The First Baptist Church of Blooming Grove has been awarded status as a United Methodist Historic Site by the Central Texas Annual Conference. A dedication and public presentation service will occur at noon on Sept. 7 in front of the church. All interested persons are invited to attend. For more information, please call Rev. Jonathan Speegle at (903) 695-2334. Courtesy photo/FUMC-BG's Web site; www.firstbg.com
9/3/2003 125 years and counting ... church gets historical status
By DEANNA PAWLOWSKI/Daily Sun Staff
First Baptist Church of Blooming Grove celebrated their 125th anniversary Sunday, Aug. 31 with a morning and afternoon service, and a luncheon between.
"We fed about 300 people between the morning and afternoon services, had lots of great singing and testimonies, recognized former pastors, deacons and their wives -- we just had a great time," said Bro. Grady Cashion, current pastor of the church.
The church was founded Aug. 31, 1878, and had services once a month on both Saturday and Sunday. Members absent from any meeting were expected to provide an acceptable explanation for their absence in those days.
The first full-time pastor was called in 1945, and the church has maintained a full-time pastor since that time.
Three former pastors joined Bro. Cashion for the celebration. Craig Branham, who was pastor 55 years ago, Ronnie Chesser, who pastored the church in the late 1970's, and W. A. Corley, who served as head of the church in the early 1980's were there Sunday.
Recognition was also given to Mrs. Johnie Lynch, who served as the church clerk for the last 13 years. She has been a member since 1941, and her husband, Melvin, has been a member since 1930.
"He's not the oldest member, he's just been a member the longest length of time," Johnie Lynch said.
Mrs. Lynch was given a plaque to commemorate her years of service.
"She has really been a blessing to our church," said Bro. Cashion.
"We are really going to miss her being our clerk."
Bro. Grady Cashion has the longest tenure as pastor at present, having served in this capacity for 11 years. According to Lynch, the total membership of the church in 1993 when Bro. Cashion arrived was 281 members. Today church membership stands at 623 total members.
"Bro. Grady said we need to maybe clean up the records," Lynch said. "I told him he and the new clerk could do that.
"We have certainly grown since he's been here."
The church building has grown as well, from the existing sanctuary that was built in 1967. The seating capacity was doubled in 1999 by an addition, and the church is currently making plans to construct a new sanctuary that will seat 560 people.
Current staff members in addition to Cashion include Joann Pommerening, youth director, and Brian Upchurch, associate pastor.
"We thank the Lord for allowing our church to minister in this area for the last 125 years. It is a joy to be able to serve the Lord with our brothers and sisters in Christ. It is our desire to work until He comes," Cashion said.
Deanna Pawlowski may be contacted via e-mail at deannap@corsicanadailysun.com