Extracted from the 1970 Jacksonian'
Yearbook of Jackson High School, Corsicana, TX
Class of 1889
Alexander, Lullie (Mrs. James Parham); Aldridge, James; *Bragg, Celia (Mrs. Robert Bunn).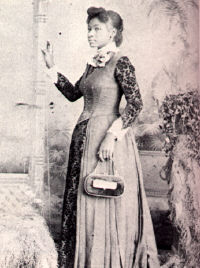 First Graduate of 1889, Celia Braggs
Class of 1892
*Adams, Susie (Mrs. W. W. McKinney); Anderson, Willie; *Compton, Nettie (Mrs. N. L. Perry); Patterson, Viola; Winters, Ernest.
Class of 1896
* Anderson, Ella (Mrs. W. W. Humphrys; *Mackey, Fred; McIntyre, Archie; *Taylor, Sarah (Mrs. W. H. Holloway).
Class of 1899
*Adams, Frank W.; Brown, Williams; *Jennins, E. H.
Class of 1901
Aaron, Beatrice (Mrs. Beatrice Hall); *Adams, Hattie (Mrs. F. W. Adams); *Younger, Isa (Mrs. M. A. Taylor).
Class of 1903
Chesnutt, Malchie (Mrs. G. H. Webster); *Johnson, Georgia (Mrs. William Brown).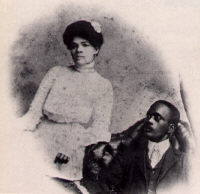 Graduates of 1903
Class of 1905
*Chesnutt, Myrtle (Mrs. G. S. Rogers); *Hardee, Velma; Jackson, Beecher A.; *Johnson, roderick; *Mullen, John; Nelson, Adelaide.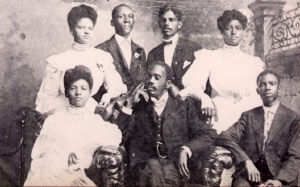 Class of 1905
Class of 1906
*Brown, Verna; Shaw, Carrie.
Class of 1907
*Brewer, Birdie (Mrs. B. B. Jones); *Thomas, Fletta (Mrs. Marcus Mafors).
Class of 1908
*Barrow, Sarah (Mrs. M. G. Nunez); *Brown, Norene (Mrs. Norene Taylor); *Gales, Rena (Mrs. P. Dibbles); Powers, Leonard.

Fred Douglas Band - 1908
Class of 1910
Armstrong, Hortense (Mrs. H. Anderson); Durham, Edwin; Powers, Gerard.
Class of 1911
*Barton, Minerva (Mrs. Minerva White); Gales, Lillian (Mrs. Roscoe Johnson); Pardee, Buena V.; *Woods, Gordelia
Class of 1912
*Brown, Arthur; Glass, Marguerite; *Hicks, Ruddie
Class of 1913
Baker, Hatta; Irving, Robert; Knox, Aubrey; Knox, Lucy; Robinson, James.
Class of 1914
*Applewhite, Laura; Brewer, Clifton.
Class of 1915
Durham, Alozno; Hardee, Lillian; Johnson, Ima; Love, Robert B.; Mayfield, Elbert.
Class of 1916 [Commencement Article]
Bunn, Birdie C.; Mackey, Foster; Rice, Claudice; *Taylor, Anna G.
Class of 1918
Blocker, Nona Mae; *Borders, Mary Zephro; Brooks, Inez; *Dellums, Burnett; Ellis, Robert; *Harris, Froncell; Huckaby, Annie; Jackson, Susan; Johnson, Margurite; McIntyre, Prince; *Smith, Leonard.
Class of 1919
Dellums, Cottrell; Denson, Helen; Mayfield, Ulus; McGriff, Jerissa; Moore, Alberta; *Stephens, Lela; White, Theresa; Williams, Merritt.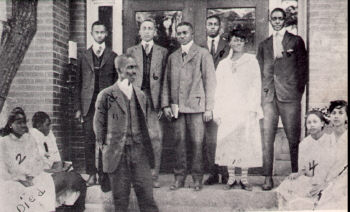 Class of 1919
Class of 1920
Andrews, Bennie; *Chance, Hazel; *Chestnutt, Williams; Davis, Donora L.; Moore, Johnnie Mae; Pardee, Eula Mae; Prather, Foster W.; White, Allen A.; *Young, Willie Mae.
Class of 1921
*Pardee, John; Rhodes, Mamie
Class of 1922
Edwards, Jimmie Dee Vellow; McIntyre, Leroy; Prather, Estella Mae.
Class of 1923
*Benjamin, Hobert; Denson, Leon; Key, Jessie; McKinney, Mary; Morgan, Hazel; Murray, Ethel Ford; Robinson, Alberta; Ross, William; Woods, Vinie.
Class of 1924
Buchanan, Myrtle; Coleman, Lillian M.; Dodd, Alvin Valentine; Miller, Minnie Mae; Moore, Maggie Juanita; Norton, Margarete Florine; Powers, Annie B.; Reynolds, Gerald Roosevelt; Sims, Mary A.; *Slaughter, P. D.; Taylor, Elvis Lorenzo; Washington, George; Waters, Johnnie Dee.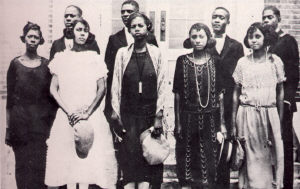 Class of 1924
Class of 1925
Adams, Mozelle; Darnell, Helen; *Durham, Pauline; *Hall, Estella; Hawkins, Lafayette; *Walker, Tommie; *Washington, Major; *Washington, Millard.
Class of 1926
Davis, Willie; Dennis, Annie Mae; Calhoun, T. C. Hardee, Leon; Nelums, Lessie; Rowe, Edward; Stetens, Lilly Mae; Stewart, Johnson, Inez; Thomas, Lebertha.
Class of 1927
Alexander, Adelle; Buchanan, Joseph; Nelum, Junior; Robinson, David; White, Ammon; Williams, Ernestine.
Class of 1928
Chandler, Walter; Coleman, Catherine Henerietta; Coleman, Lena Mae; Coleman, Ruby Andita; King, Granville; Jones, Ada Mae; Mayfield, Cleo Patra; McKinney, Julian Harrison; *McKinney, Winston Douglas; Moore, Cora Beryl; Peterson, Aubrey; Powers, Anita Leona; Slaughter, Lee Wilter; *Smith, George Alva; Washington, Alberta; *White, Alonzo Charles; Williams, Emily Everlina.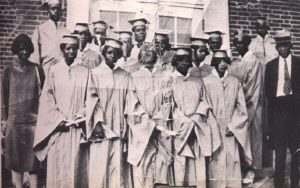 Class of 1928
Class of 1929 [1929 Commencement Article]
Beaver, Annie; Burton, Bernice J.; *Cage, Curtis; Crowe, Annie Rachel; Dellum, Vernice; Hardee, Ashford; Harris, Thelma; Johnson, Harvey C.; Johnson, Louise; Morgan, James P.; Nelson, Thelma L.; Norton, Lois L.; Rogers, Suda M.; Thomas, John H.; Williams, Loring.
Class of 1930 [1930 Commencement Article]
Ashford, Malcolm H.; Burke, Leona; *Choice, John; Curtis, Nannie Beatrice; *DeGraffenreid, John; Gilkey, Earline; McGriff, James Roderick; Washington, Mary; Swany, Cloteil.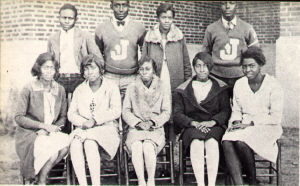 Class of 1930
Class of 1931
Burton, Nona Mae; Carey, McKeever L.; Carroll, Claddie J.; Colbert, Renover A.; Cooley, Sadie M.; English, Robert J.; Fair, Irene M.; Martin, Gertha S.; McDonald, Viola A.; Mitchel, Ociela Lee; Moore, Wynona; Orr, Reed; Peterson, George A.; Peterson, Horace G.; Rasberry, Carrie M; Robertson, Robert; Scurry, Claude L.; Smith, Eula Mae; Thomas, James; Waters, Abna, D.; Wynn, Foley.
Class of 1932
Bell, Emily; Bell, Genella; Britton, Kathryn; *Burton, Opal Lucille; Calhoun, Jason N.; Carroll, Martha; * Coleman, Clarence; Jackson, Clifton; Jackson, Hallie B.; Jefferson, Charlie; Jones, Mary; Kroll, Ira; McMullan, H. B.; Morgan, Marguerite A.; Coleman, Ethel; Conner, Eula; Day, Glodine; Dixon, Ernest; Granville, Antwine; Haynes, Gladys; Haynes, Theodore; Southall, J. N.; Sparks, Sethoran; Walls, Johnny m.; Washington, Herman; *White, Johnny; White, Tilford; Williams, Jessie; Pee Wee (real name unknown).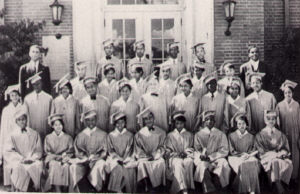 Class of 1932
Class of 1933
Armstrong, Beuna Kate; Brown, Maple Marlene; Berry, Ora; Carroll, Otto Simmons; Cary, Georgia Mae; Cooksey, Roxie Anna; Harris, Louis Caesar; Harris, Zenobra Arlene; Jenkins, Claudia Curtis; Jackson, Robert Burnell; *Johnson, Leontine Lillian; Melton, Myria Lee; Miller, Estella Mae; Reid, Elizabeth Ann; Russell, Annie Mae; Russell, Lorene Jonquil; Simpson, Annie Florence; Ware, Waymon Walter; Washington, George Jr.; Orr, Vesper Mae; Van Rufus, Dennis
Class of 1934
Ashton, Q. L.; Bates, Leonard Iving; Bradford, Ira Della; *Burton, Lucille Olivia; Colmen, Perl Alma; Davis, Gordon Phylipps; Daye, Florine Florence; Derrow, Joe Charles; Foreman, Erma Pearl; Furlow, Mary Ann; Furlow, Joyce Mae; Haley, Ruby Phaye; Hendricks, Katherine E.; Honore, Fred Jr.; King, Alberta Florence; Lewis, Alice Yvonne; Lowe, Hattie Faye; Lynch, Calvin C. Jr.; Lynch, Ethel Joyce; McKinney, Alice Gloran; Norton, Consuella Constance; Overtson, Horatio Odell; Gabriel, Gertrude V.; Gentry, Rosetta A.; Glenn, Virginia D. Goff, Mary Louise; *Gowan, Lawrence N; Powell, Katherine Jean; Thomas, Myrtle Hurlene; Verson, Myrtle Larnitia; Washington, William Osberne; Waters, Herbert.