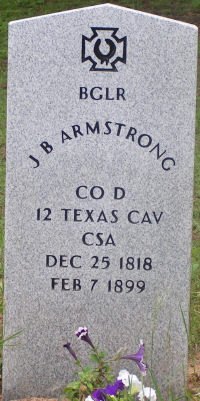 Grange Hall Cemetery
Photograph by Dana Stubbs - Jul 2007
J. B. Armstrong was born December 1818 in Georgia. He was a farmer in Navarro County by the 1860 census. He joined Co D, 12 Texas Cavalry.
This unit was organized in August, 1861. Most of the men were from Hempstead, Fairfield, Georgetown, and Waxahachie, and Ellis and Hill Counties. This Unit skirmished with the Federals in Arkansas and Louisiana. During 1865 it was in Northern Texas guarding approaches from the Indian Territory. The Regiment was included in the surrender on June 2, 1865.
Notes: