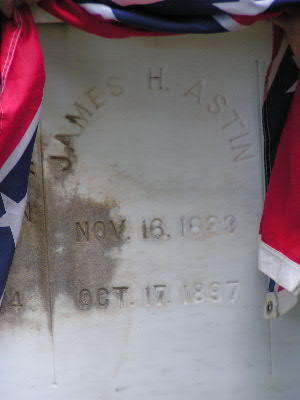 James H. Astin
Nov 16, 1833 - Oct 17, 1897
Bryan City Cemetery
Bryan, Texas
James H. Astin was born November 16, 1833 in Marion County Alabama. He first came to Texas in 1854 seeking his life's fortune. He soon decided to try the life of a miner in California working the gold mines until 1859. In 1860 he was on the Ellis County Texas Census. However, he was in Navarro County Texas on July 17, 1861 where he signed his name to the service of the Navarro Rifles which was mustered into Co I, 4 TX Brigade, CSA, for the war at Richmond, VA, on September 30, 1861. He was among the soldiers of the 4th Brigade of Hood's Texans that won fame that infamous day July 27, 1862 at the battle of Gains' Mill VA at Turkey Hill where he was wounded in the thigh. By February 1863 he was on detached duty as an ambulance driver. But he was back in the ranks on September 19, 1863 when he was wounded again at the battle of Chickamauga, GA. He received a wounded furlough to Texas and did not return to the company.
After the War Between the States, Astin returned to Texas and settled for a time in Navarro County. He married Miss Celia Allsbrook and they moved to Brazos County, Texas, where Astin tried his hand at a variety of employments. Around 1867 with his only possessions of a wagon and team and $10.00 he moved his small family into a little rented farm. He bought his first land in 1877 and buying land over the years he accumulated over 7,000 acres with 6,000 in cultivation producing about 5,000 bales of cotton each year. He was one of the original projectors and a stockholder in the company of the Hearne & Brazos Valley Railroad.

Celia, the mother of Astin's four sons, William E., James Robert, John E. and Joseph P. Astin, died in 1874 and he married Onah Ward
(1856-1944) of Bryan and she was the mother of three more Astin children, Irwin, Daisy and Roger Q. Astin.
James H. Astin attended the United Confederate Veterans Reunion August 25, 1885 at Houston, Texas. At this reunion he gave his unit as Co. I, 4th Texas Brigade and his home residence as Mumford, Texas. At this reunion also he served on a committee to erect a monument for Colonel John C. Upton.
James H. Astin died October 17, 1897 and is buried at the Bryan City Cemetery in Bryan, Texas.

Notes: