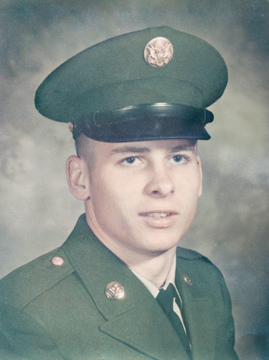 Friend, wife working to make sure Vietnam Veteran Larry David Auerbach is part of Memory Day. Courtesy photo
5/25/2003 VETERANS IN MEMORY: Corsicana native suffered effects of Agent Orange after Vietnam conflict
By DEANNA PAWLOWSKI/Daily Sun Staff
Larry David Auerbach was born and raised in Corsicana. He and friend Wayne Adams grew up together in the same neighborhood, playing and riding motorscooters.
Then they both went to Vietnam.
After serving their country in the longest (1959-1975) and probably most controversial conflict in our history, they returned home to indifference, neglect and sometimes contempt and disdain.
Larry Auerbach suffered from lymphoma, squamous cell carcinoma of the tongue, and Hodgkins disease. According to friend Adams, it is documented by the Veterans Administration that his cancers were caused by exposure to the defoliant known as Agent Orange used in the jungles of Vietnam. He also suffered from Post Traumatic Stress Disorder, which was caused by psychological wounds inflicted in Vietnam which never healed.
"When you come back, it's just an ongoing problem," Adams said. "There's a lot of guilt that adds to the depression. Guilt over horrible things that happened over there -- and that God won't forgive you."
Larry Auerbach died April 12, 2003. He was only 52 years old.
Auerbach had a dream that will now never be realized.
"He and his wife, Debbie, were going to see the Wall this summer," Adams said. "He had always wanted to go, and was finally planning the trip."
Adams and a group of veteran friends were planning a trip to the Wall in November, and invited Larry and Debbie to join them. Larry didn't want to wait that long.
But there is a way that Larry's name can make it to the Wall.
The Vietnam Veterans Memorial Fund has a program called In Memory Day, which is a day set aside to honor those who died prematurely because of their service during the Vietnam War. In Memory is a unique memorial program which honors those who have died as a result of serving in Vietnam, but whose names will never appear on the solemn granite panels.
A special ceremony In Memory is held near the Wall on the third Monday of April of each year. Family and friends read the names of each honoree aloud and place certificates, along with personal items, at the panels which correspond to dates of service in Vietnam. These tributes are later collected by the National Park Service, and preserved in the archives. The name, photograph and biography of each honoree is added to the In Memory Honor Roll.
Honorees are in two categories. The first group is Vietnam veterans who have lost their lives to Agent Orange, the effects of PTSD, illnesses contracted or wounds received in Vietnam. Soldiers who had orders for Vietnam, but never made it due to accidents enroute to or from Vietnam, are included in this group.
The second category honors civilians who lost their lives in Vietnam, or returned home and died prematurely as a result of emotional or physical illnesses related to their experience in Vietnam. These may include State Department employees, other government staff, journalists, Red Cross workers, and others.
Tim Easley, who is actively involved in Veteran matters here in Navarro County, is working with Adams, and Auerbach's wife, Debbie, to get his name In Memory.
"I can help people who want to participate in this program," Easley said. "They need to have a copy of the death certificate, along with a copy of the DD 214, and a photograph."
These are sent to the Vietnam Veterans Memorial Fund, 1023 Fifteenth Street, NW, Second Floor, Washington, D.C. 20005-2602. The website address is www.vvmf.org.
Larry David Auerbach's name will make it to the Wall, even if he can't make it himself.
---
Larry D. Auerbach
Larry D. Auerbach, 52, of Corsicana passed away Saturday, April 12, 2003 at Navarro Regional Hospital.
Visitation will 6 to 9 p.m. today at Griffin-Roughton Funeral Home.
Graveside services will be 11 a.m. Tuesday at Resthaven Memorial Park with Rev. Daren Wood officiating.
Pallbearers will be Mike LaFon, Keith Webster, Ryan Blue, Sam Page, Duane Onstott, Bryan Collier, Jerry Jones and Wayne Adams.
Mr. Auerbach was born Jan. 21, 1951 in Corsicana. He was Vietnam Veteran, having served in the U.S. Army 1st Calvary from 1968 to 1971. He was a truck driver.
He was preceded in death by parents Donal and Marzie Auerbach.
Survivors include devoted companion and friend Debbie Blue of Corsicana; sisters Jan Auerbach and husband Mike of Dallas and Lyn Webster and husband Keith of Euless; and brothers Kenny Auerbach of Garland and Jonny Auerbach of Dawson.
Arrangements by Griffin-Roughton Funeral Home
Notes: