2/20/2005 Adding another page: Dickens Reznicek proud of son, park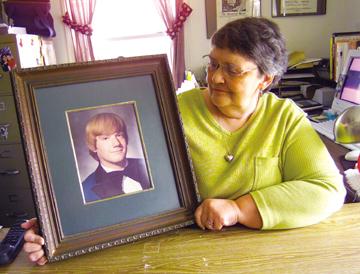 Diantha Dickens Reznicek holds a picture of her son, Mike, who loved baseball and played a number of sports at Blooming Grove. Daily Sun photo/SCOTT HONEA

2/20/2005 Adding another page: Dickens Reznicek proud of son, park

By DEANNA PAWLOWSKI/Daily Sun Staff

TUPELO -- The pages of the scrapbook are yellowed with age, but Diantha Dickens Reznicek handles each page as gently as if she were touching a lock of her son's strawberry blonde hair.

She put the scrapbook together after an agonizing 86 days of searching for her missing son, who was eventually found murdered near their home. After burying Mike, who would have turned 19 the month he disappeared, in late October 1980, Diantha found the scrapbook to be a therapeutic way to work through her grief process.

Mike Dickens was born Aug. 25, 1961, the eldest child of Jerry and Diantha Dickens. He was joined later by Mark, Molly and Mitzi. In 1972, the family moved to an old homestead in Tupelo, which had been in their family five generations.

"Mike started playing baseball at age 6, and it was love at first sight," Diantha said. "He played from then on. He lettered four years at Blooming Grove High School. He was a good baseball player."

Mike also played football and basketball, but baseball remained his first love. He also collected rocks, and learned to crochet from his grandmother. He and his pals went with the family to the Frio River every summer, and he once raised a calf he dubbed "Little Orphan Annie," because her mother had been killed.

The scrapbook is filled with newspaper clippings about his athletic talents, ribbons from boy scouts, 4-H and FFA. Mike was selected Navarro County Outstanding Youth at the 1978 Youth Expo, and was in Who's Who Among American High School Students.
"Mike had his whole life planned," she said. "He was going to Navarro and working for Ferguson Electric (in Ennis) when he was killed. He planned to go two years at Navarro, then on to Texas A&M. He had a dog named Aggie, and he wanted to be a wildlife biologist -- that was his dream. He loved the outdoors."

That day, Aug. 1, 1980, Mike ate his breakfast, told his mother good-bye, and headed to work. He had plans with a good friend, Owen Nelson, from Houston, who was coming in for the weekend. That evening, aware that Mike and Owen had plans, Diantha was cooking his favorite meal, and began to get worried when he didn't show up. Mike was always a responsible boy, she said, and would never have let her worry needlessly. Diantha called Steve McCarty, a co-worker of Mike's from Rice.

"Steve told me Mike had never showed up at work that day," she said. "I called the police, but they told me they couldn't do anything until he'd been missing 36 or 48 hours."

With husband Jerry gone on the road driving his truck, Diantha was unsure where to turn. Unable to sit idle, she called good friends from Rice, the Milnes and Montgomerys.

"We set up a sort of headquarters at Edgar Montgomery's business in town," she said. "Mr. Ferguson spotted Mike's car in Corsicana, and we all drove around with our CBs on, looking, knocking on doors, and asking questions. There were so many people looking."

A detective named Ron Roark from Ennis volunteered his time to help search. A young policeman from Corsicana named Joe Griffin did everything he could to help Diantha and her family cope during the search.

"Joe Griffin was so compassionate and so kind, he was just a God-send to me," she said. "For three months, the volunteers searched, whole search parties. You just can't believe how wonderful people in this county were, even people out of this county."

One of Diantha's co-workers at the school in Rice suggested contacting a psychic. Several psychics had called and offered theories, but Diantha felt the need to contact John Catchings, a famous psychic from Dallas.

"The psychic told me over the phone that he didn't get a good feeling," she said. "I already knew in my heart he was dead. I just wanted to find him. We sat at his kitchen table and talked. He was really a very nice man. I asked if he was a Christian, and he said yes, and a Baptist."

Catchings directed Roark to a creek bed near the Dickens home, told him to look for a shoe, a stack of tires and a pile of boards.

"Ron Roark found an old thong in a place they'd searched many times," Diantha said.

Mike's body was found in a shallow grave, wrapped in a sheet, with hands and feet tied, under the trunk of an old tree and some tires. An autopsy showed he was stabbed anywhere from 23 to 30 times.

"It has been 25 years, and the image ... we have to drive over that creek bed," she said. "When sleep did come, it was so restless. To know he was so close ... I could hear him calling me."

A 22-year-old man named William Lee who lived in the area was apprehended driving Mike's car. He was prosecuted and convicted of Mike's murder, and has since been killed in prison. Diantha, family members and friends were never really convinced Lee acted alone. Mike's billfold and license plates had been found in an older man's apartment, but he had an alibi for that day. That man has since passed on, as has John Catchings, the psychic.

Now that most of the people involved are deceased, Diantha feels sure they will never know what truly happened that fateful day in August 1980.

Jerry Dickens, Mike's father, passed away in 1987. Diantha remarried Louis Reznicek years later.

"I know that is what killed Mike's father," she said. "The father is supposed to protect the family, and we couldn't protect Mike."

During the search, many people throughout the county donated funds to establish an account for a reward offered to anyone with information. Royce Bancroft of Powell, who Diantha didn't even know, set up the account and spearheaded the effort along with Navarro County Crime Watch.

Following Mike's funeral, the money was returned to the people who donated. In some cases, the people donated it to volunteer fire departments, and some donated it to the family.

"We put that money in a memorial account at the Rice bank," Diantha said. "We wanted to do something special in his memory. There was a lot between the Rice school and the Methodist church where the kids played ball. We wanted to fix up the lot, get a backstop, and my cousin, 'Son' Bowden, made a sign."

The sign read "Mike Dickens Memorial Park." The entire town came together, and helped to make the park a reality.

"In a year's time, we had Little League baseball, a softball league, and had kids playing ball," she said. "It was perfect, and I knew Mike would have loved it. Rice had never had organized ball before."

The story didn't have a happy ending, however, once a foul ball broke a small piece from one of the stained-glass windows of the church. The preacher, new in town, brought in his lawyer brother and began talking about suing. Not once did the preacher approach Diantha or her family and discuss the park.

"The church had the park torn down, and we were just devastated," she said. "That was the end of Mike Dickens Memorial Park. It nearly killed me, especially since I'm a Methodist."

A former classmate of Mike's, Bobbie Barrack, approached Diantha March 13, 1994, and said a group of people had formed an association, and were planning to rebuild the Mike Dickens Memorial Park. The Mike Dickens Memorial Youth Association has had roughly 30 members over the years, and has held parades, fund-raisers and taken donations.

"Everyone worked hard for a while, then it kind of fizzled away," Diantha said. "Until Larry Bailey became mayor."

The association was able to purchase a 20-acre tract in Rice, and Bailey was instrumental in procuring grant funds from Texas Parks and Wildlife. He also raised matching funds from people in the community, not only in money, but in donated time and labor. Finally, after 25 years, the Mike Dickens Memorial Park will become a reality, and children will be able to gather and play the game Mike Dickens loved.

"I saw it once before, how it brought the community together," she said. "I am just so thrilled."