7/14/2002 A REAL LIVE WAR HERO: World War II Vet remembers protection of country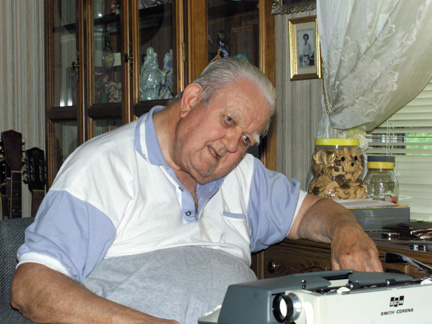 The Rev. Ken Bass remembers his service in WWII and the time he spent as a prisoner of the Germans. He is a Bronze Star recipient. DAILY SUN photo/JAYSON LARSON
By JAYSON LARSON/Daily Sun Staff
The Rev. Ken Bass recalls events from over a half century ago as if they happened last year, maybe even a few months ago. His words collide into sentences that leave him looking as a hero, although you get the strong impression he would never, ever refer to himself in that manner.
He was hardly out of high school when, as a University of Texas student, he heard the news that Pearl Harbor had been attacked by the Japanese. Not long after that, as he prepared to leave his teen-age years in the mental rearview, he was dragging a wounded man off a roadway at Rhineland during his first battle of World War II, an act which earned him a Bronze Star.
Bass, 78, seems to mention every imaginable detail about his role in the great war -- except the part about winning a Bronze Star. He seems to believe that so many men received such accolades at that time that it really isn't worth mentioning today.
But it is worth mentioning. Bass is a member of an ever-fading group of men and women who served their county during World War II. He says 1,100 World War II veterans are dying each day, and so many of them are taking their stories of heroism to the grave.
Following the Tradition
In 78 years of life, Bass may feel like he's seen his money's worth. After his war experience, he was a Methodist circuit preacher for 40 years. He served 28 churches during that time, sometimes pastoring two and three at a time. He said his life in the ministry was when his life "got really interesting."
He also worked as a social worker for three years, starting in 1950. Before that, though, he gave three years of his life to his country with the U.S. Army to continue a family military tradition set by his father and grandfather.
He grew up in Williamson County (just north of Travis County, home of the state capitol) in the little town of Holland. Bass said he was a strong track athlete and an avid walker when he was in school -- factors which may have helped save his life during the war.
After high school, Bass took his quest for higher education to one of the most prestigious institutions in the state -- The University of Texas at Austin. It was a common sense move for the youngster, as Austin is not far from his childhood home.
With high school behind him and an education at UT ahead, things were looking pretty good for Bass. The world was a much simpler place before Dec. 7, 1941.
'A Date Which Will Live In Infamy'
On that day, Bass and the rest of the nation was completely oblivious to the fact that thousands of miles away, events were being set into motion that would ultimately change his life and the lives of millions forever.
Just before 8 a.m. that morning, Japanese planes began a wave of sneak attack bombings on the U.S. Naval base in Pearl Harbor, Hawaii. The attacks lasted an hour and 45 minutes, killed 2,300 servicemen, injured another 1,200 and propelled the U.S. into World War II. The next day, Franklin Delano Roosevelt called Dec. 7, 1941 "a date which will live in infamy ..." and the U.S. and Great Britain declared war on Japan. Later in the week, Germany and Italy would declare war on the U.S.
With all his friends joining the cause, Bass, too, signed up to go into the Army. He was inducted in November 1942 and sent to Camp Howze in Gainsville for basic training. He stayed at Camp Howze for about six months and was then sent to the Louisiana Maneuvers in 1943 for advanced training. From there, he moved on to Camp Claiborne where he was trained as a medic.
His next stop took him overseas to Alton, England, for more preparation for combat and for the last phase of training. In October 1944, Bass crossed the channel into the western edge of Germany.
Staring Into the Face of Death
By that time, the war was approaching Germany. On Dec. 16, 1944, Adolf Hitler, in Bass' words, gambled everything he had in one fantastic push to try to turn around the war. That push was known as the Ardennes Offensive, the Battle of the Bulge.
Eight days later, Bass -- a member of the 309th Combat Engineers Company A Division, the "Railsplitters" -- was out on patrol with his unit laying anti-tank mines around the German countryside at Marche Bastogne. As the unit came over the brow of a hill, he and members of his group saw tanks from the German 116th Panzer Division a few hundred yards away.
The German tanks put two rounds into the front of the truck in which Bass and his fellow servicemen were riding, killing the driver. Eight of the troops in the back of the truck were not killed (Bass notes that the fact he and the others were not killed shows the integrity of the American-made machines).
The surviving members of the unit jumped out of the truck and ran down the road. Bass recalls hearing the machine guns popping over his head, figuring the Germans probably were trying to scare the Americans rather than kill them.
The unit, still on the run, jumped into a nearby gully with the German tanks following behind. The tanks then rolled up on the gully.
"I looked right into the barrel," Bass said. "It looked like it was big enough to jump into. We thought it was just going to be a blinding flash of light, and that would be all."
His belief the Germans were not trying to kill them as they ran proved to be correct. The Panzer tank, in fact, did not fire on the Americans. Instead, Bass remembers looking up at one of the tank commanders getting out of the tank.
The commander grinned with a gold tooth showing and, in perfect English, said, "For you, the war is over."
A Costly March to Freedom
Bass' unit was taken captive by the Germans. The unit joined a group of other GIs, 500-to-600 in number at a connecting point, and the group was taken on what proved to be a brutal -- and deadly -- march north to New Brandemberg. The march started on Dec. 24 and ended in New Brandemberg Jan. 31, 1945.
Many men who were led as captives up to Northern Germany did not survive the journey. The temperature in Germany at the time was abnormally cold; Bass says the temperatures stayed around 0 degrees most the time.
The captives were not prepared for winter warfare. They were shielded from the cold only by their uniforms, cloth leggings, a sweater and a field jacket.
"Our generals assumed the war would be over by Christmas," Bass said.
Bass said he believes he was able to survive the long march across the German countryside because of his athletic background in his youth. Still, he contracted pneumonia at one point and almost died. And at that time, he said nobody really knew much about frostbite.
The Comrades Arrive
The GIs remained in captivity until April. Suddenly, and in an event lacking drama, the war ended for Bass and his fellow captives as they sat in camp and listened to Russian gunfire and tanks.
"When we woke up the next morning, we found out we were just sitting there alone because the Germans were all gone and fleeing for their lives," he said.
As the Russians approached, signaling the end of the captivity, Bass remembers them yelling to the GIs, "Comrades! Comrades! Comrades!"
"I remember saying 'comrade' too," he said. On that day, April 23, 1945, the GIs were liberated, although they stayed with the Russians for three weeks before being taken to Camp Lucky Strike, France. The war officially ended May 7, 1945.
Bass was given a physical and interrogated at Lucky Strike, and then he was flown to Boston in June 1945 for more of the same. He was then sent home to Fort Sam Houston, where he entered the war three years earlier, and was discharged in December 1945.
"That was it, except the price I continue to pay today," he said.
1945 and After
In comparison, it seemed the short term health issues were not terribly severe. Bass said it took five years for his digestive system to accept food again. While he was a captive, he and the others ate black "sawdust" bread and cabbage soup with little, white worms in it. They ate the soup, as they were told the worms were good protein and would not hurt them.
But there were other problems.
"When I got home, I knew I had a problem from the hip down," Bass said, "but we didn't know anything about frostbite then, still don't."
The frostbite had caused permanent damage to his legs, though he said he was pretty active until he turned 75 -- "when it really cut into me."
Life for the country went on after World War II, and Bass went along with the flow of recovery around him. Just five years after the end of the war, he graduated from Southwestern University. He worked as a social worker for the state from 1950-1953 before being called to preach. After that, he went to school at Southern Methodist University's Perkins Theological Seminary, graduating in 1956. After serving his county for three years, he spent most the rest of his professional life serving God, finally closing the book on his career in 1989.
Bass put his own life on the line to save the future of the country and the world. Many of the chapters that make up the historic book from that crucial time of the country's life have yet to be told. Many won't make it into the book.
Bass' story will, and it's one he will never forget.
Jayson Larson may be contacted via e-mail at [email protected]

****************
www.corsicanadailysun.com || Articles Index

All rights to this story reserved. Copyright Corsicana Daily Sun and Community Newspaper Holdings, Inc,. Content may not be archived, retransmitted, saved in a database, or used for any commercial purpose without the express written permission of the Corsicana Daily Sun and CNHI.
---
OBITUARY

Kenneth Edward Bass
The Rev. Kenneth Edward Bass peacefully passed away from kidney failure at his home, Oct. 27, 2007.He was born in DeLeon on April 11, 1924 to Charles Edward Bass and Sallie Catherine Collins Bass. Ken was a veteran of World War II where he served as a medic in the Army and was captured during the Battle of the Bulge. He was held as a prisoner of war until he was liberated by the Russians in April 1945. He was honorably discharged Dec. 3,1945. Ken graduated from Southwestern University at Georgetown with degrees in sociology and psychology. He earned a Masters of Theology from Perkins School of Theology. He served as a Methodist minister in many communities throughout the Central Texas Conference until he retired in 1989. Ken married Alice Fern Grounds at Dresden, May 14, 1955. He was proud to be a 32-degree Mason and a 50-year member of the Lions Club. He was also a member of Eastern Star. He was preceded in death by his parents; his brother, Charles Elmer Bass; and two grandchildren, Brian and Brianna Bass. He is survived by his wife, Alice Bass of Corsicana; sons, Kenneth P. Bass and his wife Belinda of Waco, Conway Bass and his wife Peggy of Irving and Robert Bass and his wife Beverly of Fort Worth; grandchildren, Keith, Shannon and Samantha Bass, Collin and Casey Bass; great-grandchildren, Brittney and Bransen Bass. Funeral service is scheduled for 2 p.m. today at Griffin-Roughton Funeral Home Chapel with Nancy Schusler officiating. Interment will follow in the Rosehill Cemetery. The family would like to express special thanks to the nurses and caregivers from Angels at Home for all their love and support. Arrangements by Griffin-Roughton Funeral Home, Corsicana.
Notes:
Published in the Corsicana Daily Sun from 10/30/2007 - 11/1/2007.
---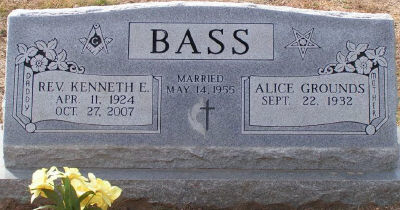 Rose Hill Cemetery, Blooming Grove, Navarro Co., TX
Marker Photo by Dana Stubbs