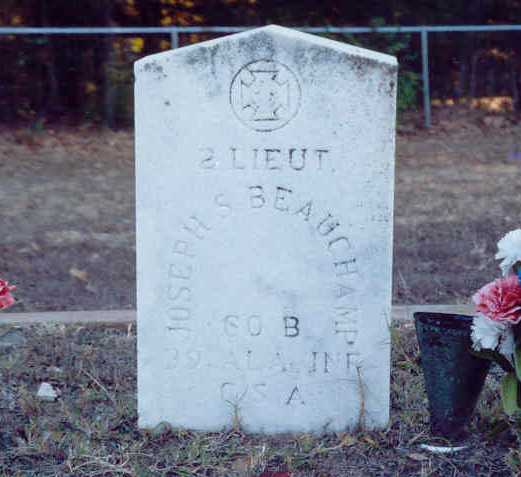 2 LIEUT
JOSEPH S BEAUCHAMP
CO B
39-ALA INF>
CSA

Joseph Sayers Beauchamp was born on March 26, 1832 in Barbour County, Alabama to William Beauchamp and Nancy Perkins. He had three sisters named Mary, Nancy, and Sarah. He had five brothers named: William, Andrew, Asbury, Thomas and Richard Beauchamp. Joseph married Sarah Pauline Blunt in 1851, Macon County, Alabama. They had six children, one daughter and six sons.
Ella, William, Britton, George, Thomas, and Andrew Beauchamp. Sarah died in Stephenville, Erath County in 1913. Joseph died in 1912 and is buried in the Midway Cemetery, in Midway, Navarro County, Texas
He served as a 2nd Lieutenant of Company B 39th Regiment Alabama Infantry.
According to some of the CSA Muster Rolls, he Mustered in at Opelika, Alabama as a Private on March 25, 1862, age 30. Then he is listed as being paroled and deported to Chattanooga, Tennessee on January 11, 1863. On August 31, 1863 he is listed as a 2nd Lieutenant near Chattanooga, Tennessee. September 1863 – December 1863 he is listed without a location noted. In August 19 – September 18, 1864 he is listed as "sick" near Atlanta, Georgia. By the 1880 census, he and his family was found living in Navarro County, TX (pg.388).
Notes: