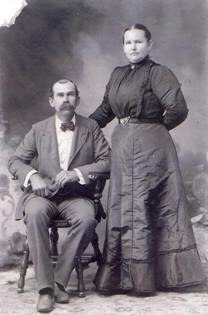 Biographical Sketch of WILLIAM HENRY BELL
Compiled by a granddaughter, Jane Bell Smith from research of census files, land records, family memories, old and treasured obituaries, and pictures graciously shared by family members. 2-5-2005


William Henry Bell was born in Oktibehha County, Mississippi to Leroy A. and P. (Peachy) Reynolds Bell on May 21, 1861(?). Although this date appears on his Death Certificate and Tombstone, I believe he was born earlier than 1860 as he appears on the following 1860 Census Record. Miss P. Reynolds was listed as Pythanna in Mississippi Marriages, 1826-1900. Leroy A. and Pythanna Reynolds were married on August 17, 1854 in Lowndes County, Mississippi. The 1860 United States Federal Census, Lowndes County, lists the following family members:

Name
Age
Estimated
Birth Year
Birth Place
Gender
Leroy A. Bell
33
1826
South Carolina
Male
Pecusia Bell
23
1836
Mississippi
Female
Joseph Bell
4
1855
Alabama
Male
William Bell
2
1857
Mississippi
Male
Elizabeth Reynolds
47
1812
Virginia
Female
Emily Reynolds
25
1834
Mississippi
Female

In 1870, Elizabeth Reynolds (I assume the mother of P. Reynolds) is living in Paris, Lamar County, Texas. Our W. H. Bell is living with his brother, Joseph, mother, Peachy and stepfather, John Scott, with sister, Virginia Bell (4) as well as half-sister Margaret Scott (1) in Starkville, Oktibehha County, Mississippi. I assume Leroy A. Bell died sometime between 1864 and 1868. He did not show up in any census searches after 1860. P. Reynolds and John Scott were married in Oktibbeha County, Mississippi on October 17, 1866. (Oktibbeha County, Mississippi Marriages 1866 to 1868 Roll #14318)
The 1880 Federal Census for Lamar County, Texas listed William Bell, age 20, single, farmer, living with an aunt, Elizabeth Blake. William Henry Bellís obituary stated that he came to Texas, settling near Brookston, from Mississippi when he was 15 years of age.

. On July 2, 1881, Mr. W. H. Bell and Miss Nannie Belle Guthrie were united in marriage in a double wedding ceremony with Mr. L. W. Guthrie (Nannieís brother) and Miss Nannie Boone in Lamar County, Texas.

Ellis County Land Deed Records, Vol. 130, page 491 dated 11/22/1901 shows W. H. Bell purchased 73 acres out of the G. W. Whaley Survey from m. J. and Mariah Jane Owens (believed to be in Leland, Ellis County, Texas). A Lien Release dated 9/18/1909 shows the land was paid off by W. H. Bell.
This marriage produced ten children; eight boys and two girls. William Luther was born June 9, 1882, and died November 18, 1917; Delbert Fisher Bell, b. February 4, 1884, d. August 22, 1949; Newton Silas Bell, b. May 10, 1885, d. October 10, 1935; Trannie Pearl Bell, b. January 11, 1887, d. June 30, 1967; James Leeland Bell, b. August 1888, d. unknown date; Jess A. Bell, b. October 14, 1890, d. February 20, 1937; Era Myrtle Bell, b. April 18, 1892, d. March 15, 1967; Stephen Clark Bell, b. September 14, 1898, d. December 22, 1955; Hugh Sloan Bell, b. March 18, 1902, d. May 9, 1969; Ward Hockiss Bell, b. February 10, 1910, d. April 18, 1936.
William Henry Bell was a farmer in Ellis County, Texas where the children grew up and started school at Reynolds School in Leland. Jack Hodge remembered his father, Will, when only a teenager, had painted the Bell home there and first met Myrtle as a young girl, whom he later married. Pictures of a family gathering show something of the farmhouse there.


(W. H. Bell is on far left of above picture)
The 1900 Census shows the family in Leland, Ellis, County, but by 1910, they were on the Rice, Navarro County, Texas Census. I would assume the family needed to move closer to the higher grades of school as most of the children attended Rice High School. It seems that one of the jobs that William Henry had in Rice was Filling Station Attendant.
Much to my surprise, William Henry Bellís mother and step father, John S. and Peachy Scott show up on the 1900 Navarro County, Texas Census living in Rice. They had moved from Mississippi to settle in Rice, Texas. They had another son, Arthur Scott, W. H. Bellís half brother, who also lived in Rice. It was only in 2004 that I learned P. Reynolds Bell Scott and her second husband, John S. Scott were buried in Rice Cemetery, along with her son, W. H. Bell and Arthur Scott.
William Henry Bell died October 27, 1935 after a short illness.

Rice Cemetery, Rice, Navarro County, Texas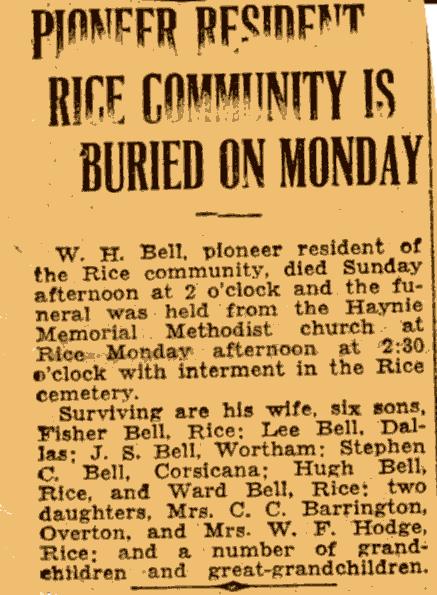 W. H. Bell Ė 1861-1935
William Henry Bell was born May 22, 1861 in Octibeha County, Mississippi to Leroy and P. Reynolds Bell. He came to Texas as a young man and resided in Rice, Texas for forty years. He was a member of the Rice Methodist Church. He died at his home in Rice Sunday morning, October 27, 1935.
He was married to Miss Nannie Bell Guthrie and to this union ten children were born, eight of whom survive: William Luther Bell having died November 18, 1917 and Silas Newton Bell died October 12, 1935.
Surviving are his wife; six sons; Lee Bell of Dallas, Steve Bell of Corsicana, Jess Bell of Wortham; Fisher, Hugh and Ward Bell of Rice; two daughters, Mrs. C. O. Barrington of Overton and Mrs. W. F. Hodge of Rice and several grandchildren and great-grandchildren.
Funeral services were held Monday at the Methodist Church in Rice with Rev. G. C. Henry pastor of the Rice Baptist Church, officiating. Interment was made in the Rice cemetery.
Notes: