Military information and pictures were shared by Pam Blount Blaine, daughter of Farest and Geraldine (Billie) Hodge Blount. Submitted by Jane B. Smith

Biographical Sketch:
Farest Blount was the son of T. B. Blount of Rice Texas. Farest attended Rice High School and married Geraldine (Billie) Hodge, daughter of William Franklin and Era Myrtle Bell Hodge of Rice, Texas

T/Sgt. FAREST T. BLOUNT
340th Bombardment Squadron United States Army WWII
Date of Enlistment: October 5, 1942
Date of Honorable Discharge: Oct. 13, 1945
Military Occupational Specialty: Airplane Maintenance Technician
Military Qualification: Sharpshooter Rifle, Dec. 6, 1943
Service Schools Attended: Air Mechanic Course
Battles and Campaigns: Rome-Arno, North Apennine, Po Valley, Southern France, Normandy, Northern France, Rhineland, Central Europe, Air Combat Balkans.
Decorations and Citations: 1 Service Stripe, 3 Overseas Service Bars, EAME Campaign Ribbon with 9 Bronze Stars, Good Conduct Medal, Distinguished Unit Badge GO #3036, Sept. 2, 1944. Lapel Button Issued, ASR Score (2 Sep 1945) – 92

****************
T/Sgt. Farest T. Blount, 340th Bombardment Squadron United States Army WWII. Chrew Chief of a Liberator bomber "Hell's Belle".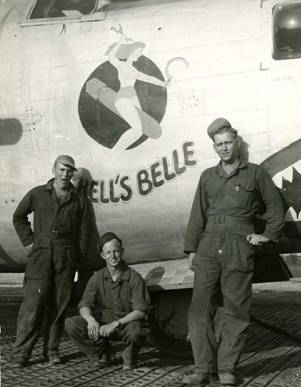 ---
FAREST BLOUNT---AS I REMEMBER HIM --- 11/2/1997
Memory shared by Jake Oliver (brother-in-law of Farest Blount)

Farest and Billie Hodge Blount and Jake and Marjorie Hodge Oliver

FAREST BLOUNT was one of the best persons I ever knew. He was born a decade earlier than I. He was born in a small town. He went to a small country school. He was the son of a farmer, who owned land near the town. The town was RICE, TX in NAVARRO COUNTY.
I have been told that in his youth he was a good baseball player and a very good basketball player. Country basketball in those days was played outdoors on dirt courts and mostly day games.
The first time I can remember seeing Farest was in 1935, he would have been about 25 years old. Those were the Depression years--times were bad. Few jobs were available, but Farest was working at a little two-pump service station on Highway US 75. At this time he acquired a 1935 Plymouth car, one of few new cars in town. He was a good driver and was always in control, no matter how fast. I don't remember him ever having an accident. As far as cars were concerned, he knew what made them run and his car was always in top condition. Ready to go.
At the same time there was a young lady living in town that Farest had gone to school with. Billie Hodge was his girl friend. He lived on the North end of the street that passed by the school, the Methodist Church, the ice house, business district, the Baptist Church and a little farther down in the opposite end of town was where she lived. So his Plymouth made several trips a day driving by the Hodge home looking or being seen. In 1935 they had dated for several years, but marriage was not an option due to the labor situation.
In the year of 1936 or 1937, Farest applied for a job with the Texas Company (TEXACO) and went to work at a new company station in Dallas, the Highland Park Station, in the best part of town. He was still pumping gas and servicing cars. In those days a stop at a service station meant just that. Gas was 20 to 25 cents a gallon, but you received an oil check, a tire check, windows washed, a smile, a 'good-bye', a 'hurry back', especially if you asked for a fill-up.
About the same time, Billie Hodge moved to Dallas and got a job at a 'five & ten cent store', and for a time lived at the YWCA. Later she shared an apartment with some other girls from Rice, on Forest Avenue. I'm sure she and Farest continued to date and it was a lot more convenient. Not long afterward they were married. I'm not sure of the date. I think it was in 1937.
Farest did well in his work and was given a job as a driver of a gas truck that delivered gas from the TEXACO Bulk Plant to the company stations and dealers in the area. He was as good at driving a truck as driving his 1935 Plymouth and he was learning the business.
In December of 1939, I, nineteen year old Jerry (Jake) Oliver married Billie's sister, nineteen year old Margorie Hodge. Thus Farest Blount and I became brothers-in-law and a part of the Will and Myrtle Hodge family.
During the next couple of years Marjorie and I spent many Saturdays and Sundays riding in that 1935 Plymouth. One of the best ways to pass the time away was driving around town looking at apartments, most of which we couldn't afford, but we could hope and dream about someday.
We'd picnic at the park on White Rock Lake. Those big wieners were really good cooked on the open campfires. Farest had a way of frying potatoes that turned out just wonderful. One winter Sunday afternoon we drove by White Rock Lake and it was frozen over. Ice was thick enough that some drove their cars on it. That's the truth.
In August of 1940, we, the four of us, went on a vacation together, in that 1935 Plymouth. We drove west on US Hwy. 80, the main highway through Texas at the time. It was all new to us and we were very excited to see all the sights along the way. And for the first time for any of us, we drove out of Texas into New Mexico to the Carlsbad Cavern. The walk through the cavern was something we always shared as a good memory. Actually this was in the early days of the cavern development. There was an elevator, but we walked in and walked out. We also saw the bats leave at sunset. We enjoyed it very much. Though Carlsbad Caverns was the highlight of our vacation, it was not the only thing we four found to be interesting. From the cavern we drove through a part of Southwest Texas we had read about but never dreamed we would ever have a chance to experience. Places like the old historical town of Fort Stockton, an army town, those stationed there protected the early settlers of the area from the Indians. And there was the town of Landry, the home of Judge Roy Bean, who was famous for his quick trials and swift justice. That part of Texas was known for its many hiding places for those who were running from the law. If a horse thief was caught and brought before the Judge, he was usually hanged from the 'hanging tree' just outside the old Country Supply Store, owned by the Judge. It was known as Frontier Justice and those who just might be brought before the Judge stayed away from that part of Texas. From Landry we passed through other towns of Texas early days, like the old railroad town of Sanderson.
In those days there were not many hotels or places to spend the night. Besides a small hotel at towns along the railroad route, there were what was known as Tourist Courts. The owner usually had a few wood cabins, with a few items of comfort besides a bed that he rented to travelers who required some rest along their way. Only natural air-conditioning and wire screened windows, maybe. Usually you stayed long enough to rest and get some sleep and then we were on the road again. I'm not sure or don't remember what we ate or where we ate. I'm sure our funds were limited, but gas was cheap and a cup of coffee was a nickel. Two donuts cost another nickel. A good hamburger was a dime. I'm sure we managed to eat.
Along the way we made a stop in Del Rio, Texas, a town with a powerful radio station that we had heard. The home of the famous Dr. John R. Brinkley, famous for a special operation he advertised on the radio. From Del Rio we crossed the big Rio Grand River into Mexico, just to be able to boast of the fact we had been out of our country, another first for the four of us. From Del Rio we drove through the Valley and on to San Antonio, where we visited the Alamo, the site of some interesting Texas history. The year 1936 was Texas' 100 years as a state, so the celebration was very much still on our mind. But the vacation was not over; there was one other place we wanted to see. The drive to Galveston was through a part of Texas we had never seen and we liked it all. At the city of Galveston, we had our first look at the Gulf of Mexico and the swimming was good, but we all sunburned and suffered for a few days afterward, but that was another first for us all. As with everything good, there is always an ending. This had been a wonderful few days and it was a memory we would share always. On our arrival in Rice, after our drive from Galveston and Houston on US Highway 75, we were welcomed by the Hodge Family. Ah, those were the days.
Billie and Farest were present when our daughter, Sharon was born and they were almost as proud of her as we were. At the time we lived as next door neighbors in apartments on Ross Avenue in Dallas.
I think sometime in 1942 Farest was drafted into the Army Air Force. He and I never talked much about his service life. I do know he spent several years in Italy and as I remember he was responsible for helping in keeping the planes in flying shape. Knowing Farest, I'm sure he saw to it that they ran as well as that 1935 Plymouth he had left at home. He returned home in 1945 and after his discharge went back to work with Texaco. Later he was transferred to Tulsa, Oklahoma. They lived there for several years and Lynn and Pam were born there. During those years we visited each other as families, but not often. Later Farest was transferred to Amarillo, Texas, where the children went to school, grew up and were married. Farest did well at Texaco, and when he reached the age of 62, he retired. During these years, Marjorie and I visited them and they visited us. We had many good visits over the years. Farest liked to work with wood and whatever he made, it was well done. He still liked to work on cars, same as that 1935 Plymouth.
I shall never forget, sometime in those Tulsa years he owned one of the first Hudsons. It was a beauty and was a big comfortable ride. He was one who seemed to always have a project to work on. Like a 1956 Chevy, a restoration to be proud of and it was restored inside and out. I understand it's still around--what a memory. Farest liked to fish. He also liked to play golf and he was pretty good for a man of his age.
I think of all the things I always admired about Farest Blount, I admired most his devotion ands care he gave Billie those many years she was sick. He had patience beyond words and I feel his care of her extended her life and gave her a secure feeling to the end.
In the Spring of 1997 Billie passed on. And after 60 years of marriage, I'm sure he was very lonely. Marjorie and I visited him in June 1997 and shared a steak dinner with him. He talked about how he was about to come to grips with his situation in life. On that evening he was driving his Oldsmobile down the street the same as I remembered him in that 1935 Plymouth in Rice, Texas, West Texas and Dallas. On October 26, 1997, Farest went to be with Billie. He was sick a short time--maybe three weeks. He suffered little--just went to sleep--as I understand. Marjorie and I were on a vacation trip. We were returning from Las Vegas and on October 26, 1997, three days after Farest was laid in the vault with Billie, we spent the night in Amarillo, not knowing of the event. We were tired from travel and we thought of calling, but didn't. We had seen him in June and as we passed the cemetery on the east side of town, we almost stopped to see where Billie lay. I suppose it was good we didn't. It would have been hard on us to find Farest was there too and not knowing the circumstances. Some time later, we did visit the site.
We will always be glad we had that good visit in June, when we told him how wonderful his care of Billie was and that we loved him. Our last visit in this life. He was our good friend and brother.
11/2/1997 JLOJ - Jake Oliver
Notes: