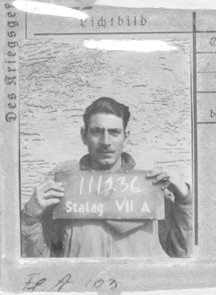 Joseph A. Borsellino became a Prisoner of War after being captured in North Africa in 1943. Courtesy photo
5/25/2003 VETERANS IN MEMORY: Former POW Borsellino recalls 26 months he spent as a prisoner
By DEANNA PAWLOWSKI/Daily Sun Staff
Joseph A. Borsellino enlisted in the U.S. Army March 1942, at age 22. He was captured in North Africa on February 18, 1943, and spent the next 26 months as a prisoner of war.
The 805 Tank Destroyer Battalion, which was attached to the English Heath Army, traveled by ship to North Africa. During battle, they somehow found themselves behind enemy lines, where Borsellino was evidently wounded.
"I was knocked unconscious, and came to in some tall grass," Borsellino said. "There was no one else around, but I got up and found 10 other survivors." The group walked at night to avoid detection, but was eventually captured by the enemy. A total of 1800 soldiers were captured that week.
"We were kept in a barbwired compound, then taken to an airport and flown to Naples, where we spent two weeks in a prison camp," Borsellino said. "We were then put in a boxcar and sent to Munich, Germany. There were nearly 100 men crammed in each car."
A work camp at Trattendorf, Germany was his home until he and two others made their escape June 5, 1944. After two weeks on the outside, they were spotted by some people on a farm who alerted the Gestapo. Borsellino and his sidekicks were picked up, and returned to the camp, but to solitary confinement.
Borsellino was then sent to a 3A camp, where all nationalities of prisoners were detained. There he discovered three other men from Corsicana -- Raymond Myrick, Lawson Wade, and Jimmy Foster.
The prisoners were liberated by the Russians April 22, 1945. After the Germans vacated the camp, the prisoners discovered their detainee records and helped themselves.
Ironically, Borsellino was not only a POW, but had first-hand knowledge of an MIA. Following the initial skirmish in North Africa, when he woke in tall grass, he and a couple of other soldiers found a captain with part of his face blown off. They put him in the back of the truck, and hauled the body around part of the day, before deciding to bury him. Not knowing to remove his dog tags, the captain was buried with his tags. Having no idea where they were, Borsellino said that they couldn't notify anyone regarding the whereabouts of the captain's body.
"I'm sure he is still missing in action to this day," Borsellino said.
Remains are still unrecovered for 78,000 servicemen from World War II, 8200 from the Korean War, and 2100 servicemen from Indochina. Extensive effort is being made by Joint Task Force-Full Accounting to recover these remains. It is a long and arduous process. The mission of this organization, which was officially established in 1992, is to achieve the fullest possible accounting of Americans still missing or unaccounted for as a result of war.
Last year alone, 39 WWII servicemen, five Korean War, two Cold War, and 63 Vietnam War remains were identified.
In order to locate remains, the JTF-FA must first send out a task force, which must interface with the officials from that particular country. Then, like an archeological dig, they recover any remains they can locate. The remains are taken to Hawaii, where JTF-FA is based, and a ceremony is held in honor of the serviceman. The identification process is implemented, and if identification is made, the family must be notified. The remains are then given a proper military burial.
Thanks to advancements in DNA technology, DNA samples from maternal relatives of those listed as POW/MIA are being sought in order to build a database that will allow accurate identification of these remains once located.
Maternal family members are encouraged to contact the appropriate service and arrange blood (mtDNA) donation. Interested family members of POW/MIAs are urged to contact Tim Easley at (903) 654-3039 for more information.
Notes: