5/30/2002 Blooming Grove Elementary Principal Wears Dress to Fulfill Deal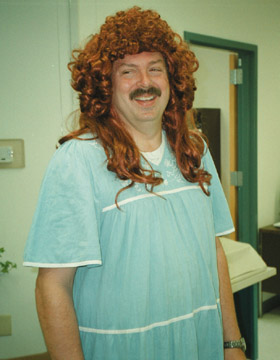 Blooming Grove Elementary Principal David Brewer wore a dress as promised thanks to solid TAAS scores. Daily Sun photo/BARBARA FORMAN
By BARBARA FORMAN/Daily Sun Staff
Wednesday was a fun-filled morning at Blooming Grove Elementary. Students, teachers and staff roared with laughter when David Brewer, principal, made his grand appearance dressed as a woman.
It was all part of the ongoing efforts to keep students interested and working to raise their TAAS scores.
Brewer made a bet with the students in the first effort to raise the TAAS ratings.
"Last year I bet my hair and my mustache," he said. Students accepted the challenge and his motto became "Bald is Beautiful."
Brewer said over 80 percent of the students passed on the testing last year.
He said he knew it would require even more to keep the interest and another challenge to get students to reach higher levels on the TAAS. Students decided this year Brewer should dress up like a woman.
"This year they did even better," Brewer said.
The TAAS scores showed 92 percent passed in reading, 91 percent in math and 88 percent in writing. Not only did they excel and raise the scores again, they also achieved a recognized status.
"For the first time in our history, this campus will be a recognized campus when the results come out in August," Brewer said.
He met the challenge in a good, humorous way. He wore a blue dress that was accentuated by long, red and curly hair. His manicure was specially designed and was painted red and yellow.
It did not matter that Brewer's tennis shoes or fuzzy legs did not flow very well with his blue dress. It was a time to celebrate the hard work and achievements of students and teachers.
He said he was not real sure where the idea originated but everyone had a good time with it. Both the students and teachers worked really hard to make the gains they made.
"We had excellent results," he said.
Plans are already in the making for next year's challenge.
All rights to this story reserved. Copyright Corsicana Daily Sun and Community Newspaper Holdings, Inc,. Content may not be archived, retransmitted, saved in a database, or used for any commercial purpose without the express written permission of the Corsicana Daily Sun and CNHI.