Louise Dantzler
Los Angeles Times, Saturday January 4, 2003
Mary Brian, 96;
Mary Brian, a romantic leading lady whose memorable career began in the era of silent and early sound films, died of natural causes Monday at a retirement home in Del Mar. She was 96.

Brian, a longtime resident of Studio City, appeared in more than 70 films from 1924 to 1947. She co-starred with such leading men of the era as Gary Cooper, Cary Grant and James Cagney, and at different times during the 1930s was engaged to Grant and Dick Powell.

She played Wendy in the first screen version -- a silent -- of "Peter Pan," released by Paramount in 1924. She also portrayed Molly Wood opposite Cooper in "The Virginian," the first major western film with sound, produced in 1929.

In Hollywood, the petite actress with dark brown curls ringing her face was known as "that nice, sweet Mary Brian," in part because of her solid professionalism.

"As a leading lady, she was reliable, competent -- someone you knew would never give you any trouble on the set," said Anthony Slide, a film historian and longtime friend, who called Brian one of the greatest ingenues of the silent and early sound era. "She was very natural in life and on screen."

She was born Louise Dantzler in Corsicana, Texas, in 1906. Raised by her mother, she moved with her family in the early 1920s to Long Beach, where she entered a beauty contest.

She did not win the contest, but caught the attention of Paramount, which was looking for children to cast in director Herbert Brenon's movie of "Peter Pan," based on the J. M. Barrie classic about the boy who never wanted to grow up.

She was 18 when she was cast as Wendy, but Paramount executives trimmed two years from her age because they thought 18 sounded too old to play the girl who befriends Peter. After that, Slide recalled, she did not bother to correct it, preferring to tell inquisitive reporters that her age was "negotiable."

Paramount gave her the stage name Mary Brian and kept her under contract from 1924 to 1932. She was featured in more than 40 films for the studio, playing juvenile leads and co-starring roles in such films as "Beau Geste" and "Brown of Harvard."
She co-starred with Fredric March and Ina Claire in director George Cukor's 1930 classic "The Royal Family of Broadway," and with Adolph Menjou and Pat O'Brien in the first film version of "The Front Page," directed by Lewis Milestone and released in 1931.

In a recent interview with film historian Leonard Maltin, Brian recalled how she and her fellow actors reacted to the advent of sound in pictures.

Buddy Rogers and Dick Arlen "and our whole little gang, we were all terrified because we kept saying, 'Your voice doesn't sound like your voice.' And they were going to make tests of us.... Luckily, it turned out all right. But we were terrified."

Some studios, such as MGM, began to give actors elocution lessons. But Paramount "never did," she told Maltin. "They just put us in there, and you sank or swam."

During World War II, Brian made three tours of Europe and the Pacific to help entertain U.S. troops. She had a harrowing stint near the front lines at the Battle of the Bulge and toured the Enola Gay after it dropped the atomic bomb on Hiroshima, Japan.

Seeing firsthand the cruelties of battle sapped her enthusiasm for making movies. Brian acted only occasionally after the war, ending her film career with "Dragnet" in 1947, the year she married film editor George Tomasini.

During the 1950s, she worked briefly in television, appearing in the CBS sitcom "Meet Corliss Archer." But she focused on supporting Tomasini's career. Tomasini, who was known as Alfred Hitchcock's favorite editor, died in 1964.

After her husband's death, Brian devoted herself to painting portraits, which decorated the walls of her Studio City home. Her subjects included many of her Hollywood friends, such as Hitchcock, comedian Red Skelton and gossip columnist Louella Parsons.
---
OBITUARIES: SAN DIEGO: Mary Brian, 96, actress
Associated Press
Saturday, January 4, 2003

Actress Mary Brian, who bridged the silent and early talkie eras with appearances in 82 motion pictures, including the lead opposite Gary Cooper in "The Virginian" in 1929, has died. She was 96.
Ms. Brian died Monday of heart failure at a San Diego County nursing home, family friend and spokesman Anthony Slide said Friday.
Her career spanned a quarter-century, from the classic silent version of "Peter Pan" in 1924 to the 1947 low-budget movie "Dragnet." She starred opposite such Hollywood stars as Mr. Cooper, Lew Ayres, James Cagney, Cary Grant, William Haines, Warner Oland and Dick Powell. She also played W.C. Fields' daughter in several films, including "The Man on the Flying Trapeze" (1935).
---
OBITUARY: The Dallas Morning News - The New York Times
by Wolfgang Saxon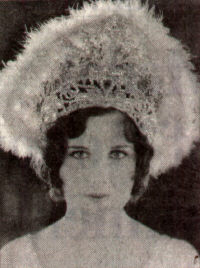 MARY BRIAN
Actress who shifted from silent movies to talkies with grace
Mary Brian, a film star and ingenue who bridged the silent and early sound eras, died on Monday in Del Mar, Calif. She was 96 and lived in Studio City, Calif.
Between Peter Pan in 1924 and Dragnet in 1947 Ms. Brian appeared in 82 films. Petite, with blue-gray eyes and dark-brown curls, she was one of Hollywood's romantic leading ladies from the mid-1920s through the late '30s.
While she did not rank with superstars like Clara Bow or Mary Pickford, she was a bankable contract player and a gratifying attraction at the box office. Her leading men were the likes of Gary Cooper, Lew Ayres, james Cagney, Cary Grand, William Haines, Wiarner Oland and Dick Powell.
Among her films still shown at film festivals and on television is one of the earliest western talkies, The Virginian, from 1929, with Mr. Cooper as the title character and Walter Huston as the villain.
Ms. Brian was born Louise Byrdie Dantzler in Corsicana, Texas. After the family's move to Long Beach Calif., she entered a beauty contest - and though she did not win a prize, Paramount invited her to audition for Peter Pan.
The director, Herbert Brenon, cast her as Wendy. The studio gave her a new name, Mary Brian, and pared her age to 16, deeming 18 too grown up for the part. (After that, Ms. Brian kept her real age to herself, calling it "negotiable.")
She remained under contract to Paramount until 1932, appearing in more than 40 of its productions.
Easily navigating the change-over to sound, she appeared in two 1931 evergreens, George Cukor's Royal Family of Broadway and Lewis Milestone's Front Page.
Ms. Brian said she gained a new perspective on ife during World War II when she entertained troops. She spent Christmas 1944 with the soldiers fighting the Battle of the Buldge.
In 1947 Ms. Brian married George Tomasini, a Hollywood film editor; he died in 1964.
She is survived by her godson, Stuart Erwin Jr., of Rancho Santa Fe, Calif.