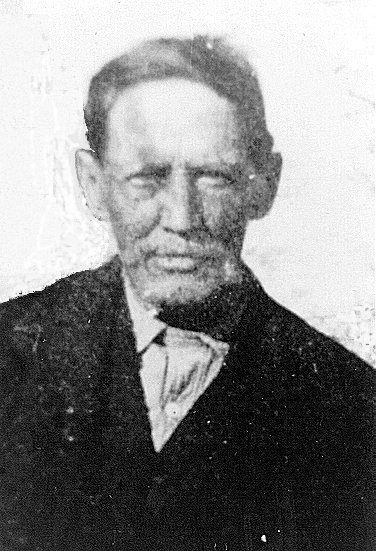 Dr. George Washington Bryan was born February 19, 1837, in Columbia, Boone County, Missouri. He was the son of Pearson M. Bryan and Elizabeth Coleman. His parents and two sisters moved to Missouri from Cynthiana, Harrison County, Kentucky before his birth. His father died when he was a very small child and the family moved back to Kentucky. The Bryan children grew up in their grandfather, Edward Coleman's home in Cynthiana.
When he reached manhood, he returned to Missouri and it was there that Dr. Bryan received his medical education. In 1862, he came to Austin County, Texas to join the Confederate Army. He joined the 16th Texas, commanded by Col. Flournory. While still a private, he was sent to Galveston to take charge of the Confederate Hospital that had been established there. After a short sojourn in Galveston, in the company of Dr. William Orby Cocke, of Bellville, Austin County, he was sent to Little Rock, Arkansas, and there the two were assigned to service as surgeons in the Army. Dr. Bryan was next sent to San Antonio, Texas, to be with Capt. Edgar's Artillery, all of who were soldiers in the regular United States Army, but who joined the Confederacy. After a short while, Dr. Bryan was transferred at his own request to the Lamar County Artillery (9th Texas Artillery) , commanded by Capt. James M. Daniels of Paris (Lamar County, Texas). He remained with this command until the close of the war, during which time he saw active service in Arkansas and Louisiana. After the cessation of hostilities and acting upon the advice of his friend, Dr. Cocke, he decided to continue his profession in Texas.
He returned to Austin County to Buckhorn where he met Mary Louisa Stone. She was the daughter of Absalum Benjamin Stone and Sarah Elizabeth Hood. Mary Louisa was born February 25, 1847, in Montgomery County, Alabama. Dr. Bryan and Mary Louisa were married in Buckhorn on May 21, 1867, and the ceremony was performed by her uncle, Rev. John H. Stone. After their marriage, they moved to Caldwell, Burleson County, Texas for a short time and then moved to Navarro County, Texas.
Dr. Bryan, for fifty-three years was a resident of Navarro County, and practiced his profession in the Drane community. The Bryans reared five children: Mary Emma Horton, Callie Florence Roughton, Eunice Elrod, Alonzo Liston Bryan and Alice Blanche Jordan. Dr. Bryan delivered all of his own children and all of his grandchildren with the exception of the youngest one. The Bryans were active in the Methodist Church there.
In the service of the Confederacy, he established a reputation as a surgeon and physician that lasted him through a long career. He was a quiet dignified gentleman, and was a reader and student throughout his long life till the infirmities of old age put an end to physical activities. Even long after he ceased the practice of medicine his mind was as active as ever, and he kept abreast of the times and was always interested in his fellow man. He had a sunny disposition, and even in extreme old age was a most agreeable and entertaining person.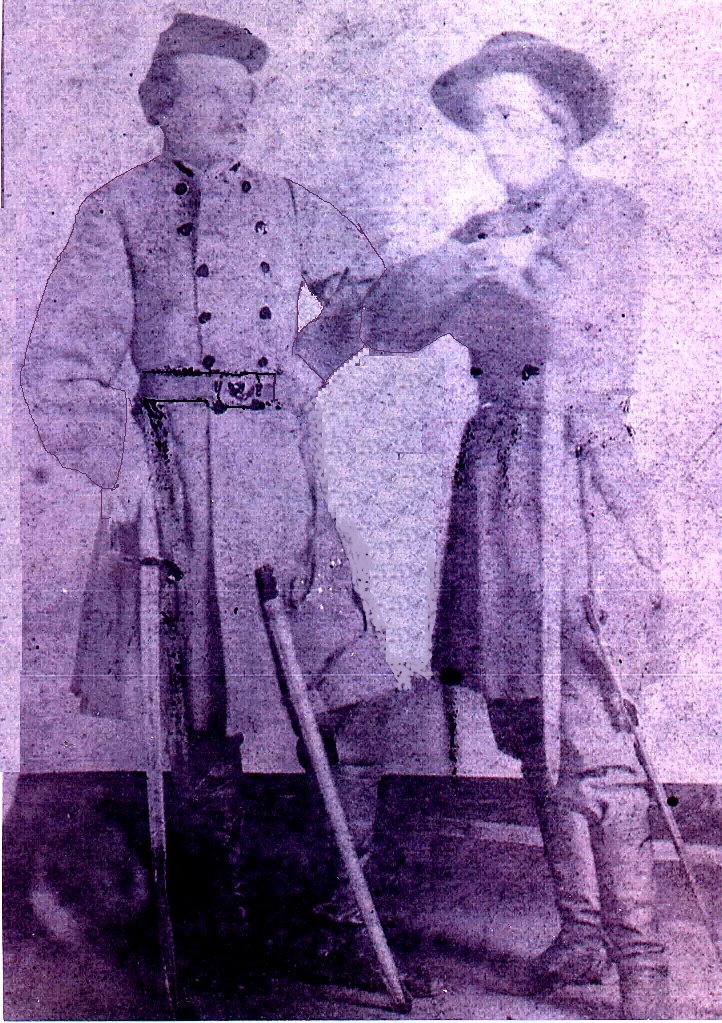 His wife, Mary Louisa died January 16, 1924. He was totally lost without his dear "Manie" and died four months later on May 8, 1924. They are both buried in the Campbell Cemetery not far from their home in the Drane community in Navarro County, Texas.
[The above was taken from family knowledge, the family bible, Confederate Army records, and Dr. Bryan's obituary.]
This picture is (left) Dr. William Irby Cocke and (right) Dr. George Washington Bryan in their Confederate Uniforms
The following letter was written by James H. Wright, former 2nd Lt. of the battery, and friend to George after the war was over.


Jefferson, Texas
July 4, 1867
My Dear Bryan,
Permit me in acknowledging, the receipt of your most welcome favor to congratulate you upon your sweep in the matrimonial line. May you and the fair one who has thus cast her lot with you be happy. Yes, may you be to each other as the stately oak to the vine. As the oak with living care supports and protects the vine, so may you support and protect this fair young creature; and as the tindles twines itself with loving and affection confidence around the oak, so may she twine herself affectionately about your heart, making life for you one continued source; of gladness and joy. Althought I am still, and have ever been a warm supporter of Bachelorism; and when now while I write I am in the full enjoyment of its glorious institutions underneath my own roof. Yet I cannot for the life of me refrain from envying you your happiness. But laying all jokes aside, "Old Fel", I feel that you have done your duty and that I have been remiss in mine. Conscience, Man's applauder when he has done a good action and his accuser when he has committed a bad one, does not acquit me. While I feel perfectly secure in my bachelor retreat from any invasion of my rights. I at the same time feel a consciousness of a vacancy that so far I have be unable to fill. I have at last become satisfied that man was not made to thus drag out his existence alone. Thence have resolved to attempt-at-least to win the affections of some fair creature and celebrate the rights of matrimony. There is now one in Paris that I believe would fill the bill. She is indeed one of the most beautiful creatures that I have ever beheld. I shall speak with her upon the subject some time this fall if I have no bad luck in the draw here. I was at Paris a few days since and found things moving along the same as ususal. My stay was too limited to admit of my visiting any of the fair sex, hence I was compelled to satisfy myself with the report of one of my faithful confederates. I shall be there again perhaps this fall and then I desire to bring affairs to a crisis or in other words "Make a spoon or spite a ______". Daniel is here in Jefferson engineering the Rail Road, his hands are at work on it now. I suppose that in the course of two years it will reach our little busy Paris. Sam Wright passed through this place a few days since, on his way home. He has been to Louisville, Kentucky, to see Miss Maddie. I supposed that he would bring her home with him but he did not. Sam Hamilton was at Fort Smith the last I heard from him learning the saddles trade. J. J. Wilson is living down on Pine Creek raising babies, pigs, and ____ and seems to be quite a happy man. Pat Chisum was in New Mexico the last I heard from him. What has become of Allen I have not heard whether he ever got home or not. While I am now writing, strains of Martial music may be heard from the business portion of our city. The Negroes are celebrating the Fourth of July with a barbecue and are marching in a procession through the principal streets of the town. I have not been down yet but will go in a few minutes and see what in the devil they are doing. Damn the music, I wish they'd stop it for I never care to hear a drum or fife again. Jefferson's quite a lively little town during the business season, though quite dull now. When you reply, direct your letter to this place as I will probably remain here for sometime. Please remember me kindly to Mrs. B. I hope that I will someday have the honor and pleasure of seeing her ladyship. Write me soon. With many good wishes for your happiness I remain.
Your friend,
J. H. Wright
P.S.
I forgot to tell you that Lt. Brook of West's Battery married Miss ____ of Mansfield and is now selling drugs in this place. Do (Ditto) John Talbot also married her sister and is selling goods here. But excuse me for a short time, I must go down to see what in the devil all that noise is about. Well Dr., I've got back at last. The Negroes are having a jolly time of it. Dressed in every imaginable fashion they presented a rather a grotesque appearance. They marched through all the principle streets and then went out in the suburbs where they had dinner ________. After the dinner they called on Judge Mabry for a speech, he made them a talk which I am told was quite appropo. They marched all over the town and finally about night dispersed. So far they have behaved very prudently but I fear that this will not last long. The Banks are registering voters here now. Two white men and one Negro are handling the registering. Do not fail to write soon.
Yours
J. H. W.
P.S. excuse mistakes & C. for I haven't time to look over & correct this letter.
J. H. Wright

©Ron Brothers and Elizabeth Roughton Meriwether, All Rights Reserved, 1999.

Return to 9th Texas Artillery


Return to Confederate Soldiers of Northeast Texas
June 20, 1999
Notes:
---
George Washington Bryan
Feb 19, 1837 - May 9, 1924

PIONEER DOCTOR NAVARRO COUNTY DIED LATE FRIDAY

DR. G. W. BRYAN HAD BEEN A RESIDENT OF THIS COUNTY FIFTY-THREE YEARS

Dr. G. W. Bryan, for fifty-three years a resident of Navarro county, and who practices his profession in the Drane community, died at the home of his son-in-law , M. M. Roughton, yesterday afternoon at 4 o'clock, and the remains were interred in the Campbell cemetery this afternoon in the presence of a immense concourse of sorrowing friends. Revs. Walter Griffith and I. R. Darwood, officiated, and interment was beside the remains of his venerable wife, who journeyed through life with him for more than fifty years. There were many beautiful floral offerings, and the attendance was one of the largest ever seen in that section. The deceased is survived by five children, A. L. (Bud) Bryan, Mrs. A. J. Horton, Mrs. J. M. Elrod, Mrs. M. M. Roughton and Mrs. Paul Jordon, all of Drane.

The deceased was born in Columbus, Mo., in 1837, and was near 87 years of age at the time of his death. He moved with his parents from Missouri to Kentucky when young, and lived in that state till he reached manhood. After reaching manhood he returned to Missouri, but in 1862 came to Austin, Texas to join the Confederate army, and there joined the 16th Texas, commanded by Col. Flournoy. While still a private he was sent to Galveston, in company with Dr. William Irby Cocke, of Bellville, Austin county, he was sent to Little Rock, Ark., and there the two were assigned to service as surgeons in the army. Dr. Bryan was sent to San Antonio to be with Capt. Edgar's Artillery, all of whom were soldiers in the regular United States army, but who joined the Confederacy. After being with Edgar's Artillery for a short while, Dr. Bryan was transferred at his own request to the Lamar County Artillery, commanded by Capt. James M. Daniels of Paris, that county. He remained with this command till the close of the war, during which time he saw active service in Arkansas and Louisiana. After the cessation of hostilities, acting upon the advice of his friend, Dr. William I. Cocke, he returned to Texas and located for the practice of his profession near Buckhorn, in Austin county. Leaving Austin county soon after marrying there, he moved to Caldwell, Burleson county and from Caldwell he came to Navarro county and resided here from then to the date of his death.

In the service of the Confederacy he established a reputation as a surgeon and physician that lasted him through a long career, from which he retired some years ago. The deceased was a quiet and dignified gentleman, and was a reader and student through his long life till the infirmatives incident to old age put end to his physical activities, but even long after he ceased the practice of his profession his mind was as active as ever, and he kept abreast of the times, taking a lively interest in all that was for the best of his fellow man. He was of a happy, sunny disposition, and even in extreme old age he was a most agreeable and entertaining companion. The memory of this good man will live in the years to come, and those who knew him will cherish his memory as an oasis in the desert of life.

Notes:
---
Mary Louisa (Stone) Bryan
Feb 25, 1847 - Jan 16, 1924

Died Near Drane.

Mrs. Bryan, wife of Dr. G. W. Bryan, aged near 80 years, died at her home two miles west of Drane last night after several years illness, and the remains were interred in the Campbell cemetery this afternoon, Revs. Walter Griffith and I. R. Darwood, officiating. The husband of the deceased, who survives her and who is 88 years of age, was a surgeon in the Confederate army, and has a host of friends who sympathize with him in the loss of the wife who has been his companion for all these many years. In addition to her venerable husband, the deceased is survived by five children, Mrs. T. P. Jordon, Mrs. M. M. Roughton, Mrs. A. J. Horton, Mrs. J. M. Elrod, and A. L. Bryan, all of the Drane community. The funeral today was largely attended and there were many beautiful floral offerings.

Notes:
The Corsicana Daily Sun - Thursday, Jan 17, 1924
w/o Dr. George Washington Bryan married May 21, 1867 d/o Absolum Benjamin Stone and Sarah Elizabeth (Hood) Stone
Submitted by Diane Richards