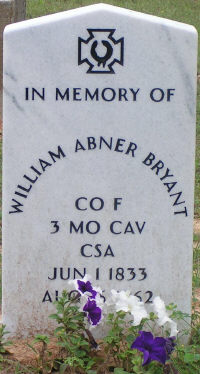 Grange Hall Cemetery
Photograph by Dana Stubbs - Jul 2007
WILLIAM ABNER BRYANT WAS BORN ON 6/1/1833 IN PALUSKI CO. KENTUCKY. ON MARCH 25TH 1852 HE MARRIED MALLINDA SMITH WHO ACTUALLY RESTS IN GRANGE HALL CEMETERY IN NAVARRO CO, TEXAS NEXT TO THE CAPTAINS MEMORIAL MARKER.
ON DECEMBER 12 1861, ABNER BRYANT JOINED THE THIRD CAVALRY CO. F OF THE MISSOURI REGULARS AND OBTAINED THE RANK OF COMPANY COMMANDER. ON THE DATE OF 8/16/62 CAPT. BRYANT PAID THE SUPREME SACRIFICE AS HE FELL AT THE BATTLE OF LONE JACK IN THE STATE OF MISSOURI. HE WAS WRAPPED IN A SIMPLE BLANKET AND BURIED IN A MASS GRAVE WITH AN UNKNOWN NUMBER OF HIS COMMAND. THE SENIOR SURVIVING MILITARY DESCENDANT OF CAPT BRYANT IS KENNETH J. BRYANT AGE 86 WHO IS A VETERAN OF WW2 AND KOREA AND SURVIVED THE NAVAL LAND FORCES WITH THE NAVY SEE BEES IN THE CAMPAIGN OF OKINAWA. KENNETH BRYANT IS THE GREAT GRANDSON OF CAPTAIN BRYANT AND RELATES TODAY MANY OF THE FACTS AND STORIES RELATING TO ABNER BRYANT FROM CAPT BRYANTS GRANDSON MR WILLIAM ROBERT BRYANT WHO ALSO RESTS AT GRANGE HALL. PERSONALLY SPEAKING, MAY GOD BLESS ALL WHO HAVE ENDEAVORED TO MAKE THIS RECOGNITION POSSIBLE AND A SPECIAL HEART FELT GRATITUDE FROM GOLD STAR MOTHER LILLIAN WATKINS AGE 91 OF BLOOMING GROVE TEXAS WHO LOST HER SON GARY WATKINS IN 1968 DURING THE TET OFFENSIVE IN VIET NAM. MRS. WATKINS IS THE SISTER OF MY FATHER KENNETH BRYANT OF WAXAHACHIE.
THANK YOU AGAIN....JEFF BRYANT

Note: At the Memorial and Dedication service for WA Bryant, Mr. Jeff Bryant gave this history.

Notes: