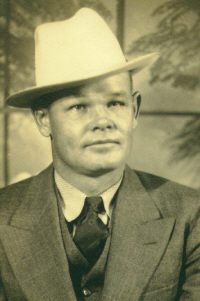 John Wise Cashion
Photo Submitted by Julia Baker
John Wise Cashion, was born Aug 10, 1907 in Cleburne, Johnson Co., Texas. On Oct 27, 1928 he married Myrtle Roberta Osborne in Cleburne. Myrtle is the daughter of Albert Lee & Georgia Arlena Virginia (Wells) Osborne.
John died on May 20, 1966 in Freer, Duval Co., TX and was laid to rest at the Prairie Grove Cemetery at Emmett, Navarro County, Texas.


CASHION
Roberta - Dec 20, 1910 - (blank)
Married Oct 27, 1928
John W. - Aug 10, 1907 - May 20, 1966
Prairie Grove Cemetery
Photo Submitted by Julia Baker
OBITUARY

J. W. Cashion of Freer Expires

J. W. Cashion, oil field worker, husband of the former Miss Roberta Osborne of Corsicana, died in Freer Friday morning.
Funeral services will be held Saturday at 2:30 p.m. at Freer and the body will be brought to McCormick's Funeral service chapel in Frost Saturday night. Graveside services will be held at the Emmett Cemetery Sunday at 2:30 p.m.
Surviving are his wife of Freer; two sons, J. Lomang Cashion, Fort Worth, and Kenneth Cashion, Houston; three grandchildren, a brother, father-in-law, A. L. Osborne, and a brother-in-law, Clyde Osborne both of Corsicana.

The Corsicana Daily Sun - May 21, 1966
Submitted by Edward Lynn Williams
FUNERAL NOTICE
Submitted by Anita Adler
"MEMORIAL MEMORY" I received when I attended the funeral of my uncle by marriage. His wife, Roberta Osborne Cashion, is still living. She is now 91 years of age (those Osborne genes). She was my mother, Bernice Osborne Jones' sister.
Born: August 10, 1907, Cleburne, Texas
Passed Away: May 20, 1966, Freer, Texas 58 years, 9 months, 10 days
Survivors: His wife, Mrs. Roberta Cashion, of Freer:
Two sons, Jay Lamond Cashion, of Ft. Worth,
Kenneth David Cashion, of Friendswood, Texas
Three brothers, Thad Cashion, of Ft. Worth, Bert Cashion, of Glendale, California, Jan Cashion, of Freer, Texas; Four grandchildren.
Funeral Services: 2:30 P.M. Saturday, May 21st, 1966, at the First Baptist Church in Freer, Texas with the Reverend Maurice Smith officiating.
Graveside services will be conducted at 2:30 P.M. , Sunday at Emmett Cemetery, Emmett, Texas, under the direction of McCormick Funeral Home of Frost, Texas.
Robert Lewis
Frank Rice
Claude Holbrook
Charlie Harris
Jerry Hunter
Alvin Roberts
In behalf of the family, we wish to express our gratitude for your many kindness evidenced in thought and deed, and for your attendance of this memorial service.
Notes: