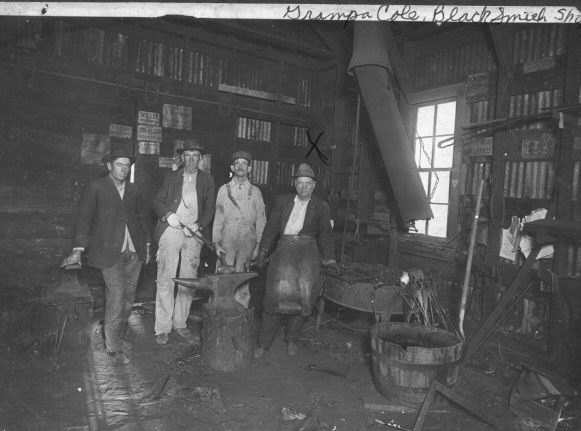 William Ganford Cole and other blacksmiths in Corsicana taken abt 1920. --- Clarence Hays
Notes: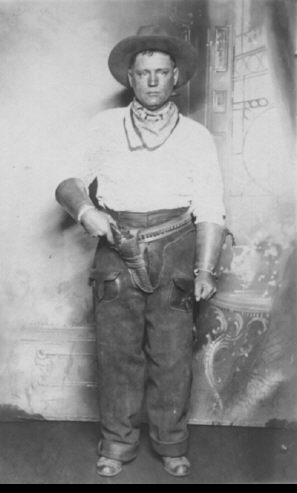 This is a photo of William Ganford Cole, taken in Alma, Texas postmarked, June 2, 1912. He's my great grandfather.
-- Clarence Hays
Unfortunately, I don't know very much about my great grandfather. He and my great grandmother separated when my grandfather was about 7 years old. I know my great grandfather, William Ganford Cole, was a blacksmith and that he was born somewhere in Texas, on the 3rd of April 1877 and that he passed away 20 February 1952 from a cerebral hemorrhage. I was able to get this information from his death certificate. Unfortunately, it didn't list his father or mother. I was told by my mother he was born in or around Corsicana. Also, that my great grandmother, Lottie Bell Grace, was born in Corsicana and raised in Rice, around 1883. She moved to Hobart, OK around 1907 and then to Tulsa in 1912. She passed away in Tulsa in July of 1961. Her parents were Joseph Petree Grace and Mary Ann House. My grandfather, William Edward Cole, was born in Corbet in 1900. ..... Clarence Hayes
5/26/2002 - Update by Clarence Hayes
I have found that William Ganford Cole had married Mary Belle ?. He had three sons Edward Cole, James A. Williams and George S. Williams and two daughters, Mrs Clyde Blakeley and MrsClaude Harrison. I have also found that his mother was Mary E. Stovall and his stepfather was John Henry Stovall. He had two half sisters Cordie Stovall (never married) and Tiny Grace.