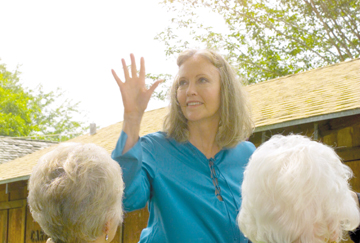 Actress Anjanette Comer greets the crowd gathered as she is inducted into the Navarro County Hall of Fame Saturday at Pioneer Village. Daily Sun photo/KIRK SIDES
A pretty, dark-haired actress who often played roles of women not in control of the fraught environment around them, Anjanette Comer broke into feature films in the 1960s, added TV-movies to her repertoire in the 70s, took a sojourn from the cameras in the 80s and returned in supporting parts in the 90s.
Comer's first feature was the comedy "Quick Before It Melts" (1965), in which she played a woman brought to an Antarctica research station. That same year, she was the ditzy beauty Robert Morse lusts after in Tony Richardson's "The Loved One". She had another good shot as Marlon Brando's cohort in "The Appaloosa" (1966), but her follow-up in "Banning" (1967), was a barren sturm und drang that did nothing to promote her career. Comer was burdened by a ridiculous script in "Guns for San Sebastian" (1968), in which she supported the zealous Anthony Quinn. In 1970, she played the semi-pro hooker who lures former athlete James Caan from his family in the dull "Run, Rabbit". Feature roles came less regularly in the 70s. Comer was wife to Public Enemy Number One "Lepke" (1975), played by Tony Curtis and was in the disastrous "Fire Sale" (1977). She appeared in the direct-to-video fantasy "Netherworld" (1992) and returned to the big screen as Peter Gallagher's mother in Steven Soderbergh's noirish "The Underneath" (1995).
While Comer had some TV experience in the 60s, and guest starred on the 1969 pilot for the ABC series "The Young Lawyers", her work on the small screen began in earnest with a burst of TV-movies in the 70s. Her first was "Firechasers" (1970), and in 1971, she played one of the women on a resort island stalked by an escapee from a mental institution in "Five Desperate Women" (ABC). She was also in jeopardy in "The Deadly Hunt" (CBS, 1971), in which Comer was in the grips of two paid assassins and stuck in the center of a forest fire at the same time. She was the wife of Joseph Campanella stuck above a fire in a skyscraper in "Terror on the 40th Floor" (NBC, 1974) and the abducted wife of Vincent Edwards in "Death Stalk" (NBC, 1975). Comer was a woman in jeopardy long before than genre became a mainstay of TV longforms. After "The Long Summer of George Adams" (NBC, 1982), Comer was little seen on either TV or in the movies, and then reappeared on the two-part season opener of "Jake and the Fat Man" (CBS, 1991). She has since resumed her work in TV longforms in supporting roles. She played Beulah, in the miniseries "Larry McMurtry's Streets of Laredo" (CBS, 1995) and was featured in "Deadly Family Secrets" (NBC, 1995) www.hollywood.com
Movies:
Notes:
I read with interest you page on the charming and talented Anjanette Comer. One of the most enchantingly demur yet exciting actresses of the 1970's. It's wonderful to see her still looking young and very much in peoples hearts and minds, contributing to your community. However, your website omits the main reason that most cinema goers heard of & became fans.. Anjanette's haunting & captivating portrayal of Ann Gentry in 'The Baby'.. My heart feels for her every time, despite the plot twist, such is her performance in this film. ... Paul Osborne