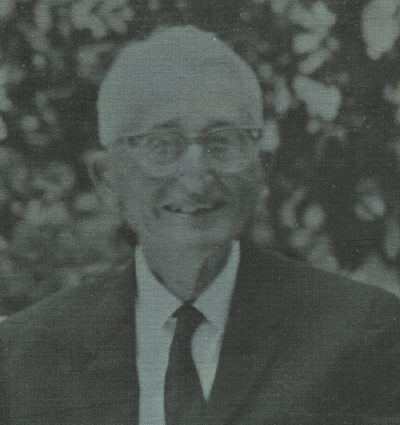 Joseph Martin Dawson, Dr.
Jun. 21, 1879 - Jul. 6, 1973

DAWSON, JOSEPH MARTIN (1879-1973). Joseph Martin Dawson, Baptist pastor, social activist, and writer, was born near Waxahachie, Texas, on June 21, 1879, to Martin Judy and Laura (Underwood) Dawson, Jr. As a youth he wrote for the Dallas Morning Newsqv and was torn between journalism and preaching as a career. In January 1899 he entered Baylor Academy to study for the ministry. While at Baylor he served as pastor for four country churches and became first editor of the Baylor student newspaper, the Lariat. He left school for a year and held a full-time pastorate at Albany (1902-03) before returning to graduate as class valedictorian in 1904. He then held a full-time pastorate at Lampasas (1905-06). This was followed by pastorates at the First Baptist Church, Hillsboro (1908-12), and the First Baptist Church, Temple (1912-15).
Though always outspoken on social issues, Dawson deepened his commitment to social justice in 1914 when he read the works of Walter Rauschenbusch in preparation for a series of articles for the Baptist Standard.qv These articles and the sermons they inspired dealt with social applications of the Gospel to such subjects as child labor, the exploitation of immigrants, and women's rights. The sermons were among the first to be preached by a Texas Baptist minister on social issues. Dawson continued his social activism when he became pastor of the First Baptist Church, Waco, in 1915. The following year he introduced a strong resolution to the Waco Pastors' Association condemning racial prejudice, and he frequently used the pulpit to denounce groups such as the Ku Klux Klan.qv
He also championed religious liberty and church-state separation. In 1945, as Baptist representative at the founding of the United Nations in San Francisco, he carried petitions with more than 100,000 signatures calling for the incorporation of a declaration of religious liberty in the United Nations charter. He took a leading role in organizing Protestants and Other Americans United for the Separation of Church and State (subsequently known as Americans United for Separation of Church and State) and served as its first executive secretary and acting director (1947-48). He opposed federal aid to church hospitals and parochial schools, as well as sectarian instruction in public schools. He also led an interdenominational campaign that defeated President Harry S. Truman's attempt to appoint an ambassador to the Vatican (1951).
Dawson's Waco pastorate, the longest in the church's history, lasted from 1915 to 1946 and brought church membership to over 2,000. Among his many denominational posts, he served as vice president of the Baptist General Convention of Texas (1922), chairman of the Southern Baptist Committee on World Peace (1945), chairman of the Executive Committee of the Southern Baptist Convention (1945-46), and first full-time executive director of the Baptist Joint Committee on Public Affairs (1946-53). He served on the boards of trustees of various religious, educational, and charitable institutions, including Baylor University, Mary Hardin-Baylor College (now the University of Mary Hardin-Baylor), Bishop College, Southwestern Baptist Theological Seminary, Southern Baptist Theological Seminary, Hillcrest Baptist Hospital (now Hillcrest Baptist Medical Center), Baylor Memorial Sanitarium (later called Baylor Hospital), and the Home Mission Board of the Southern Baptist Convention.
In addition to his other activities, Dawson served as editor of a number of publications, including the Western Evangel (1906), the Baptist Standard (1943-46), and Report from the Capitol (1946-53). He helped found the Texas Institute of Lettersqv and was elected a permanent fellow of the institute. He was a prolific writer, contributed articles and chapters to many publications, served as religious book editor of the Dallas Morning News, and wrote twelve books, among them The Light That Grows (1924), The Spiritual Conquest of the Southwest (1926), A Century with Texas Baptists (1947), The Liberation of Life (1950), America's Way in Church, State and Society (1953), Baptists and the American Republic (1956), A Thousand Months to Remember: An Autobiography (1964), and José Antonio Navarro: Co-Creator of Texas (1969).
Dawson married Willie Turner on June 3, 1908, and they had three sons and two daughters. He died in Corsicana on July 6, 1973, and was buried in Oakwood Cemetery, Waco.
J. A. Reynolds
See Also:
REV. JOSEPH DAWSON
CORSICANA, Tex., July 7 - The Rev Joseph M. Dawson, a trustee of Baylor University and founder of a religious-studies program in church-state relations at the school, died yesterday. He was 94 years old.
Mr. Dawson received his bachelor's degree from Baylor in 1904 and an honorary Doctor of Divinity degree in 1916.
In 1947, after 31 years as pastor of the First Baptist Church in Waco, he became the first executive director of the Baptist Joint Committee on Public Affairs in Washington, a post he held for seven years before retiring.
-------

Dr. J. M. Dawson

WACO-Funeral rites were at 11:30 a.m. Monday at First Baptist Church here for Dr. Joseph M. Davis, 94, who had been pastor of the church for 31 years. Burial was in Waco's Oakwood Cemetery. The elder statesman of Texas Baptists died Friday in Corsicana where he had made his home since retiring in 1963.

Dr. Dawson, a trustee of Baylor University for more than 30 years, was the author of several books on church and state problems and served as the first executive director of the Baptist Joint Committee on Public Affairs from 1946 to 1953. He was the founder of the Baylor "Lariat," student newspaper and the "Roundup," college yearbook, and editor of numerous religious publications.

A historian of note, his last book, "Jose Antonio Navarro—Co-Creator of Texas, " was written and published in 1969 after he retired and moved to Corsicana.

The J. M. Dawson Studies in Church and State at Baylor is a living memorial to the distinguished religious leader of more than 60 years.

Surviving are three sons, two daughters, 17 grandchildren and 27 great-grandchildren, four sisters and two brothers.

Notes:
The Corsicana Daily Sun - Mon., July 9, 1973

Submitted by Diane Richards

He died in Corsicana. But he is buried in Oakwood cemetery, Waco

h/o Willie Evelyn (Turner) Dawson s/o Martin Judy Dawson and Laura Fredonia (Underwood) Dawson son – Leighton Brooks Dawson is buried in Oakwood, Corsicana, Tx.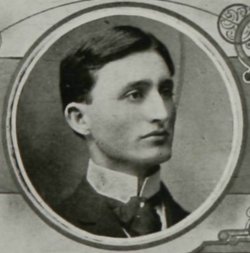 Photo from the Baylor Round Up, 1904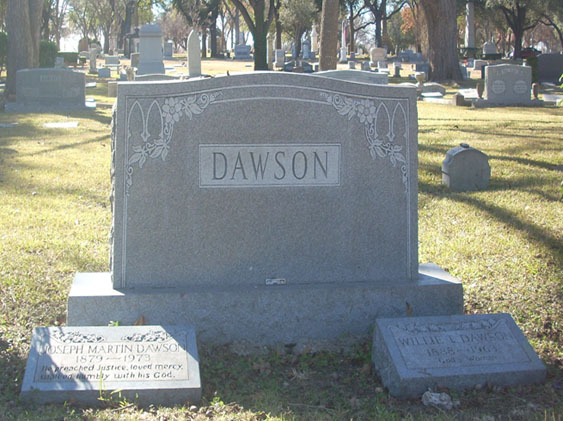 Oakwood Cemetery, Waco, McLennan County, Texas
Dawson, Joseph Martin, Jose Antonio Navarro, Co-Creator of Texas, Baylor University Press, 1969. LOC: 73-112732

Here is a vivid account of one of the major founders of Texas. In it we find fresh and full recognition of his noble origins, his self-education in a period of great turmoil, his versatility as successful lawyer, businessman, rancher and legislature, and his vast influence.

A Thousand Months to Remember : An Autobiography (Waco: Baylor University Press, 1964)
Baptists and the American Republic
The Ethical Thought of Joseph Martin Dawson (Th. D. dissertation, Southwestern Baptist Theological Seminary, 1966).
Travis L. Summerlin, Church-State Relations in the Thought of Joseph Martin Dawson (Ph.D. dissertation, Baylor University, 1984)
Dawson, Joseph Martin: America's Way In Church, State and Society
DAWSON, JOSEPH MARTIN: Separate church and state now.
Dawson, Joseph Martin: America's Way in Church, State, and Society
Noah Turner Byars, Navarro County Scroll, 1965