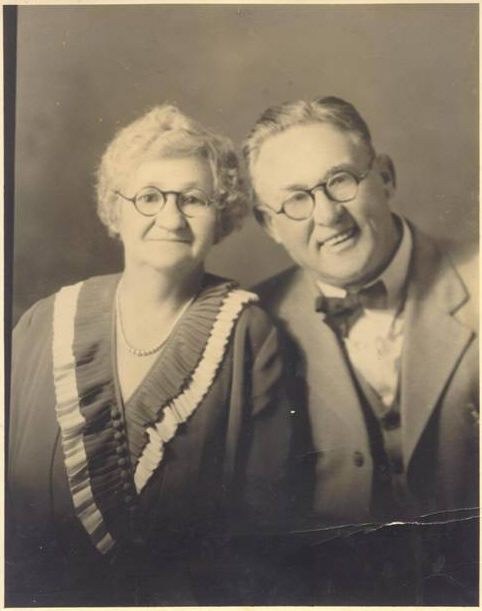 Rev. & Mrs. W. H. Day
Submitted by Jane Bell Smith & Carla Graves
Rev William Henry (Will) Day was born 23 Aug 1877 in Bethpage, Sumner, TN and died 21 Aug 1960 in Grapevine, Tarrant, TX. He married 17 Nov 1897 in Castalian Springs, Sumner, TN Miss Ida Elizabeth WILKS who was born 18 Jun 1877 in TN and died 23 Oct 1965 in Southlake, Tarrant, TX. Three of their seven children, Ed, Ada Elizabeth Higgins, and Bill survived to adulthood.
Rev and Mrs Day moved to Texas in 1904 and to the Rice community around 1921. Between 1921 and 1940, they served at the First Baptist Church in Rice, the Cross Roads Church, the Freeman Church, the First Baptist Church in Streetman and the Texas Baptist Orphanage in Waxahachie.
Rev Day served as a Baptist Minister for 51 years and retired in 1956. Ida, his faithful helpmate for over 50 years, supported him in whatever capacity needed to fulfill his calling to the ministry of the gospel.
Submitted by Carla Graves and Nellva Underwood - great granddaughters.
---

Submitted by Carla Graves, great-granddaughter of Rev. Day
Lonesome Dove Cemetery, Southlake, Tarrant Co., TX
Father - Rev. William H. Day 1877-1960
Mother - Ida Elizabeth 1877-1965
---
Last Rites Held For Rev. W. H. Day
Funeral services were held at 2:30 p.m. Tuesday in Lonesome Dove Baptist Church for Rev. W. H. Day, 82. Rev. Claude Meadows and Rev. M. E. Patterson officiated. Burial was in Lonesome Dove Cemetery with Foust Funeral Home in charge of arrangements.
Grapevine Masonic Lodge No. 288 conducted graveside services.
Rev. Day, a retired Baptist minister, died Sunday at his home after a long illness. A native of Tennessee, he had loved in the Grapevine area for almost 50 years.
Rev. Day had been pastor of the Lonesome Dove Baptist Church for a number of years before retiring in 1956. He had been a Baptist preacher for 51 years.
Survivors include his wife; a daughter, Mrs. Earl Higgins of Grapevine; two sons, W. J. of Mercedes and J. E. Day of Combes; a sister, Mrs. Molly Bedine of Ft. Worth; two brothers, Charlie and Thomas Day of Bethpage, Tenn.; five grandchildren and eight great-grandchildren.
-------------
REV. W. H. DAY
GRAPEVINE, Aug 21 (Spl). - Rev. W. H. Day, 82, retired Baptist Minster who would have celebrated his 83rd birthday Tuesday, died Sunday at his home. Rev. Mr. Day was born in Bethpage, Tenn., and came to Texas in 1903. He lived at Garland before moving to Grapevine in 1911. He retired in 1956 after serving as pastor of Lonesome Dove Baptist Church west of Grapevine a number of years. Rev. Mr. Day, who had been a Baptist preacher 51 years, and Mrs. Day would have celebrated their 63rd wedding anniversary in November. Also surviving are a daughter, Mrs. Earl Higgins of Grapevine; two sons, W. J. Day of Mercedes and J. E. Day of Combes; a sister, Mrs. Molly Bodine of Fort Worth; two brothers, Charlie and Thomas Day of Bethpage; five grandchildren and eight great grandchildren. Funeral services will be held at 2:30 p.m. Tuesday in Lonesome Dove Baptist Church. Grapevine Masonic Lodge 288 will conduct graveside services in Lonesome Dove Cemetery.
Notes:
Grapevine newspaper dated August 21, 1960
Submitted by Carla Graves, great-granddaughter of Rev. Day
---
This is a letter written by Mrs. M. S. Miles, (Ida Mae Miles Dukeminier's mother) in 1956 from the Rice First Baptist Church to Pastor W. H. Day on the occasion of his retirement. It was years after he was pastor of the Rice Baptist Church, but still dearly remembered.
[View Actual Letter]
A TRIBUTE TO ELDER AND MRS. W. H. DAY
Dear friends;
Throughout the years we have known you, you have even been our friends. And what is more important, you have loved us even when we were in the wrong as well as when we were in the right. That is what all humanity hungers for and so sorely needs. For if we are loved only when we are in the right or are good, then this would be a lonely and loveless world.
You have not only been our friends but a friend to all you met. To our way of thinking, that is true Christianity. For "God so loved the world" and was "The Sinners Friend."
You baptized so many of us and our children, you married many and said the last sad rites over our loved ones, that we can never forget you.
You led us in paths of peace and happiness and made us to know more of God's majesty, power, mercy and love. For all these things and many others too numerous to mention, we love you.
As to your retirement, we feel you deserve it. We sincerely hope for you many years of peaceful retirement.
Be sure that anytime we can be a help to you, we will be glad to be called on.
The Bible tells us that "Whatsoever a man soweth, that shall he also reap." So we are sure you will reap the love, esteem and goodwill of people and at last the precious words from our Heavenly Father, "Well done, thou good and faithful servant, enter into the joys of thy Lord."
God bless you richly for all your many kindnesses to us and all mankind.
(Signatures follow)
Mrs. M. S. Miles Lillie & Charlie Murphey
Mrs. Jim Hays Mr. & Mrs. John Spencer
Sloan Gallemore Randell, Ida May & Randell Allen
Mrs. B. D. Poarch Dukeminier (with Houston address)
Mrs. Lola Cochran Charles & Joan Murphey
Mr. Grafton Goodwyn J. T. Allen
(Dallas address) Alvin Jones
Mrs. Frances Bradleywilder Ruth Jones
(Wichita Falls address) Mr. and Mrs. J. D. Burdine
Mrs. T. H. Wear. Lane Harvey & Myrtle Graves
Mr. & Mrs. John Bowden Dale & Frances Weaver
Mrs. T. H. Bowden
Mrs. M. E. Cummins
Mrs. E. H. Goodwyn
---
1926 and 1951 Journals of W. H. Day

W. H. Day's Book
Rice, Texas
1926 & 1927

Cross Roads (Church)

Sermons 49

Visits to Sick 3

Visits Otherwise 49

Baptisms 2

Private appeals to unsaved 10

Public Appeals to unsaved 24



RICE (First Baptist) CHURCH

Church Roll 12

Baptism 20

Pastor's Salary 21

Sermons Preached 23

Visits to Sick 25

(Visits) Otherwise 28

Money Handled 85



Sermons 100

Work for T.B.O.

Total for Year Oct. l to Sept. 30 p. 29


---
Funerals Oct 1 – 50
Jan 2.51. Rice Church
2 P.M.
Mrs Jess Ribble Age 71
5 Sons. 3 Daughters
$20.00
Jan 4. 51 Rice Church
2 P.M.
Mrs Violet Gallimore
Age 80. 1 D Merle Hays, Rice
3 Sons. Edwin Pampa Tx
Hugh Ft Worth. Sloan. Grand Pr
Feb 7. White Chappel Ch
2:30 P.M.
John Jasper Hardin. 88
Surv – 1 Daughter Mrs
Sarah Reynolds
May 22 – 1 Bapt Ch Grapevine
L.W.Parker. 63 yr – Burried
At Dove camitary
Wife and 3 Sons $5.00
By L.W. Parker Jr
Sept 31 51
July 3. 1 Church of
Cockrell Hill: R. H. L. Bob
Avery. Age 80y 10m 21 Da
Children
Ill Joe C. and Monroe 1 Daugt
Mrs Pearl Summers – all of Cockrell Hill
$20.00
Mrs Kate Hoffman
Carrollton Bapt Church
July 20
Age 70 Yr 6 mo
Husband. 2 Daughters
Mrs F. ? Dupont
Age 85 yr 2 mo 5 days
Smith and Lamar F Home
One Step Daughter
Mrs A. E. Power
Aug 16 1st Baptist
Church Rice
George Mosley Travis
59 yr
Wife Janie. 2 Sons
J.P.H Rice Oscar Denton
F7 - $55.00
Nov. 15 51
CC Cook – Age 58
Lucas Funeral Home
Wife Mamie 2
Daughters. 1 Sister
Helped Bro Jack ?
Nov 19. 1st Ch Rice
Mrs. Eula Dukeminier
Age 69
Leaves Husband Clark
1 Son Randall
Bro Bell Helping
Dec 1 – Bap Ch Grapevine Bro Starns
As helper to Bro Jackson
4-30-53 Dove Ch
R.C. (Rick) Blevins
B. June 15 1870 D
April 29. 1953
82 yr. 10m. 14 days
1 son Henry. Dallas
1 Adopted Daughter
Mrs Estell Sparks
Raymo??? Tex
4 Grand Children –
$10.00
James Henry Long
B Jan 15 – 1875 D May
12 – 1953: Age 78 y 3m. 28d.
Sun – 3 Sons 2 Daughters
S Clarence: Clem: Carl:
D Eva- Clara – Buried –
May 13 – Dove, Cem
Mrs R. A. Bowden
Baptist Ch Rice May
21: 53. Age 102 yr 4 ½ mo
100 Living descendents
June 11-53. Stewart Creek Ch
?Gainsville Ft. Assisted
M Bro John Slater ??
Mr John Wesley Slater was born
July 29, 1883 and passed away Jun3 9,
1953 at the age of 69 years, 10 months
And 10 days.
Mr Slater is survived by his wife:
Mrs. Beulah Decker Slater; a son:
C. R. Slater; a sister: Mrs. Dean
Walker all of Lewisville; two brothers
Joe Slater, Lewisville; Arthur Slater,
Albuquerque, New Mexico; four grand-
Children; three great-grandchildren.
Aug 54
Assisted M Mrs
Will Brown at River
Side B Church $5.00
Sept 15 54
John Clark Dukeminier
82. 1st Baptist Church
Rice
One Son. Randell. 1 grand
Son. Randell Jr $15.00
Oct 18 54. Shannons Funeral
Parler. Ft Worth 2-P.M.
(Slick)
Henry Bennett Coulson
Age 67 – 22 days. Survivors
Wife Evah: 3 Sons Fred, Billy
& Ray: Ft Worth: 2 Daughters
Mrs Fred Lindsey. Hurst Tx
Miss Bobbie ? Coulson
Ft Worth: Mt ?? Cemetary
May 13
Mrs Ella Dora Foster
Age 82: Died May 11th 56
1 Son. Glenn F. Grapevine
1 D Mrs Clarence Ratliff
Arlington, Tex
2 Bros. ? Williams Olk.
Herbert Williams, Lamesa
2 Sisters;
6 G Children; 9 G. G. Children
Sunday Dove Church 3 P.M.
May 18th Keever F Home
Ennis
H.C. Noel. 72 yr old
Leaves wife 4 sons
Marshall. Ridgewood
? Mersey
? Beaumont Tx
James Bay City Tx
Leon Dallas Tx
Two sisters $50.00
---

Left to Right: Brother Day, Unidentified, Girl Ray, Beatrice Harris, Frances Bradley and Unidentified boy
Baptisms Rice 1927
[View Page]
(Taken from the journal of W. H. Day, Pastor, Rice Baptist Church)

Mrs. Lil Compton

Duey Mahaley

Dowl Mahaley

Miss Lusk

Andy Ray

Mrs. Andy Ray

Hazel Ray

Florence Cooley

Otho Cooley

Lester Emmert

Marquard (?) Emmert

Mrs. Latham

Tommy Hays

John Henry Dukeminier

Jeneva Curry

Desmonia Curry

Hugh Sparks

Lusk Boy

Miss Henrietta Durbin
Anna Durbin
By Letter:

Prof Sanders, wife and two children

By Statement:

Jessie Dyer

By Letter:

Mrs. Jessie Dyer

Mable Harrison


---
Rice C. Roll
(First Baptist Church, Rice, Texas)
(Taken from Journal of H. W. Day, Pastor 1926-1927)
Allen, T. J. 1.
Allen, Mrs. T. J. 2.
Allen, Ima 3.
Allen, Mable 4.
Allen, J. T. 5.
Atchley, Dave 6.
Atchley, Mrs. Dave 7.
Atchley, Jessie 8.
Ayers, Viola 9
Aston, Stella Mae 10.
Bradley, Frances 11.
Bowden, T. H. 12
Bowden, Mrs. T. H. 13
Bowden, T. M. 14.
Bowden, R. M. 15.
Bowden, John 16.
Bowden, Leona 17.
Bowden, Mrs. Josephine 18.
Burdine, Addie 19.
Burdine, Josie D. 20.
Burdine, Ruth 21.
Burdine, Mrs. Maude 22.
Bolt, Lillith 23.
Barfield, Mrs. George 24.
Brown, Mrs. C. M. 25.
Cummins, M. E. 26.
Cummins, Mrs. M. E. 27.
Cummings, Earnest 28.
Cummins, Mrs. Jimmie 29.
Cummins, Myrtle 30.
Cardwell, H. M. 31.
Cardwell, Mrs. Irma 32.
Cardwell, Ira 33.
Cardwell, Mrs. Bula 34.
Cochran, Mrs. Lola 35.
Cassell, Mrs. J. A. 36.
Cassell, Miss B. 37.
Cassell, Lillian 38.
Cassell, Arington 39.
Crawford, R. S. 40.
Crawford, Mrs. R. S. 41.
Crawford, Ruby 42.
Crawford, Vernalee 43.
Cooley, Mrs. Otha 44.
Clark, Mary Etta 45.
Mrs. Myrtle 46
Dukeminier, Clark 47.
Dukeminier, Mrs. Eula 48.
Dukeminier, Randal 49.
Durbin, Mrs. Sallie 50.
Durbin, Flora Mae 51.
Day, W. H. 52.
Day, Mrs. W. H. 53.
Edmondson, Joe 54.
Edmondson, Miss Edith 55.
Edmondson, Mrs. Jane` 56.
Emmert, Jake S. J. 57.
Emmert, Mrs. S. J. 58.
Gallamore, Mrs. J.A. 59.
Gallamore, Myrtle 60.
Goodwin, E. G. 61.
Goodwin, Mrs. E. G. 62.
Goodwin, Hazel 63.
Goodwin, Grafton 64.
Green, Mrs. Rush 65.
Green, Clyde 66.
Gattin, Mrs. W. C. 67.
Gattin, Jessie 68.
Hays, Merle 69.
Hobbs, E. E. 70.
Loop, Mrs. D. W. 71.
Loop, Kellley 72.
Loop, Hazel 73.
Loop, Dorothy 74.
Lusk, Mrs. L. O. 75.
Miles, M. S. 76.
Miles, Mrs. M. S. 77.
Miles, Lala 78.
Miles, Bessie 79.
Miles, Ida Mae 80.
Miles, Sherman A., Sr. 81
Meadow, Mrs. Myrtle 82.
Meadow, Joe 83.
Murphey, Charles 84.
Murphey, Mrs. Lillie 85.
Mahaley, Mrs. Jim 86.
Mahaley, Nora 87.
Marshall, Mrs. Will
Noel, H. C. 88.
Noel, Mrs. H. C. 89.
Noel, Wayne 90.
Norvell, Mrs. Tom 91.
Pollan, Jim 92.
Pollan, Mrs. Jim 93.
Page, L. B. 94.
Page, Mrs. L. R. (Jimmie) 95.
Page, Eugene 96.
Page, Rosie Lee 97.
Page, Mrs. Mildred 98.
Perry, Minnie 99.
Ribble, Jess 100.
Ribble, Mrs. Jess 101.
Rutherford, Mrs. Tom 102.
Rutherford, T. B. 103.
Rutherford, Mrs. T.B (Ophelia) 104.
Rutherford, Willie 105
South, J. P. 106.
South, Mrs. J. P. 107.
Sparks, John 108.
Sparks, Mrs. John 109.
Spencer, John 110.
Spencer, Mrs. John 111.
Ware, T. H. 112.
Ware, Hermosa 113.
Ware, Mrs. Hermosa 114.
Woods, Mrs. Pearl 115.