7/25/2004 CISD's Top Pick: Denbow makes move to district leadership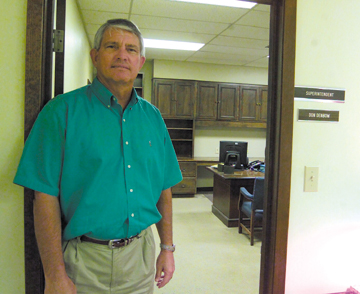 Don Denbow has been tapped to fill the district's highest position. He has said he intends to carry on the work started by retired Superintendent Dr. Jim Dickson, focusing on student performance, staff accountability and fiscal management. Daily Sun photo/SCOTT HONEA




By JOAN SHERROUSE/Daily Sun Staff

For the second time in his life, Don Denbow is a first-round draft choice.

Thursday, the school board gave him a unanimous nod to take up where recently-retired Superintendent Dr. Jim Dickson left off, acknowledging the value of his 35-year career in education.

The first time came in 1967 when he was a senior at Southern Methodist University, studying business finance and playing ball -- he was the Brooklyn Dodgers' No. 1 pick.



"Then in 1969, I decided I wanted to be in education -- I wanted to be in a position to work with kids and help kids," he said. "I left (professional baseball) in July of that year, and fortunately got a job in Mesquite ISD as a business teacher and football coach."

The next year, he moved on to a similar position in the Midland Lee school system where he remained until 1974, then moved back to Corsicana where he earned his certification as a special education teacher.

"I didn't anticipate coaching ... but on the first day back, the superintendent said, 'Oh, by the way, I'm going to let you coach,' " Denbow said.
Within a couple of years, he became the head baseball coach, then began a 16-year tenure as head football coach in 1977 and eventually ended up as the assistant athletic director.

"During that time, I was blessed to be associated with a tremendous number of great athletes, their parents and good assistant coaches," he said.

It was at the end of the 1992 season when Denbow requested a more academic-oriented position. Dickson, then in his first year as superintendent, concurred, placing him as the director of University Interscholastic League academics and athletics. In addition, he did counseling in health services during that time, wrote the drug-free communities act grant and did grants for the Texas Commission on Alcohol and Drug Abuse.

"That gave me an opportunity to expand into some other areas," he said. "I enjoyed every minute of every aspect of it, but I have a natural curiosity for the academics and wanting to be involved in it."

Five years later, he moved up another notch on the leadership scale, accepting the principalship at Corsicana High School, then he accepted the job of assistant superintendent of accountability and administration in 2000.

Now, he has stepped into the district's top spot to face budget issues, a major bond election and the beginning of a new school year.

He defines his leadership style as collaborative, one in which decisions are based on input from people who deal with issues at the ground level on a day-to-day basis.

"They're going to have the best knowledge of what needs to be done, more so that someone who's off in a remote site," Denbow said.

As for academics, his long-term goal for the district includes a focus on student performance and accountability issues related to test scores.

"We want to focus our efforts, first of all, on making sure we're teaching the essential knowledge and skills mandated by the state," he said. "Then, we need to teach them in such a way that kids can be successful on their state assessments."

He added that presenting all exams in a TAKS format is one strategy he plans to explore as a way of getting students accustomed to the way questions are phrased on the state test.

"We want, first and foremost, for kids to gain the knowledge and also to be able to accomplish the skills in the state curriculum," he said. "The program has to be evaluated on how it stimulates critical thinking and teaches mastery of the subject."

In the area of facility expansion and overall district administration, the new superintendent wants to follow his predecessor's lead.

"First of all, we want to continue to be fiscally responsible -- to utilize our resources in the very best way to improve student learning," he said. "We'll work as a team to cover all the needs in the district and attend to the needs of our students."

----------

Joan Sherrouse may be contacted via e-mail at [email protected].



Reprinted with permission of the Corsicana Daily Sun
www.corsicanadailysun.com || Articles Index
All rights to this story reserved. Copyright Corsicana Daily Sun and Community Newspaper Holdings, Inc,. Content may not be archived, retransmitted, saved in a database, or used for any commercial purpose without the express written permission of the Corsicana Daily Sun and CNHI.