Fielding Yeager Doke
Jan 3, 1835 - Dec 2, 1912
OBITUARY
Capt. Fielding Yeager Doke, Confederate veteran and member of Camp Winkler, No. 147, U. C. V., passed from earth December 2, 1912. Capt. Doke was born in Garrard Co. KY, January 3, 1835. He was an ardent Southerner, and enlisted in April, 1861, as a private in Captain Splawn's company, Brace's Battalion, Gen. Martin E. Green's brigade. The first battle in which he was engaged was at Shelbina, MO., on the Hannibal and St. Joe Railroad. The second was at Lexington, where Gen. Mulligan, the Federal officer in command, together with 3,500 prisoners, was captured. His third battle was at Pea Ridge, after which he, together with Colonel Brace, Major James, Adjutant Holliday, and Dr. Stroud, was captured and finally taken to Alton. After six months they were exchanged at Vicksburg, and at the reorganization of exchanged prisoners in North Arkansas Captain Doke was elected captain of Company F, 9th MO Infantry. After this he took part in various movements and battles in Arkansas until he surrendered with General Price at Shreveport.
Captain Doke was a Mason for forty-five years, a member of the Baptist Church, and a typical Christian gentleman. He was buried with the Confederate flag. In 1870 he was married to Miss Emma Scogin. In 1878 they moved to Kosse, Texas, where he was in the lumber business. Later they moved to Corsicana, where they have lived for the last fifteen years. He is survived by his wife and three children.
Notes:
----
Martha Emma (Scogin/Scoggins) Doke

May 18, 1846 - Oct 25, 1938

Mrs. F. Y. Doke, 92, mother of Mrs. Rufus Caldwell of Dallas, died Tuesday at the home of her son, M. Y. Doke, at Hubbard, Hill County. Funeral services will be held on Wednesday morning at Corsicana. Her husband, the late Capt. F. Y. Doke, one operated lumber companies in Corsicana, Kosse and Hubbard.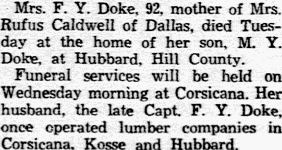 Notes:
-----

Martha Emma (Scogin/Scoggins) Doke


MRS. F. Y. DOKE, FORMER CORSICANAN, DIED AT HUBBARD

Mrs. F. Y. Doke, aged 92 years, former resident of Corsicana, died at the home of her son, Maurice Y. Doke, at Hubbard, at an early hour Tuesday morning.

Funeral services will be held from the Sutherland-McCammon Funeral Home chapel here Wednesday morning at 10 o'clock with interment in Oakwood cemetery. The rites will be conducted by Rev. E. T. Miller, pastor of the First Baptist church.

Mrs. Doke was the widow of the late Capt. F. Y. Doke who was a pioneer lumberman and operated lumber companies in Corsicana, Hubbard and Kosse. She had made her home with a daughter, Mrs. Rufus Caldwell in Dallas for a number of years.

The Doke home here was located at the intersection of Collin and Fifteenth streets.

Surviving are a son, a daughter, a grandson, Rufus Caldwell, Jr., Dallas; a granddaughter, Mrs. Deborah Berry, Hubbard and other relatives.

Notes:
---

FUNERAL SERVICES WEDNESDAY MORNING FOR MRS. F. Y. DOKE

Funeral services for Mrs. F. Y. Doke, aged 92 years, former resident of Corsicana, who died at Hubbard early Tuesday morning were held from the Sutherland-McCammon Funeral Home Wednesday morning at 10 o'clock, with interment in Oakwood cemetery. The rites were conducted by Rev. E. T. Miller, pastor of the First Baptist church.

Mrs. Doke had made her home in Dallas for a number of years with her daughter, Mrs. Rufus Caldwell.

A native of Louisiana, Mrs. Doke had resided in Texas for many years.

Mrs. Doke was the widow of the late F. Y. Doke, pioneer lumberman in this section.

Surviving are a son, M. Y. Doke, Hubbard; a daughter, Mrs. Rufus Caldwell; a grandson, Rufus Caldwell, Jr., Dallas; a granddaughter, Deborah Doke, Hubbard, and other relatives.

Active pallbearers were Rufus Caldwell, Jr., Dallas; J. D. Seale, Dallas; John P. Scrogin, Dallas; M. W. Berry Hubbard, and R. A. Caldwell, Corsicana.

Friends of the family were honorary pallbearers.

Notes: