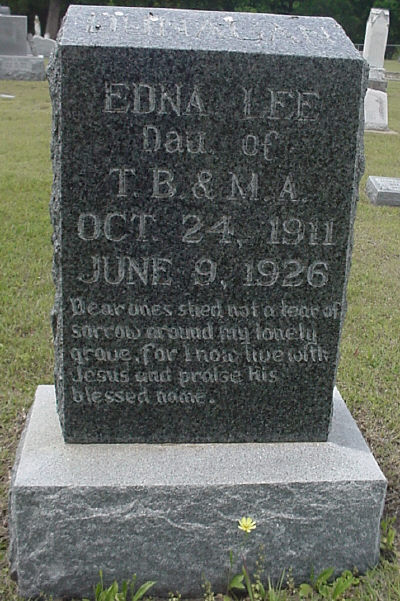 Edna Lee Dunagan, the daughter of Travis B. & Maggie Ann (Spurlock) Dunagan, was born on Oct 24, 1911. She died on June 9th, 1926 and was buried at the Prairie Grove Cemetery at Emmett, Navarro County, Texas.
OBITUARY

In Loving Memory of Edna Lee Dunnagan.
On Jan 9, 1926, the death angel visited the home of Mr. and Mrs. Travis Dunagan and took from them their daughter, Edna Lee. She was born October 24, 1911. She gave her life to God at the age of thirteen and was baptized into the Prairie Grove Missionary Baptist Church by Brother Conway. Her sweet Christian life among her friends should be an inspiration to all. During her illness she sang of heaven and rejoiced that she was prepared to meet her savior. To know her was to love her. Her place at home, school, Church, and Sunday School will be vacant. She leaves a father, mother, one small sister and a host of relatives and friends who sadly miss her. May God in his wisdom show mercy to the grief stricken parents and sister and help them to submit to his will. She was laid to rest in the Prairie Grove Cemetery neath a mound of beautiful flowers.
Resolved "That a copy of this be placed on the church records and one be sent to the Baptist Progress for Publication. ... Committee
Mr. and Mrs. W. H. Bowen, Mrs. Carrie Thompson, Lizzie Rae Osborne, Mrs. J. T. Stroder.
Notes: From the minutes of the Prairie Grove Baptist Church


In Memory of Edna Lee.
Edna Lee Dunagan was born Oct. 24, 1911, at Emmett. She contracted typhoid fever the latter part of May and died June 9, 1926, being 14 years, 7 months and 15 days of age. She was converted at the age of 13 and united with the Baptist church at that time and place. She was dutiful in her home, in school, and loved to go to church. She loved her parents dearly, and they were so very devoted to her. The large number of relatives and friends who so sorrowfully wept on looking at her the last time, shows just how tenderly she loved and was loved by them.

Edna Lee was a Christian. The remarks and talks that she made during her illness and the songs she sang while very sick, are just another example of the triumph of the faith and assurance of a Christian. None but a Christian could look death in the face and only two days before death say, "I'm not afraid to die." She wanted to live, "I hate to leave papa and mama and little sister," she said. Also "I wanted to live and get a good education and do good in the world and help the wicked," she said on Sunday night before dying Wednesday morning.

Many so-called learned folks these days say they do not know whether there is a life after this one or not. Luther Burbank said not long before he died that he did not know what was after this life, that as far as he knew and as he thought, man's life ended with this one just as the flower's does, that as for life after this one he did not know. Probably he was true to himself and spoke only as he knew. Listen to what Edna Lee said, who was only 14 years of age and not learned in the knowledge that would hurt her faith: ""Tell the people not to be uneasy about me," she said, "I am all right. I am going to a better place than this one. Tell all my loved ones and friends to meet me there. Give my love to everybody." etc. " I have prayed every night since my conversion," she said, and called the names of some dear to her whom she had prayed for. "Will we know one another there?" she asked, when assured that we would know one another there, she seemed more satisfied.

How hard it was for her dear parents to give her up! But how consoling to remember her sweet life and her faith expressed before death. We cannot bring her back but we will go to her as she asked us to.

Lovingly,
HER TEACHER

Notes:


In Memory of Our Darling Edna Lee
Edna Lee Dunagan fell asleep in Jesus on Wednesday morning, June 9, 1926. The writer was with her when the end came. She died the death of the righteous. Her body was laid to rest in the Prairie Grove cemetery at Emmett. Thursday evening, June 10.

She was converted at the age of 12 years at which time she united with the Missionary Baptist church in which she lived a few years.

The home has lost a good daughter and sister, the community a good friend, and the church one of her most faithful members, and Oh, how we miss her, but our loss is heaven's gain.

Edna Lee was loved by all who knew her. In school she won the admiration of both large and small, and teachers spoke of her as being an obedient and attractive pupil. She was always willing to do her part, even in school, like-wise she was willing to suffer her share, for she knew it was for her sins that Christ was crucified.

I feel that none other can miss her as I do, but I know her heart grieved parents miss her most of all. She was always a faithful friend and cousin. Our secrets we told to one another and on her deathbed she wished to talk with me, unfortunately could not. I will always regret that I could not be with her throughout her illness and could have told her how faithful she had been. I cannot realize she is dead, but only sleeping.

Beyond the stars, we'll meet again.
On heaven's golden shore,
With our loved one we shall enter in.
Where parting comes no more.

Not dead, but sleeping for awhile.
Till sounds the trumpet call.
Not dead, but resting in the smile,
Of Christ, the Lord of all.

No death can reach the soul that sleeps.
She'll live again some day.
Tho' loved ones o'er her body weep
In heaven she shall stay.

We can not bring our loved one back.
But we can go to her.
By keeping on the heavenward track.
And Walking close to Him.

Look up, sad hearts, be strong and brave,
He doeth all things well.
In that blest realm beyond the grave,
With our loved one we may dwell.

Her pal and cousin.
ATHALEE DUNAGAN

Notes:
---
In Loving Memory of Edna Lee Dunnagan

On Thursday morning, June 10, a death angel visited the home of Mr. and Mrs. Travis Dunagan of Frost, Texas and took away their daughter, Edna Lee. She was stricken with typhoid fever only a short while ago and had only been sick about three weeks.

Edna Lee at the time of her death was about fifteen years of age. She was a sweet girl and loved by all who knew her.

Her body was laid to rest in the Emmett cemetery Friday morning with Rev. Carraway conducting the funeral services.

After the passing away of this dear girl she leaves to mourn her loss a father, mother and one little sister, with a great number of other relatives and friends.

A precious one from us has gone,
A voice we loved is still,
A place is vacant in our home
Which can never be filled.

She has gone to meet her Savior,
Where's she free from every care,
She has gone where angels beckon.
To a home just over there.

And some day we hope to join her
When our life's work here is o'er,
We will all then be united
Over on that golden shore.

Written by a Friend,
ANNIE LAURIE LANE.

Notes: