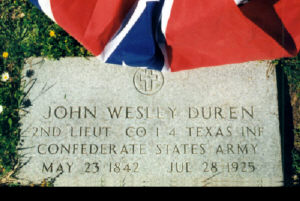 Oakwood Cemetery - Corsicana, TX
Photograph by Dana Stubbs - Aug 2002
John Wesley Duren was born May 23, 1842 in Pontotoc, Pontotoc Co., MS to Abraham Duren (1812-1883 - County Clerk of Navarro County) and Lavincy Melton (1822-1909). John enlisted as a private in the Company I, 4th Texas Infantry CSA - The Navarro Rifles. He was promoted to 1 Sgt on Dec. 21, 1861 and again promoted Feb. 4, 1864 to 2 LT. He was wounded at the Wilderness (May 6, 1864.) Lt. Duren was paroled Apr. 12, 1865 at Appomattox.
On Feb 7, 1866, he married Leora Josephine Kerr in Corsicana, Navarro Co., TX. Leora was born Aug 10, 1847 in Tennessee to Judge Samuel Harris Kerr (1823-1894) and Catherine Delia Smith (1829 - 1907). They lived across the street from the Navarro County Courthouse in Corsicana.
John and Leora had 7 Children, (Richard W. b. 1867, Nat b. 1870, Charles b. 1872, Mary b. 1875, Katherine b. 1877, Johnie b. 1879, and Samuel b. 1881).
John Wesley died on July 28th 1925 and is buried in his uniform at the Oakwood Cemetery, in Corsicana, Navarro Co., TX (Row 2 section I). He received a Confederate Veteran's Pension #19166.
Notes:
Submitted by Norman Stubbs, Commander of J. L. Halbert Camp 359, SCV
Additional information submitted by Edward L. Williams
See Navarro County History Volume 6 pg 133