Grange Hall Cemetery
Photograph by Dana Stubbs - Jul 2007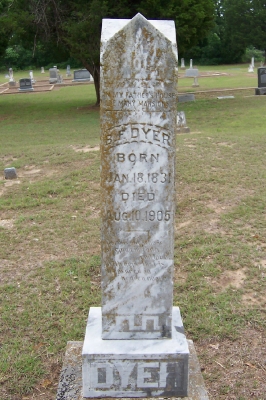 Grange Hall Cemetery
Photograph by Karen Rost - Aug 2002
Benjamin Fountain Dyer was born January 1831 in Kentucky and was settled and farming in Navarro County Texas by the 1900 Census. He enlisted in the Co D, 10th Cavalry Regt that was organized in December
1863 using M. L. Young's 11th MO Cavalry Battalion as its nucleus. The unit served in C. Greene's and J. B. Clarke's Brigade Trans-Mississippi Department, and skirmished in Arkansas and saw action in Price's MO Expedition. The regiment was included in the surrender in June, 1865.
Dyer died in Blooming Grove August 10, 1905 and was buried here at Grange Hall.
All of this is per Kathy Kelly, granddaughter of George Fleeman Dyer, son of Benjamin Fountain Dyer, the pension application papers of both Ben and widow, Sarah, or other documents.

Updated: 3/3/2018
Ben was born 18 Jan, 1831 in Christian County, KY
Ben married Sarah Delila Smith in March of 1858 in Bates, MO.
He was living in Navarro County by 1875 (per his application) or 1876 (by Sarah's application).
B F Dyer was farming in Birdston, Navarro County, in 1878. They seemed to have been in Dallas in 1880, but apparently that was short lived and they returned to Navarro Co.

According to the pension records, which make sense, geographically and chronologically, Ben enlisted 1 August 1861 and served throughout the war. He served with brother-in-law, Capt A(bner) Bryant's Company F, MO Regt Cavalry. Capt. Bryant died in 1862 at the Battle of Lone Jack in MO, and Ben later served in Col Peyton's Regt Calvary. In their depositions in Ben's pension application, his sister, Nancy and her husband, Capt CW Carter, mentioned that he served under General Price, Co A 3rd MO Cavalry.

Passed down from George Fleeman Dyer, s/o Ben and Sarah Dyer, by George's granddaughter, Kathy Kelly, Ben ran horses to Texas for the Confederacy. He is said to have liked Texas and thus eventually moved here. Family tradition includes the capture and imprisonment of Ben on a ship off Galveston.

I don't know if the bio on Ben should include undocumented family tradition or not. Your and the editor's call.

------------
Benjamin Fountain Dyer h/0 Sarah D. (Smith) Dyer married abt. 1859 in Missouri s/o George Dyer and Margaret (Spencer) Dyer buried in Dyer Cemetery, Warren Co., Missouri
------------
Sarah D. (Smith) Dyer Feb. 12, 1844 - Nov. 28, 1925 w/o Benjamin Fountain Dyer d/o Joseph Cornelius Smith and Mary Matilda (Garner) Smith buried in Bates County Mo. (Pleasant Gap)
Notes: