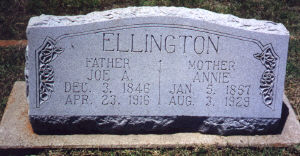 Photograph by Edward L. Williams
Joseph Allen Ellington was born December 3, 1846. He was a Civil War Veteran having served in Co. D, (Wigfall Rifles) of the 15 Mississippi Regiment. His wife, Annie (5 Jan 1857 - 31 Aug 1929) received Confederate Pension #38350 and # 31073. Children I have listed are: Clyde A., Fred Emmett, Annie O., Willie, Josie, and Ernest Earl Ellington though there may be others. Joe died on April 23, 1916. Joe and Annie are buried in the Prairie Grove Cemetery at Emmett, Navarro Co., TX.
Some records show Joseph Archie Ellington, I am not sure which is correct. ...elw
---
OBITUARY FOR ANNIE (ALLEN) ELLINGTON
Mrs. J. A. Ellington (nee Annie Allen) was married to Joseph A. Ellington Dec 13, 1876. To this union was born eleven children. Four dead and seven living: Annie Garham, Fred Ellington, Willie Hampton, Clyde Ellington, Josie Cox, Earl Ellington, and Maude Cox.
Sister Ellington joined the Baptist Church at the age of sixteen at Sattis Miss. She joined Prairie Grove Baptist Church at Emmett, Navarro Co., Texas in the year 1915.
She was a kind and helpful neighbor and always ready and willing to do good. She was a kind and affectionate mother and congenial wife. She bore her affections with patience, always trusting everything to the Lord.
She will be missed by all her neighbors and all who knew her. Her children will realize they have lost their best friend.
"Children make sure while on the troublesome road of your prospects toward the loving abode, no dearer friends on Earth were ever given, Than those which are our Mother, home and heaven" ... Committee; Mr. and Mrs. J. T Stroder & Mrs. W. H. Bowen
Notes:
WEST END NEWS.

Another good rain last night and this morning just at daylight there was a phone message over the Emmett line to notify the children and other relatives that Mr. Ellington, their aged father, died suddenly last night at the home of his son-in-law, Mr. Hampton, near Spring Hill. One more of the old ex-Rebs has answered to the last roll call. Mr. Ellington was past his 69th year and came to Texas from Mississippi seven years ago. At this writing I canít tell you where the burial will take place.
April 24,
UNCLE JOHN

Notes:
---