William Burdine Farmer & Mary Elizabeth "Bettie" (Wood) Farmer

William Burdine Farmer
Oct 15, 1851 - Mar 13, 1930
OBITUARIES
Hold W. B. Farmer Funeral
Special to The News
CORSICANA, Texas, March 16. - The body of William Burdine Farmer, 79, who died at O'Donnell, near Tahoka, Lynn County, Friday, arrived in Corsicana and the funeral was held at Dresden Cemetery Sunday afternoon. Prior to going to Lynn County two years ago Mr. Farmer had resided near Corbet for many years.
Surviving are two sons, C. M. Farmer, Jasper, and J. M. Farmer, Tahoka; two daughters, Mrs. Robert Page, Highlands, and Mrs. W. F. Kirton, Morgan, and other relatives.
Notes:
---
BODY OF TAHOKA MAN IS BROUGHT HERE FOR BURIAL

The body of William Burdine Farmer, aged 79 years, who died at O'Donnell, near Tahoka, Lynn county, Friday, arrived in Corsicana Saturday morning at 11:40 o'clock and the funeral will be held at Dresden cemetery Sunday afternoon at 3 o'clock where interment will be made. Prior to going to Lynn county two years ago, Mr. Farmer had resided near Corbet for many years. The funeral services will be conducted by Rev. J. T. McKeown, Methodist minister, of Dawson.

Surviving are two sons, C. M. Farmer, Jester, and J. M. Farmer, Tahoka; two daughters, Mrs. Robert Page, Highlands, and Mrs. W. F. Kirton, Morgan; and other relatives.

The funeral will be directed by the Sutherland Funeral Home.

Notes:
----
FORMER RESIDENT CORBET COMMUNITY WAS BURIED SUNDAY

Funeral services for William Burdine Farmer, aged 79 years, long-time resident of Corbet who died near Tahoka, Lynn county, Friday were held at Dresden cemetery Sunday afternoon at 3 o'clock where interment was made. The body arrived in Corsicana Saturday morning. He had resided in Lynn county for the past two years.

Surviving are two sons, C. M. Farmer, Jester, and J. M. Farmer, Tahoka; two daughters, Mrs. Robert Page, Highlands, and Mrs. W. F. Kirton, Morgan, and other relatives.

The funeral was directed by the Sutherland Funeral Home.

Notes:
Dresden Cemetery, Dresden, Navarro County, Texas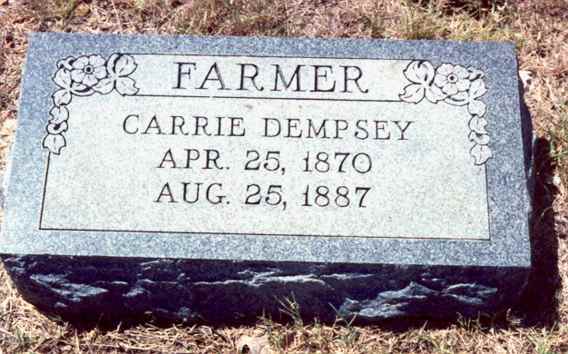 Dresden Cemetery, Dresden, Navarro County, Texas
Dresden Cemetery, Dresden, Navarro County, Texas
Notes: