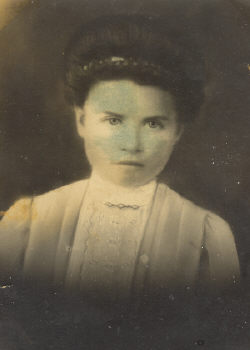 Viola Bertha Phelps was born 16 AUG 1895 in Athens TX. She wed Roy Farish and they had 5 children, 4 girls and a son. Viola died at the age of 31 in Navarro county and is buried in the Cryer Creek cemetery, her daughter J. M. Lynch is the cemetery coordinator. Viola's parents were Constable Johnny Wilson Phelps and wife Minnie D. Chaney Phelps. They are both buried in Cryer Creek Cemetery.
Cryer Creek Woman Passes Away Tuesday

Mrs. Roy Farish, age 31 years passes away Tuesday, March 1. at 10:30 a.m. Funeral services were held at Mt. Zion Baptist Church Wednesday afternoon at 2 o'clock by rev. H. C. DeRusha, pastor of the church. Interment took place in the Cryer Creek Cemetery amidst a host of sorrowing friends and relatives.

The Woodman Circle of which she was a member had charge of the service at the grave. She is survived by her husband, Roy Farish; her parents, Mr. and Mrs. John Phelps, five children, one brother and one sister and a number of other relatives.

Pall bearers were as follows: C. W. Hitchcock, Joe George, D. P. Munn, L. L. Powell, C. O. Williams, and Roy Massengale.
Viola Bertha (Phelps) Farish
Aug 16, 1895 - Mar 1, 1927

BARRY
Special to the Sun.
Barry, Texas, March 3.—The Woodman circle of Barry lodge buried one of their members, Mrs. Roy Farrish of Cryer Creek Wednesday afternoon.

Mrs. Farrish had been a faithful member of this grove several years and will be sadly missed by the faithful attendants.

She was a daughter of Mr. and Mrs. John Phelps and was reared here.

There are many friends who join with the husband and children, father and mother and brother and sister in mourning her loss.


Notes: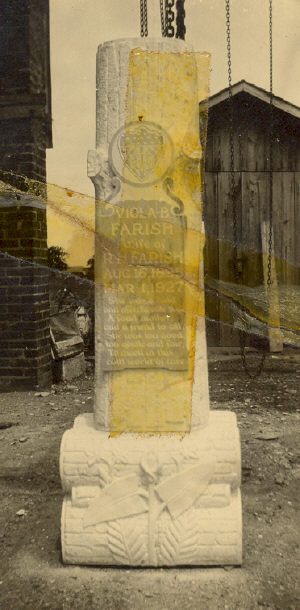 Headstone before being placed in the cemetery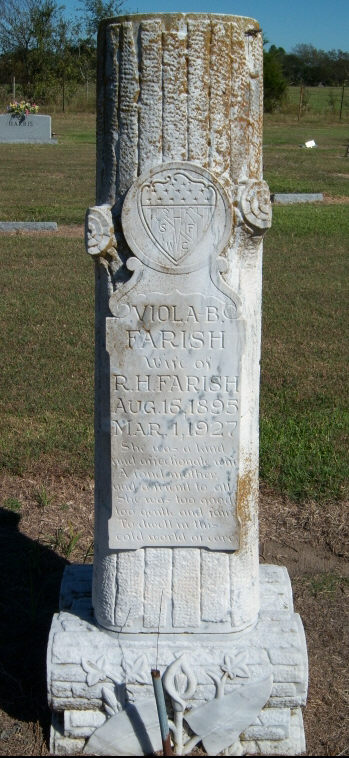 Photo of Marker at Cryer Creek Cemetery
By Karen Rost - October 2007
Notes: