Lefty Frizzell memorabilia donated by Ralph Spicer will be displayed at the Texas Country Music Hall of Fame in Carthage. Daily Sun photo/KIRK SIDES
8/16/2003 Texas Hall calls Lefty: Enshrinement of country legend Frizzell is tonight
By DEANNA PAWLOWSKI/Daily Sun Staff
Bobby Fluker is hitting the road. His destination is Carthage, home of the Texas Country Music Hall of Fame. And he's carrying precious cargo with him in friend Billy Lewis' airstream.
A pair of personalized cowboy boots, two western shirts and a vest once belonging to Lefty Frizzell were donated by former band member, Ralph Spicer, to the museum in Carthage on the event of Lefty's induction into the Hall of Fame tonight.
The Texas Country Music Hall of Fame was founded six years ago by Tommie Ritter Smith, a cousin of Tex Ritter's. Smith is also the executive director of the Panola County Chamber of Commerce, and wanted to do something special to commemorate Ritter and others in her town.
Carthage is located near Shreveport, the home of the Old Louisiana Hayride.
"The Hayride is where many Grand Old Opry folks got their start," Fluker said.
Smith started a Tex Ritter museum in Carthage, and came to Corsicana for the dedication and unveiling of the Lefty Frizzell statue. She returned to Carthage with the dream of having a statue of Tex with his horse, which she has since realized. However, Smith encountered initial opposition to her idea in the form of city leaders who did not want their town known as a "hillbilly town."
"Tommie solved that problem by getting a group of folks including city council members, the mayor, and others together and took them to Tennessee to the Grand Old Opry Museum to see the Tex Ritter exhibit. That convinced them," Fluker said.
"Our Lefty Frizzell Museum has done more for tourism in town than just about anything else. People just didn't realize how big Lefty really was."
Fluker also said that Ralph Spicer was the greatest contributor of items for Corsicana's Lefty Frizzell Museum. Smith came to Corsicana to borrow some local items just for the induction ceremony weekend. Then Spicer, who lives in North Carolina, made a trip here and brought the boots, shirts and vest to be permanently displayed in the Texas Country Music Hall of Fame in Carthage.
Ralph Emery will host the induction ceremony at 7 p.m., and in addition to Frizzell, Kris Kristofferson and Johnny Bush will also be inducted. Kristofferson has enjoyed a full movie and music career, and Bush is the writer of "Whiskey River," Willie Nelson's signature song. He also played in Nelson and Ray Price's bands.
Scheduled performers for the induction ceremony are Kristofferson, David Frizzell, the Geezinslaws and Willie Nelson.
Fluker, who has attended the ceremony every year for the last six years, is taking his guitar. Friend Billy Lewis is taking his mandolin.
"We're planning on doing a little picking in Carthage," Fluker said.
Deanna Pawlowski may be contacted via e-mail at [email protected]
---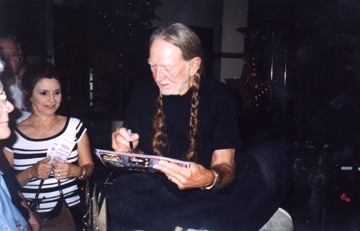 Willie Neslon, right, signs autographs at the Texas Country Music Hall of Fame induction ceremony Saturday. Corsicana's Lefty Frizzell was among the inductees. Courtesy photo
8/21/2003 Corsicana contingent on hand as Frizzell inducted
By ROY MILLER/Special to the Daily Sun
The sixth annual Texas Country Music Hall of Fame award ceremonies were held Saturday at the Hall of Fame auditorium in Carthage, as Corsicana's Lefty Frizzell was among those enshrined.
Ralph Emery of Nashville, Tenn. and a member of the Disc Jockey Hall of Fame acted as emcee for the evening. He and TCMHF President and CEO Tommie Ritter Smith welcomed the overflowing crowd to the night's festivities, which began with a musical salute to the Hall of Fame. Casey Rivers of Lindale, a former winner of the John Rex Reeves Pickin' Party competition held in conjunction with the weekend's activities, introduced a special song written for the occasion by 1998 inductee Cindy Walker of Mexia. The song, "Tribute to the Hall of Fame," honored all of the previous 19 inductees and the night's honorees as well.
Sam and Son, (Sammy Allred and Dwain Porter) the Geezenslaw Brothers from Austin, opened the night's entertainment with musical selections and their self-depreciating humor. Sam's humorous stories about the misadventures of Son kept the crowd in stitches and readied them for the night's induction ceremonies.
First to take the stage was David Frizzell. Along with brother Alan and a tight sounding band from Nashville, David entertained the crowd with a selection of his own hits including "I'm Gonna Hire a Wino (To Decorate our Home)," "You're the Reason God Made Oklahoma" and others. Alan Frizzell showcased his guitar picking abilities as well as his singing as the brothers of the first inductee of the evening honored Lefty Frizzell with a slide show and musical selections.
In accepting the award for his late brother and the Frizzell family, David made mention of several from Corsicana (Bobby Fluker, the late Don Steely and Roy Miller) who had established the Lefty Frizzell Country Music Museum in Corsicana. He also thanked the audience for their acceptance of the honky tonk music of Lefty Frizzell. Frizzell, born in Corsicana on March 31, 1928, was noted as the only country artist to have four songs in the top 10 on the country charts at the same time. His No.1 hit "I Want to Be With You Always" spent 11 weeks atop the charts and "Always Late" spent 12 weeks as the No. 1 song. "Saginaw, Michigan" recorded in 1964 was Frizzell's last No. 1 song. He died of a cerebral hemorrhage at the age of 47 in Nashville and was enshrined in the Country Music Hall of Fame in 1982.
The next inductee to be honored was Johnny Bush of San Antonio, composer of Willie Nelson's theme song, "Whiskey River." Bush's musical background included stints with Ray Price and Willie Nelson before he launched a solo career, with Nelson's financial backing in 1968. His initial releases were on the Stop label whose roster also included Bobby Stone and the Newsboys (Corsicana resident B. Jeff Stone) where he enjoyed hits such as "Sounds of a Heartache," "You Oughta Hear Me Cry" and "I'll Be There." In 1972, Bush signed a recording contract with RCA records where he stayed until a rare throat problem forced him into early retirement.
Through a series of experimental treatments, he was able to regain approximately 80 percent of his previous vocal abilities and has continued his performing and recording career. In accepting his award from former boss, Willie Nelson, an inductee into the TCMHF in 1998, Bush acknowledged the debt of gratitude he owed Nelson. He also acknowledged his mother who was in the audience and introduced her as "The prettiest woman ever born in Montgomery County," and thanked her for giving birth to him in Texas so that he might be inducted into the Texas Country Music Hall of Fame. Considered by many to be "The Country Caruso," Bush continues to travel and record throughout the southwest.
Brownsville native Kris Kristofferson was the final honoree of the evening. Nelson again did the induction honors, calling Kristofferson one of the finest songwriters ever. Kristofferson, a former Army helicopter pilot, Rhodes Scholar and graduate of Oxford University in England where he earned a Master's Degree in English, instructor at West Point and a janitor at Columbia Studios in Nashville, got his first break in the music business when the late Roger Miller recorded his "Me and Bobby McGee."
A subsequent cover of the song by Port Arthur native Janis Joplin in 1969 sold a million copies, and in 1970 Ray Price's recording of Kristofferson's "For the Good Times" became a No. 1 hit and won a Grammy for Price. Johnny Cash's recording of "Sunday Morning Comin' Down," also in 1970, became another No. 1 song and in 1971, Sammie Smith's recording of "Help Me Make It Through the Night" was named the Country Music Association's Single of the Year and Kris won his first Grammy Award for Best Country Song.
A standing ovation for the performers ended the evening as Smith thanked the audience for their support of the Texas Country Music Hall of Fame and offered congratulations to the honorees on their induction. Those in attendance from Corsicana for the induction included Lefty Frizzell Memorial Committee members Fluker and Miller, and Billy Lewis and Robert Keathley.
www.corsicanadailysun.com || Articles Index
All rights to this story reserved. Copyright Corsicana Daily Sun and Community Newspaper Holdings, Inc,. Content may not be archived, retransmitted, saved in a database, or used for any commercial purpose without the express written permission of the Corsicana Daily Sun and CNHI.