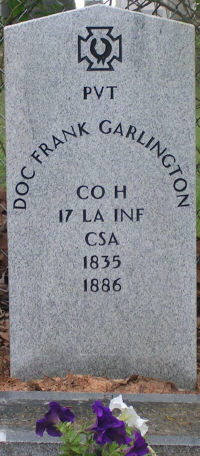 Photograph by Dana Stubbs - Jul 2007
Doc Frank Garlington was born in 1835 in Amite County Mississippi however by the 1860 Census he was living at Claiborne Parish Louisiana.
He enlisted in Co H, 17 LA Inf. which was organized at Camp Moore, LA in September 1861. Its members were recruited from several Parishes in Louisiana including Claiborne Parish. The unit fought at Shiloh.
Assigned to Baldwin's Brigade in the Department of Mississippi and East Louisiana it served in battle at Chickasaw Bayou. Then was captured at Vicksburg on July 4, 1863 and exchanged and reorganized, the Regt. was placed in A. Thomas' Brigade Trans-Mississippi Department, and engaged the Federals within the boundaries of Louisiana. Early in 1865 it disbanded.
Notes: