---
---
ARTICLE

Blooming Grove Woman Given 2-Year Sentence

CORSICANA, Texas, June 5 - Mrs. L.W. Fraley, 60, Blooming Grove, pleaded guilty Monday to murder without malice charges and was given a 2-year sentence by District Judge A.P. Mays.

Mrs. Fraley and her husband, 77, had been indicted in connection with the fatal shooting of W.F. Hollifield, in his 60's at Blooming Grove Aug 9, 1949.

The shooting was the result of a dispute over boundary lines. Testimony brought out that Fraley shot at Hollifield with a pistol and Mrs. Fraley used a shotgun. Fraley received a 2-year suspended sentence by jury last April.

June 6, 1950

Notes:
OBITUARY
William Francis Hollifield
Aug 15, 1884 - Aug 18, 1949

August 9, 1949
CORSICANA, Texas, Aug. 9. - W. L. Hollifield Funeral Rites Set for Today Funeral services for W. F. Hollifield, 64, shot to death Monday near his home at Blooming Grove, will be held at the family home at 2 p.m. Wednesday.
Mr. and Mrs. L. W. Fraley, neighbors, are at liberty under bonds of $1,000 each on murder charges filed here Monday. They waived examining trials and await action of the grand jury.
The two men involved are said by officers to have disagreed for several years over a property line between their homes.
Surviving Hollifield are his wife; two sons, David and Arlies Hollifield, both of Fort Worth; two daughters, Mrs. Clara Belle Goldstein, Beaumont, and Mrs. Flouis Shipley, Dallas; two brothers, George Hollifield, Messila Park, N.M., and Tim Hollifield, Oklahoma, and a sister, Mrs. Mary Lane, Tyler.
Notes: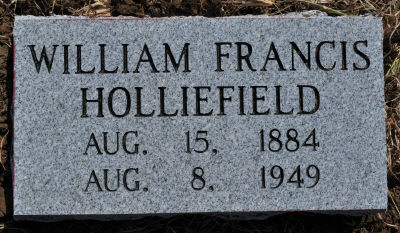 WILLIAM FRANCIS HOLLIEFIELD
AUG 15, 1884 - AUG 8, 1949
Rose Hill Cemetery, Blooming Grove, Navarro Co., TX
( The exact location of the grave is not known-a monument was placed in the old section for him)

---