Aralza and Nancy Ellen Grimes Hall
Nancy Ellen was the 7th child of Frederick M. and Elmira Susan Farley Grimes born Feb 29, 1852 born near Ft. Gates, Coryell County, Texas.
When she was born, she had older sisters, Mary 13; Martha Jane, 10; brothers, Tom 9; Sam 7; Henry 4; Fred 2. The family had just moved from Austin County to Coryell County at this time -- family tradition was that she was the first Anglo child born in Coryell County. Certainly it was a time when few settlers were there, and they originally stayed near Ft. Gates for protection from the Indians.
Nancy Ellen then had younger sister: Sallie born when she was 2; Bettie when she was 5; Mina when she was 8; Annie when she was 10.
Family events which certainly affected her life were when she was 7 years old :
First Martha Jane married William J. Jahn on June 1, 1859, and they moved to where his family lived in Hempstead, Austin County.
A month later, Mary Ann, her eldest sister, went against her parents wishes and eloped to marry Daniel Jones July 15, 1859. Dan Jones was a charter member of the Eagle Springs Baptist church just like Mary Ann and her parents. He was a blacksmith, and 43 years old (Mary Ann was 20). For whatever reason, the parents went to the Courthouse the next month, and made a will eliminating Mary Ann from any inheritance and they never spoke again. This certainly must have had a chilling effect on the family as a whole. There is much evidence through letters that remain that the siblings remained close in spite of the parents.
When Ellen was 10 years old, he Civil War had begun, and in 1862 Tom, aged 19, joined 1st Texas Heavy Artillery, going to protect Galveston.
The next year, September 3, 1863, Sam joined the same unit. Both brothers were away until 1865 and Ellen was 12.
Samuel married on June 2, 1866 Sarah Evaline Hardin and later that month, the family received word of the death following childbirth of Martha Jane (June 23, 1866) living in Hempstead. She and Will Jahn had a son, "Willie". Will Jahn had also served in the Confederacy.
Around the same time, Nancy Ellen, only 14 years old, married Brice B. Marshall Aug 16, 1866, and they go to live near Conroe. Very shortly Brice is killed by a horse, and Ellen returns to her family home in Coryell County.
They owned some land where the oil field is now.
After his death, Aunt Ellen sold the land (there were no heirs) . Many years later when oil was discovered, the Shell Co. bought the land from another owner and they found there was no will and only Aunt Ellen had sold the land without a deed. This blocked the title.
It took the Shell Oil Co. over a year to find Aunt Ellen. Rupert Ricker, her grandson, cleared the title. All he asked was that the Shell Oil Co. treat Aunt Ellen fair. The Shell Oil Co. paid her, I think $2,500.00 and gave her $100.00 per month for as long as she lived. She lived several years and drew the $100.00 monthly.
As a widow, living with her parents, she probably met Aralza Hall, home from serving 4 years in the War, at the Eagle Springs Baptist Church where the families attended. Wyatt and Naomi Hall had moved to Texas from Mississippi and were neighbors to the Grimes family.
They were married in Coryell County on March 27, 1870.
Their first child was born Sept 7, 1872, Elmira Vanilla, known as "Nellie".
A son, Aralza Wyatt, Jr., followed on June 18, 1875. We're not sure where they lived, but on Jan 8, 1880, Aralza Jr. died of typhoid fever, and is buried in 1st Street Cemetery, Waco (McLennan Co).
In the 1880 Census (June 10), Ellen and daughter, Elmira, "Nell" are living in Coryell County with her parents. Elmira is attending school. Perhaps she was just visiting her parents, or perhaps Aralza was off somewhere on another job.
They were living in Corsicana (Navarro Co) Feb 16, 1888, when a daughter, Ruth Helena, was born.
Nell married William Augustus Ricker in Corsicana on Oct 14, 1888. She was 16, and he was 34. Their first child, Rupert Paul Ricker was born Dec 19, 1889. In 1895, Mabel "Donna" was born.
The Ricker (Nell, Rupert and Mabel) family would come out each summer to help on the ranch of their Uncle Fred Grimes in Blooming Grove. Nell, would "take charge" of the cooking. They used a woodstove. Nell's husband, Billie Ricker, made Pullman railroad cars in Corsicana.
Ruth married Charles Franklin Barnes Nov 25, 1904 in Corsicana. (They were still living there in 1920 with her widowed mother.)
In Jan 1910, the Ricker family moved westward to Big Spring, Howard County, Texas. He died Dec 20, 1932 or Dec 9, 1933. She died Dec 2, 1950. Both are buried in Mt. Olive Cemetery along with their son, Rupert Paul (Dec 19, 1889 - March 26, 1965) and grandson, Prince Rupert Ricker (- Dec 23, 1976)
Aralza was Navarro County Treasurer for several years. When he died in office Dec 6, 1914, his wife, Ellen, filled his office and then served a term of her own.
She would come by train to visit with her brother, Fred's family, in Blooming Grove/Frost. They remember that she would have her bags packed and ready to board the train hours before it was scheduled. Fred's children were amused by this.
Sometime after Aralza's death and before 1920, she married ? Church. Perhaps he only lived a few years because in the 1920 census she is listed by the last name Church, but as a widow.
Ellen remained in Corsicana living with her daughter Ruth and her husband, Charles Barnes until after 1930. She was using Nancy E. Hall at that time.
She died there Dec 28, 1941 at age 89, but per her request her body was returned to Corsicana and she is buried beside Aralza in Oakwood Cemetery.
After her husband died, Oct 3, 1930, Ruth Barnes and children also moved to Big Spring. Her mother lived with her until her death (1941).
Ruth died Oct 18, 1974 and is buried in Trinity Memorial Park Cemetery.
Notes: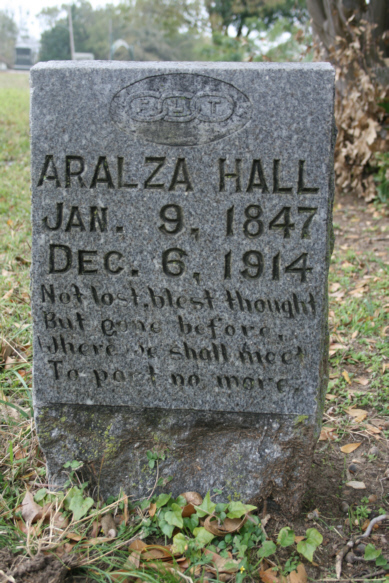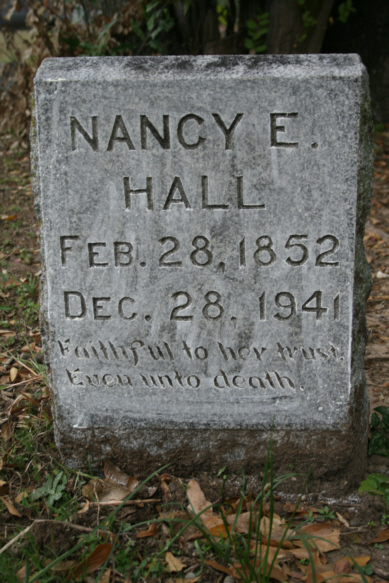 Oakwood Cemetery, Corsicana, Navarro County, Texas
See Also: Obituary of Nancy Ellen (Grimes) Hall