Sgt. James L. Hall, son of Mr. and Mrs. L. R. Hall, husband of the former Miss Faye Petty, graduate of Rice and A&M College. Entered the service, 1942, trained with Air Corps at Sheppard Field Texas, Buckley Field, Colo., in Georgia and in Ft. Bragg, N.C. Has served in Burma, India and China, where now on duty.
- The Men & Women in WWII From Navarro County, p 111.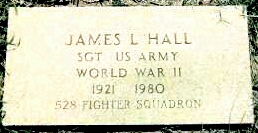 Photo by Dana Stubbs
James L. Hall
Sgt US Army
World War II
1921 - 1980
528 Fighter Squadron
Rice Cemetery, Rice, Navarro Co., TX
Section D.
Notes:
Submitted by Norman Stubbs, Commander of J. L. Halbert Camp 359, SCV
Sgt. US Army - WW2 528 Fighter Squadron
Aug 10, 1921 - Dec 15, 1980