By LOYD COOK/Daily Sun Staff
2/5/2002 Hanisch named Officer of the Year by The 100 Club of CNC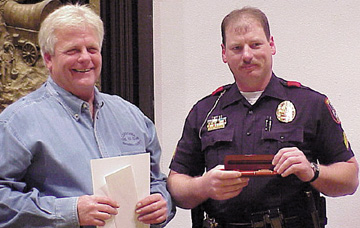 Jack Stoner, president of The 100 Club of Corsicana/Navarro County, presents Cpl. David Hanisch, right, with a a pen set - "for writing more tickets," Stoner joked - a $100 gift certificate and recognition as the organization's first Officer of the Year honoree. COURTESY PHOTO
A fledgling organization whose focus is the support of area law enforcement named its first Officer of the Year during festivities held Monday night.
The 100 Club of Corsicana/Navarro County named CPD Cpl. David Hanisch as its first recipient of officer of the year.
Jack Stoner, president of the organization, made the presentation.
CPD Chief G.M. Cox said Hanisch is the type of officer "any police chief would love to have in his department."
"David has been an excellent resource for me," Cox said. "I can count on him to do the difficult task and not to shy away from the distasteful ones. David is what management professionals would call "star material.' I have to remember that stars burn the brightest, but only half the time as others, to keep myself from overusing him."
Cox said Hanisch presents a "maturity both as a person and as a police officer," and that he depends on the corporal to be a role model and leader for the department's younger officers.
Listed among Hanisch's accomplishments are:
n Development of a study that indicated a need to have traffic control lights on major streets adjacent to neighborhood fire stations. Those lights were installed during 2000 and 2001.
n As the driving force behind the implementation of the CPD's motorcycle unit, writing a technical paper on the need for and benefits of motorcycles in law enforcement. The department's motorcycle unit has been in place for five years.
n As an Advance Accident Investigator and he is consistently in the top 5 percent of officers in self initiated police activity, citations and arrests.
n As a member and assistant commander of the CPD SWAT team.
n Although one of the most aggressive and hard-working officers in the department, he has generated among the fewest complaints of any officer in the department.
n He is a member of the CPD Mounted Unit.
Hanisch was unaware of the award and was lured to last night's ceremonies.
"I was told I had some special duty and I had to show up ... in full uniform," Cpl. Hanisch said ruefully after the presentation. "I thought it was a SWAT team deal.
"But I do want to thank the organization for the recognition and for the work they're doing for area law enforcement."
Stoner said the organization is about a year-and-a-half old and hasn't been very public to date. That's a situation he said he wants to change and told members at the ceremony that he and others would be speaking to area organizations about the 100 Club of CNC's efforts.