Capt. Sam Harwell, Co., B, 359th Inf., 90th Div., Officers' Training Camp, Leon Springs. Corsicana Texas.
History of Texas World War Heroes
---
Sam R. Harwell
abt 1893 Sep 1950

September 24, 1950, Dallas, Texas
Sam R. Harwell, Of Oil Firm, Dies at 57
Sam R. Harwell, 57, a Navarro County native who rose from the ranks to become comptroller of the vast Magnolia Petroleum Company operations, died Saturday night at a Dallas hospital.
The former University of Texas football star was born at Mildred, near Corsicana, on July 5, 1893. He attended Corsicana public schools and entered the University of Texas before World War I. The war interrupted his education and he attended the First Officers Training Camp at Leon Springs. He became a captain in the 90th Division.
At the university, he was a member of the Phi Kappa Psi fraternity and was a campus leader. He was graduated in 1920.
Harwell joined the Magnolia Petroleum Company on June 14, 1920, a few days after graduation, in its production accounting division in Dallas.
He had lived here ever since. The Harwell home is at 4515 Normandy.
In January, 1934, Harwell was transferred to the comptroller's department at Magnolia and in September, 1946, he was elected comptroller of the firm.
He was active in the American Petroleum Institute, the Mid-Continent Oil & Gas Association, the Comptrollers Institute of America, the National Association of Cost Accountants and the annual Accounting Conference of Texas A&M College.
Harwell was a member of the Highland Park Methodist Church, the Gilbraltar Masonic Lodge and the Lakewood County Club.
Funeral services will be held at the Highland Park Methodist Church at 4 p.m. Monday with Dr. W. Marshall Craig, the Rev. Carl Keightley and the Rev. W. H. Dickinson officiating. Burial will be at the Hillcrest Mausoleum.
Harwell is survived by his wife, a daughter, Miss Sara Frances Harwell of Dallas; a son, George Samuel Harwell of Dallas and New York; his mother,, Mrs. Ida Harwell of Corsicana; a brother, Raymond Harwell, Dallas; and a sister, Mrs. Frances Kerr of Corsicana.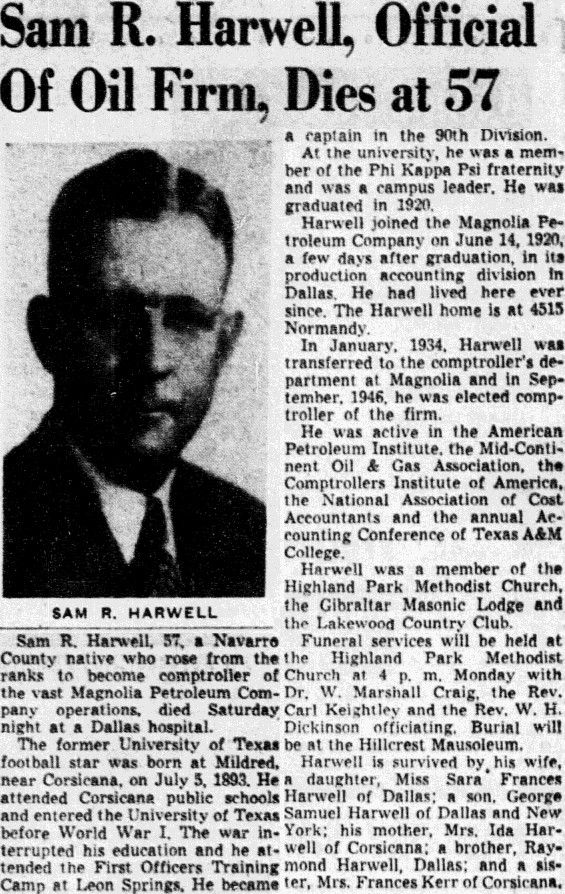 Notes: