William F. Henderson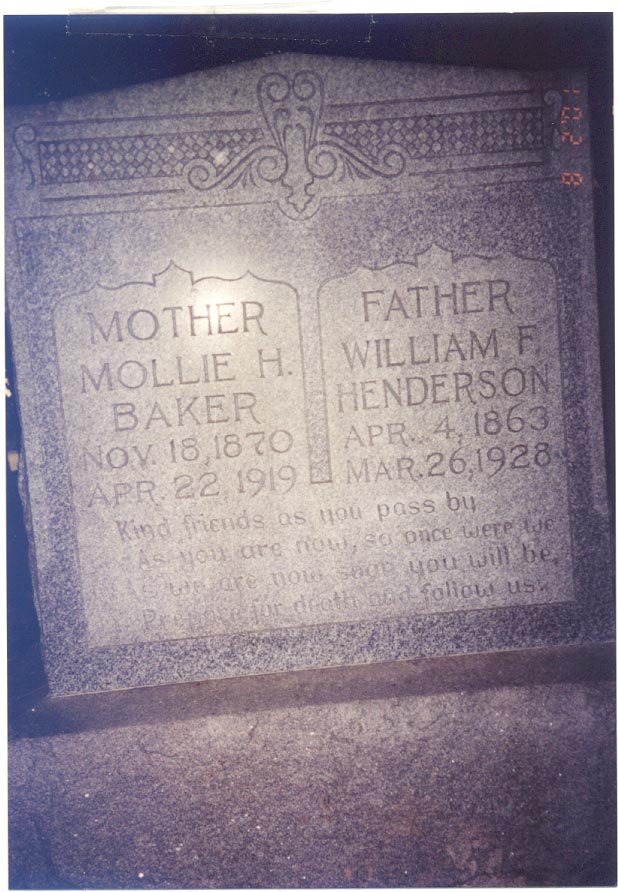 Old Chatfield Cemetery
William and Mollie (Baker) Henderson are buried at Old Chatfield Cem. William Floyd Henderson has an obit and and a 1911
old letter page 1 on the site also. Then there is Alvus and Albert Henderson (twins)also buried at Old Chatfield. This was was 2 of their 10 children.
OBITUARY of WILLIAM FLOYD HENDERSON
William Floyd Henderson
Apr 4, 1863 - Mar 26, 1928

March 28, 1928
HENDERSON. Corsicana, Texas, March 28. - William F. Henderson, 66, died here Monday. The funeral was held Tuesday with burial in the Chatfield Cemetery. He had resided in Navarro County for twenty-five years. The funeral services were conducted by the Rev.
Mr. Day of Rice. Surviving are seven children, Mrs. A. F. Perry, J. J. Henderson, Teddy Henderson, Corsicana; Mrs. W. F. Overby, Electra; Carl Henderson, San Angelo; Floy Henderson, Dallas; Mrs. M. H. Echols, Navarro; one brother, T. D. Henderson, Streetman.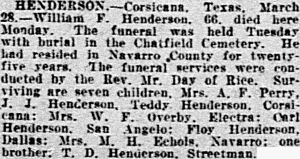 Notes:
====

WM. F. HENDERSON DIED HERE MONDAY; BURIAL CHATFIELD

William F. Henderson, aged 66 years, died at 102 East Woodlawn Monday afternoon at 4 o'clock following an illness of several months and the funeral was held Tuesday afternoon at 4 o'clock with interment in the Chatfield cemetery. He had resided in Navarro county for 25 years.

The funeral services were conducted by Rev. Day of Rice.

Surviving are seven children, Mrs. A. F. Perry, Corsicana; J. J. Henderson, Corsicana; Teddy Henderson, Corsicana; Mrs. W. F. Overby, Electra; Carl Henderson, San Angelo; Floy Henderson, Dallas; Mrs. M. R. Echols, Navarro; one brother, T. D. Henderson, Streetman.

He was a member of the Christian church.

All of his children with the exception of Carl Henderson were present when Mr. Henderson died.

Notes: